New York City might be the most expensive city in the world, but that doesn't mean moving on a budget can't be done.
We totally understand the challenges of it, and we're here to prove that affordable moves in the Big Apple are well within reach. All it takes is some careful planning, a little extra legwork, and a few insider tips to help you out.
Understanding the Financial Challenges of Moving in NYC
NYC is a city like no other. It boasts gorgeous parks, iconic film locations, incredible cultural opportunities, amazing food, and more.
But it also has its own income tax. Parking can cost more than the median rent in some cities. And even preschools can cost more than Ivy League tuition.
There are certain financial challenges to moving in NYC that you just won't experience elsewhere in America. Here are four areas that sometimes surprise new residents.
● Finding and Securing a New Home
Are you planning to rent your new home? Then your moving expenses may include an extra two months' rent along with a broker's fee.
Most NYC landlords ask new renters for the first month's rent plus a security deposit of up to one month's rent.
Plus, rental agents charge anywhere from 8.5% to 15% of the annual rent as their fee. And renters are the ones who pay this in NYC's uber-competitive real estate market.
● Higher Cost of Living
It's said that NYC prices make a $100,000 income feel more like $36,000. The city has a high cost of living that's 38% higher than the state average and 80% higher than the national average.
That's tough for new residents to prepare for and it can take a while for your spending habits to adjust.
So rethink how much money you need to save for the move. And put some extra cash away.
● Transportation
Are you moving to NYC with a vehicle? That's going to cost you – particularly in high parking, insurance, emissions tests, and maintenance costs.
Plus, if you're moving from out of state, you will need to get the vehicle registered and plated and get a new driver's license.
The cheapest way to get around NYC is public transportation. A single ride on a subway or bus costs $2.75, while an express bus ride costs $6.75.
NYC's public transportation can be even more affordable if you use its OMNY payment system, MetroCard, or transit passes.
● Dog Licensing and Ownership Costs
NYC is a very dog-friendly city, but pet ownership is as expensive as everything else in the city.
If you're moving into NYC with a dog, you will need to register them with the city. It costs $8.50 to license a dog that's spayed or neutered and $34 to license a dog that hasn't been spayed or neutered.
Then add on higher ownership costs of vet care, doggy daycare, grooming, and more luxe dog parks.

Top 5 Money-Saving Tips for Moving in NYC
1. Pack fragile items carefully
Broken items translate into unexpected and unnecessary moving costs. Things happen, but for the most part, it is possible to get through a move without damaged or broken fragile items.
Choose sturdy boxes of the right size and use sufficient packing materials to protect items from movement, jostling, and stacking pressure.
2. Compare Moving Estimates
Shop around for moving companies and compare moving quotes in NYC before making your decision.
Professional movers will ask about where you're moving from and to, when the move will be, and what specific services you want.
Compare each moving estimate carefully to see who offers the best price for each service.
3. Negotiate With the Movers
Always negotiate with movers if you're moving on a budget in NYC. Moving estimates are flexible and can be brought down, even if that's by cutting back on some of the services.
For example, you can DIY some of the move or switch the moving date to when the movers aren't as busy. Tell the movers that you're on a budget and see what they suggest.
4. Claim Tax Deductible Expenses
Find and claim everything that qualifies for a tax deduction. Moving-related tax deductions have been removed at the federal level, but there are still loopholes and exceptions.
Consult with a CPA to see if you qualify for work-related or state-level tax deductions.
5. Get Some Financial Help
Are you moving on a budget because things are extremely tight right now? Reach out to charities that offer moving aid. You never know who will be able to step in.
Here are three to start with:
Move.org Moving Grant

: this moving company review site offers one-time grants to those who need financial assistance to move.

Modest Needs

: this charity provides small emergency grants to people with low incomes.

211.org

: 211 will help you find the resources that are available to you.
FAQs About Moving to NYC
What Is the Average Cost of Moving In NYC?
The average cost of moving within NYC generally depends on the apartment size. Here are some conservative moving estimates based on our experience.
Studio Apartment: $420 to $700
1 Bedroom Apartment: $700 to $1100
2 Bedroom Apartment: $1100 to $1500
3 Bedroom Apartment: $1500+
Are There Any Specific Cost-Saving Strategies for Moving Within the City?
People moving into NYC from out-of-town sometimes run into problems they've never even considered. We've seen enough of those cases to suggest three tips that can save you some extra cash.
Move in the Off-Season
Summer is the peak NYC moving season and moving company costs go up with the surge in demand. If you're moving on a budget and have a flexible timeframe, schedule your moving date during spring, fall, or winter.
Get Access Point Measurements
City dwellings can have tight entryways and access points. It's always smart to get these measurements ahead of time, especially if you're moving from a suburban space.
Compare your furniture sizes once you have these measurements. Will your bed fit? How about that sectional?
Make plans to donate, resell, or discard anything that won't fit into your new home.
Use a Checklist
The moving process is hectic and drawn out. It's easy for things to fall through the cracks. When that happens, small oversights – like forgetting to register your car or calculate NYC's local income tax – can end up costing you a lot.
Find and use an NYC moving checklist. One put together by local moving professionals will be meticulous, thorough, and touch on everything you need to get done.
How Can I Find Free or Low-Cost Packing Supplies in the City?
NYC is a treasure trove of resources that can lower the costs of a local move. There's an abundance of free boxes and low-cost packing materials for anyone who knows where to look and is plucky enough to ask.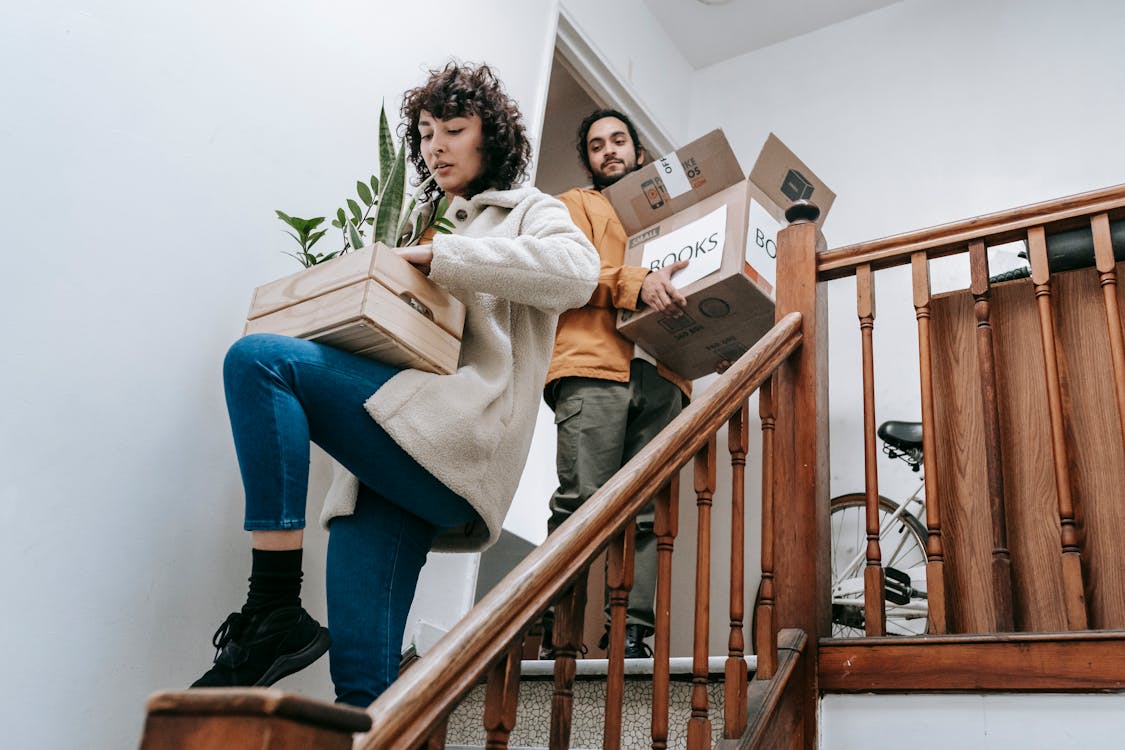 1. Liquor Stores
Tons of people head to the local grocery store to stock up on free moving boxes. But have you ever considered grabbing some liquor store boxes?
Grocery stores have large produce boxes that are good for packing light items. On the other hand, liquor stores have small and sturdy cardboard boxes that are durable enough to protect glass bottles.
2. Recycling Centers
NYC's recycling centers take in large amounts of cardboard boxes, paper, and items that can be used as packing materials.
These centers might be intended for collection only, but it's worth seeing which ones are willing to let you raid their stash.
Call around or head down to your closest recycling centers.
3. U-Haul Customer Connect
U-Haul runs a packing material exchange program called Customer Connect. You can find U-Haulers who are selling or giving away boxes and packing supplies.
Search their website or Browse by Location to find people in your area.
4. Bix Box Retailers
Ask the managers at big box retailers if they have any boxes that you can take home.
Office supply and home improvement stores are good places to find free boxes made for computer screens, TVs, and other items.
It's best to call ahead for this.
5. Schools
Schools get an influx of cardboard boxes from classroom items, furniture, food deliveries, and other supplies. There's a good chance that your local school will be willing to hand some of these over to you.
Contact the custodial department and see what they have on hand.
6. Ecommerce Delivery Boxes
How many Amazon orders do you place in a month or two? Odds are it's enough to stock up on a decent amount of packing supplies that would otherwise be headed to recycling.
Start saving all the delivery boxes, paper, and bubble wrap that you get. And ask friends and neighbors to hang onto theirs too.
The boxes will stack up quickly and soon you'll have a nice stash of free-ish moving supplies.
7. Community Forums, Classifieds, Apps, and Groups
Tap into your local community. NYC is full of recyclers and upcyclers. So, scout around for residents who are passing on some of their unused or gently used packing materials.
If you're lucky, someone will be giving away extra packing tape, bubble wrap, and packing paper.
Check these places:
Finding free boxes is easy. If you want to find other free and low-cost packing supplies, this is one of the best ways.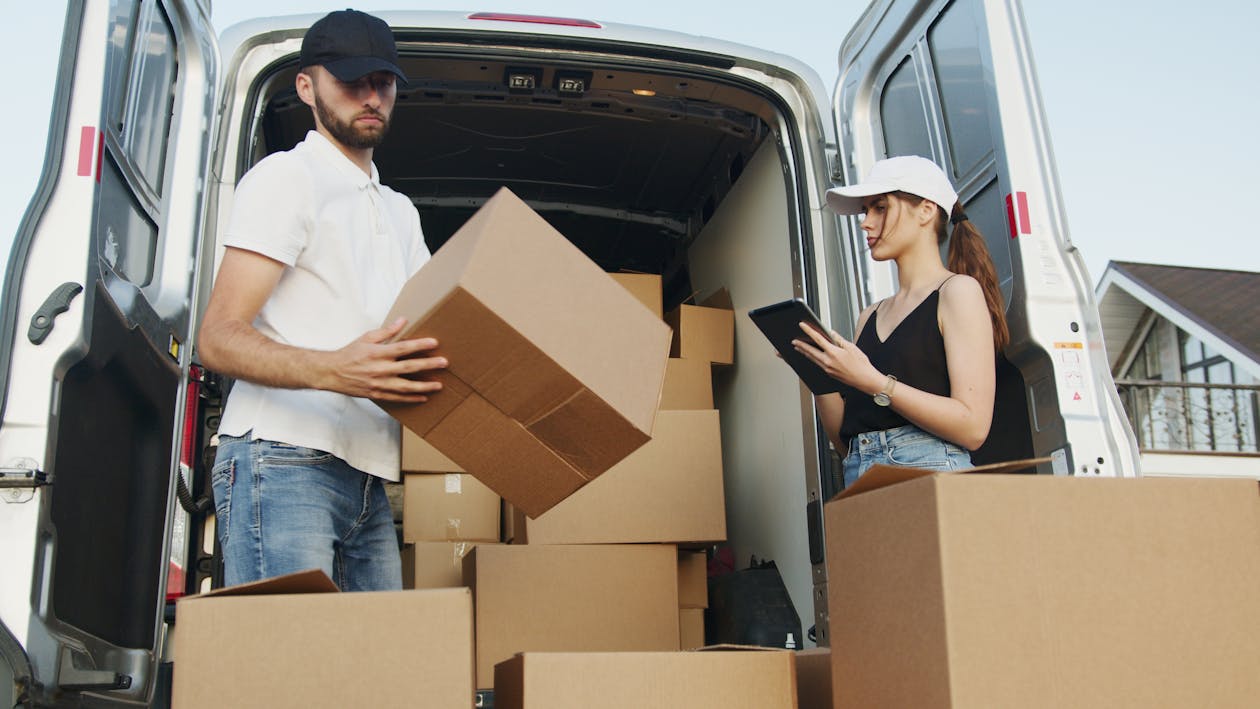 Should I Hire Professional Movers or Opt for a DIY Move to Save Money?
A DIY move might not be the cheapest way. Have you factored in truck rental costs, truck insurance, fuel, moving equipment, potential damages, and time?
Once everything is underway, DIY moves often end up more expensive than expected.
Professional movers get the job done quickly, efficiently, and within an agreed-to price. You won't risk unforeseen moving expenses from gas-guzzling moving trucks, tickets, or uninsurable damages.
The best way to keep costs low is to use an affordable NYC moving company like Oz Moving & Storage.