They say the early bird gets the worm. And when it comes to moving, those who start to pack early tend to have a less stressful move—especially when they have a packing schedule handy.
In our more than 30 years of helping people move, we can say for sure that starting your packing about 3 weeks before your moving day really helps. But you know what works even better? Giving yourself a bit more time – around 6 to 8 weeks before your move. We've been through this process with so many folks, and we've seen that getting a head start makes everything much easier.
To assist you in going through this agenda, we've created a packing calendar with not only a week-by-week timeline but tons of tips and tricks to help you organize and pack like a pro. We'll help guide you on what you should pack first all the way to what gets boxed last.
Six to Eight Weeks Before the Move 
While you may be eager to start packing boxes, cleaning and organizing beforehand is an absolute game-changer. And if you are still six to eight weeks out from your move, you have plenty of time to do so.
Why bother organizing before a move and not while you're unpacking instead? Sorting your belongings before a move makes both packing and unpacking quicker and easier. Not to mention if you pare down what you own, you can also save moving truck space—which can save you money on your move. 
Start Cleaning Your House 
You don't need to do a deep clean, but rather a quick cleanup. This will help you better assess what you have and make it easier to declutter before moving.
Decide What Items Need to Go Room-By-Room 
Sorting one room at a time can help alleviate some of the chaos and overwhelm that comes with decluttering. Some people sort less frequented rooms first and go from there, but you can start anywhere. 
When deciding whether to keep an item, we always ask our clients the following questions: 
Is this in working order (not broken or expired)?

Have I used this in the past two years?

Do I need this? Do I love this?

Does this match my current style?

Is there room for this in my new home?
If the answer is "no" to any of the above questions, then it may be time to rehome that item.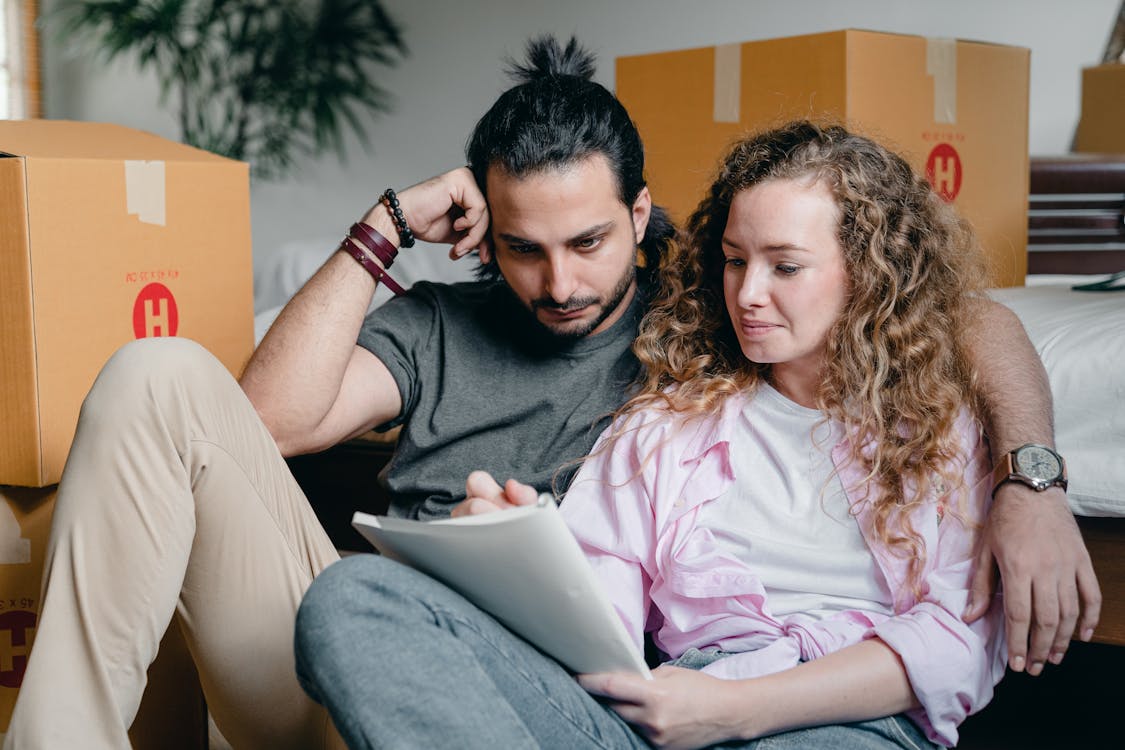 Sort Items into Stacks: Keep, Donate & Sell
Keep: Belongings that are either getting moved to your new home or going into a storage unit.
Donate: Items that are in good condition that someone else can enjoy. 
Sell:  An alternative to donating unwanted belongings. This is a good way to make a little extra cash, which can be helpful in funding your move. 
Five Weeks Before the Move 
A little over a month out from your moving date is the time to start clearing out anything that you won't be taking with you. 
Donate Items in Good Condition 
From clothes to knick-knacks to office supplies, there are tons of places to donate used stuff in good condition. Clothes and food are often welcome at shelters. At the same time, decor and electronics can be donated to the Salvation Army, Goodwill, or another secondhand store. For those with extra office or school supplies, many schools will happily accept them.
When donating to a registered charity, don't forget to ask for a receipt—your donation can be used as a tax write-off. 
Sell Items You Don't Need 
We recently had a client who organized a successful yard sale, and not only did they declutter their space but also made some extra money to put towards the moving expenses. Alternatively, if you're looking for places to sell stuff online, you can try Facebook Marketplace, local buy-and-sell groups, or Craigslist. For clothing, there is also the option of selling through an app like Depop or Vinted. 
Decide What to Do with Old Furniture 
Pay special attention to furniture as it takes up a lot of truck space and, therefore, tends to cost a fair bit to move. Sometimes it is cheaper to sell or donate furniture you aren't attached to and replace it once you've moved into your new home. 
The Habitat for Humanity ReStore is always happy to take items. In some cases, they will even pick up your unwanted furniture.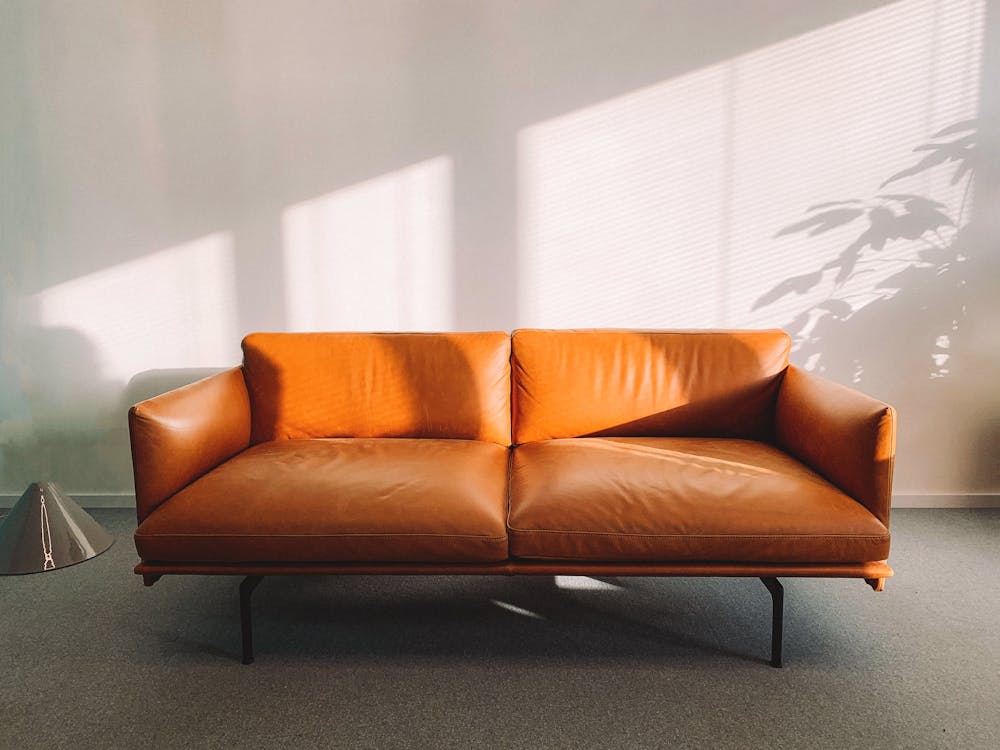 Four Weeks Before the Move 
With a month before moving day, you have hopefully pared down your belongings. This will ensure you (or professional movers) can properly asses how much moving truck space you need. 
DIY Move
The two main moving options are a DIY move or hiring professional movers. Both have pros and cons, and there are slight variations of each. 
Rent a Moving Truck:  Renting a U-Haul or similar truck tends to be the most common option for those who want to undertake a move on their own. It tends to be more affordable than hiring professional movers but is a big-time investment. It also means that you will be hauling all boxes and furniture on your own—unless you can get friends and family to assist. 
Rent a Moving Container:  This lesser-known option is terrific if you want to pack at a slower pace. A moving container (or moving pod) is dropped off on your property, and you fill it with your belongings. Once full, the company hauls it off to your new home, where you can unpack it. 
Use Your Own Vehicle:  This isn't an option for long-distance moves but may be feasible for a local move if you have minimal belongings. However, it is important to consider if your furniture will fit, as well as how many trips it is going to take. Furniture that doesn't fit can leave you scrambling for a moving truck or trailer at the last minute. Additionally, the cost of gas adds up, and it takes a lot of time driving back and forth. This option is often not worth the time, expense, or potential headaches. 
Using a Moving Company
Full-Service Movers:  Movers bring muscle power and expertise, which can help make your move stress-free. You can choose to have them load and unload your already packed boxes. Or, if you want to skip packing altogether, you can opt for a white glove moving service where they take care of everything for you. However, no matter which level of service you choose, the most important thing is to find reputable movers. You want to ensure that your movers are:
Licensed - In New York and many other states, movers are legally required to have a United States Department of Transportation (USDOT) number to operate. 

Endorsed - A great way to find the best movers is to ask friends, family, or your realtor for their recommendations. We also suggest you check a moving company's reviews on websites like Google Reviews, Yelp, and The Better Business Bureau. 

Experienced - You want movers that have a lot of moving experience under their belt, specifically expertise regarding where you're moving. For example, if you are moving to New York, you want NYC movers that know the ins and outs of the Big Apple. This includes getting large furniture through tight walkups, working around broken elevators, navigating heavy traffic and confusing parking laws, etc. 
Specialty Movers: Want to move a grand piano? Or maybe a hot tub? You can hire movers just to take care of these hard-to-move items. Some offer custom crating services for fragile items, valuables, and artwork. You can also find specialty moving services such as auto shipping, media installation, and furniture assembly/disassembly.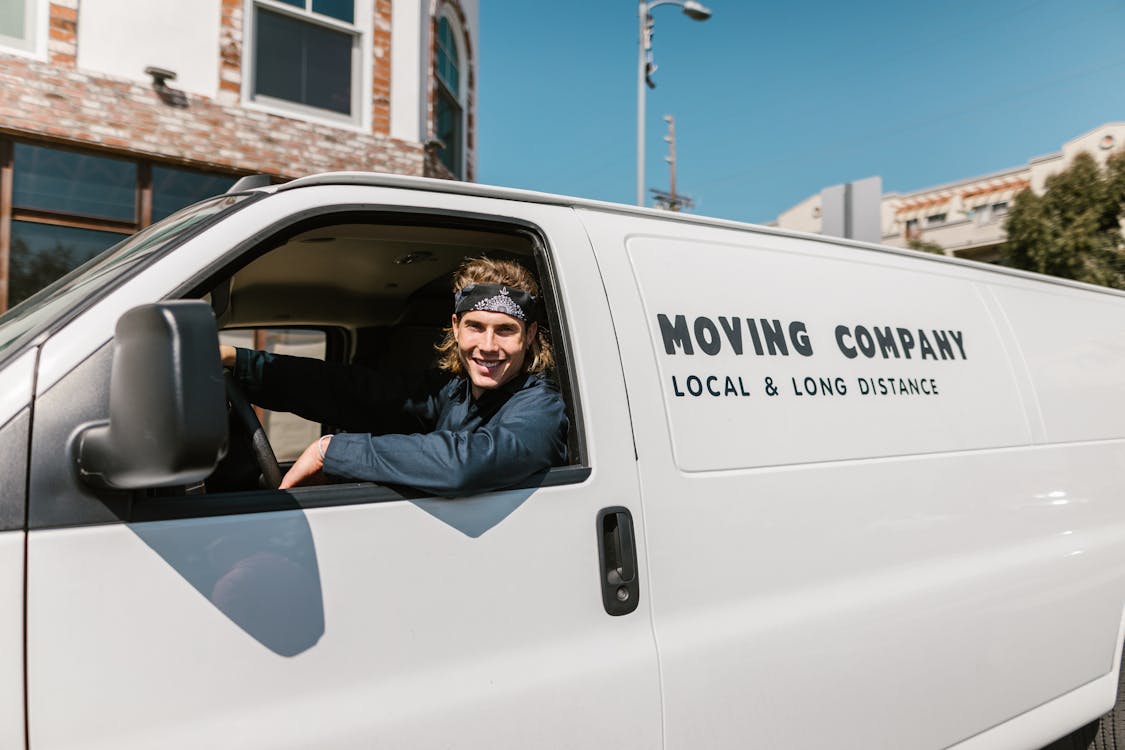 Two to Three Weeks Before the Move 
Unless you opted to hire movers that offer a packing service or professional packers, it's time for the actual packing to begin.
At this point, reading a complete guide on how to pack for a move can be useful to ensure you pack in the most efficient and safest way.
Begin Packing 
Get Packing Supplies: Make sure you have everything you need so you aren't scrambling in the middle of packing. Packing materials you will need includes moving boxes of various sizes (cardboard boxes or reusable totes), packing tape, bubble wrap, packing paper, and moving blankets. You will also want sealable plastic bags and plastic wrap if packing any liquids. And you don't want to forget a marker to label your boxes. 
Start With Non-Essential Items: Begin by boxing items you can survive without for a couple of weeks. Many like to start by packing the garage, guest bedrooms, or dining room. Specific things you may want to consider packing up first include:
Seasonal items and decor

Wall art, pictures, and paintings

Out-of-season clothing and shoes

Fine china, serving platters, specialty bakeware, or cookware

Electronics that you use infrequently

Items in closets and storage units

Extra towels and linens

Books and magazines
One Week Before the Move 
Moving day is on the horizon—this is the last week to pack items. 
Packing the Bathroom
Start by packing a bathroom essentials bag, similar to what you would pack if taking a week-long vacation. It should include daily-use items like makeup, deodorant, toothpaste, a toothbrush, vitamins and medication, skin care products, etc. 
From there, you can pack up the rest of your bathroom—just be sure to keep out a few rolls of toilet paper!
Packing Bedding and Clothes 
Clothing: Start by putting aside a change of clothes (or a few, depending on how far out moving day is). From there, you can pack up the rest. The easiest way to pack clothing in drawers is to remove the drawer from the piece of furniture, wrap it in moving stretch wrap, then carry it like a box. 
Have hanging clothes? Grab a garment box so you can keep them on the hanger. As a bonus, the bottom of garment boxes is great for packing shoes, scarves, and other wardrobe odds and ends.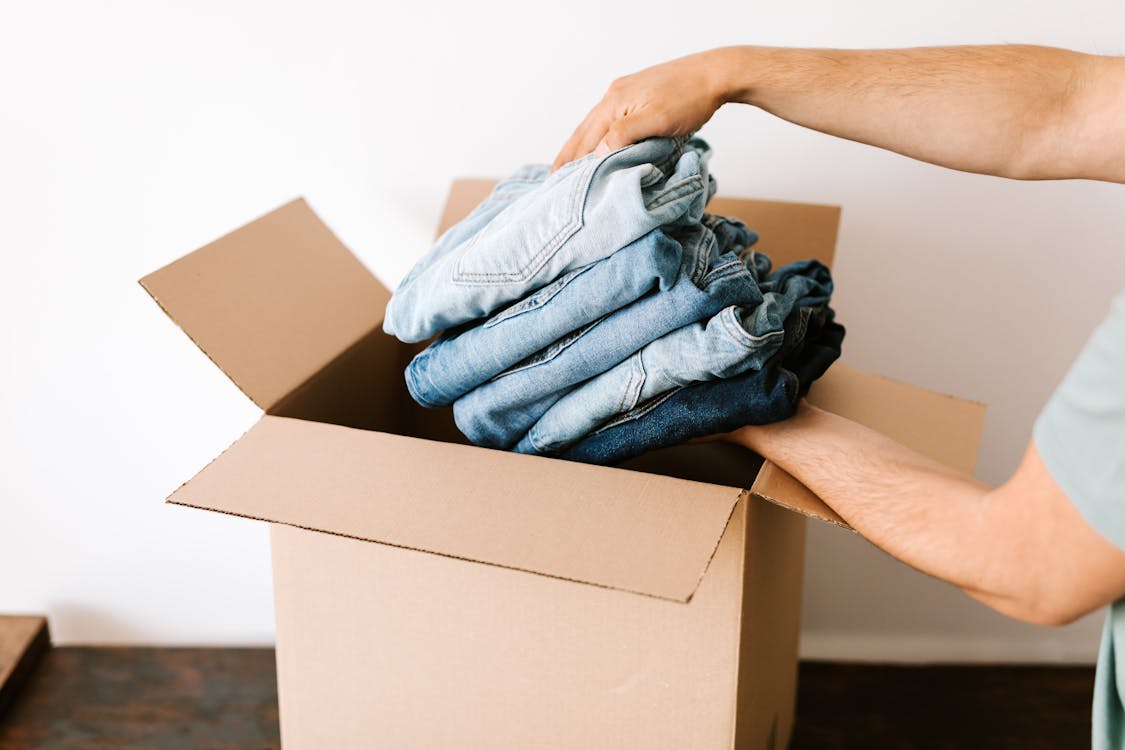 Bedding: Keep the current bedding on your bed and pack the rest. You can pack bedding items together, but don't forget that blankets and other linens are great to pad and fill other boxes. Fast-forward to moving day: place the sheets on your bed in a bag or box and label it extra clearly. The last thing you want is to be ready to crash after a long day of moving and not be able to find your sheets.
Packing the Kitchen 
The kitchen tends to be the last room that gets packed and one of the first to get unpacked. Make sure to label your boxes and ideally write what is in each one. Additionally, keep in mind that most movers won't take food or perishables, so it is best to eat them leading up to your move or give them away. 
Important Packing Tips
Start earlier than you think you need to. Many people underestimate how much stuff they have until they start packing. 

Pack room-by-room. This keeps the packing process organized and can prevent you from getting overwhelmed. 

Label boxes clearly. Ideally, you should also number boxes and keep a master packing list that lists key items in each box. 

Put heavy items at the bottom of boxes. You will also want to stack boxes from heaviest to lightest.

Know what movers won't take (or shouldn't take). This includes—but isn't limited to— important documents (birth certificates, banking documents, etc.), jewelry, perishables, pets, and flammable cleaning supplies or beauty products. 
We've seen the real difference that extra planning can make when it comes to smoothing out the moving process. By aligning the packing timeline we've provided with our comprehensive moving checklist, we've witnessed numerous clients experience not only stress-free moves but also impressively organized ones. While we can't guarantee perfection, our first-hand experience confirms that this combination of careful planning and expert guidance can significantly enhance your moving journey.