Figuring out how to plan a move with pets might seem daunting initially. That's why we're here to help.
In all our years of experience, we've learned one master thing about moving with pets: Whether you're going to a new home across town or across the globe, you need to make special arrangements to keep your pets safe and comfortable.
Below we share all the expert tips to make the moving process easier for your pet and keep them safe and healthy along the way.
What You'll Find in This Guide
1. Visit Your Vet Before the Move
Always take your pet for a checkup at the vet before you move to a new place.
The vet will ensure your pet is up to date on its vaccinations and can offer suggestions to make a move as simple as possible. We recently had a client who was planning a big move with their beloved dog, Max. Besides updating Max's vaccinations, the vet also gave some extra tips, like not making any dietary changes during this stressful time, and keeping his diet consistent to avoid any tummy troubles during the journey. Thanks to these precautions, Max's transition to his new home was smooth and stress-free.
During this vet visit, also be sure to get copies of your pet's medical records or health certificate to share with their new vet (if you plan on switching providers). 
And don't forget to update your pet's ID tag or microchip before moving, changing the phone number if necessary and including your new address.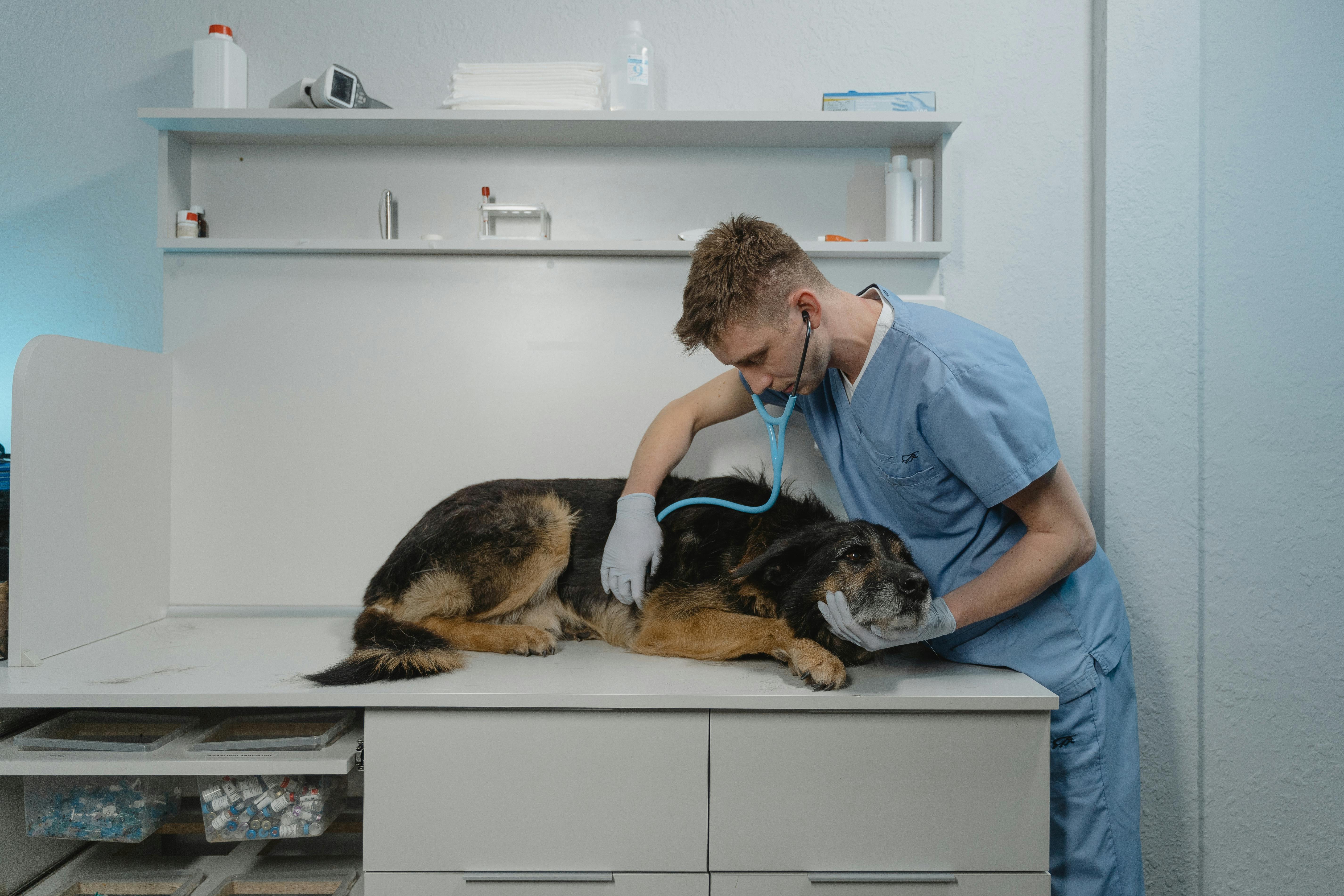 2. Get to Know Laws for Moving with Pets
Many people don't consider that they must abide by international, state, or local laws when moving with their pets. 
We've moved pets all around the US, and we can tell every state has different regulations depending on the species. So, before you head out on your road trip or plan air travel with your pet, do some research to learn the laws and regulations in your new area.
For example, check the rules in your new apartment complex or homeowners association to ensure you're allowed to bring your pets. You should also check to see if there are any breed restrictions or limits on the number of pets you can have.
Keep in mind, too, that some animals must go through a quarantine period when you move to a new place. This requirement is especially common when moving to a different country or a state like Hawaii. 
3. Pack a Moving Day Bag
To ensure a successful move to a new city, state, or country, we always recommend packing a separate moving day bag, with all the things you may need handy during the move and not inside a box. Here are some packing tips for moving with pets:
Bring Along Your Home Scent
Transitioning to a new home can be overwhelming for pets. They're in a new space with new smells, sights, and sounds.
One way to make their move in a bit less stressful is to bring along some items that smell like your home.
You could give them an unwashed blanket or towel to cuddle up with in bed or their crate, for example. Providing items like this ensures they have something familiar and soothing while you're unpacking and settling in.
Bring Their Toys
It's great to declutter before a move. However, don't part with any of your pet's favorite toys during your purge, no matter how worn out they might be.
We can tell by experience, during the transition to a new home, those familiar toys play a key role in comforting pets and making the adjustment smoother.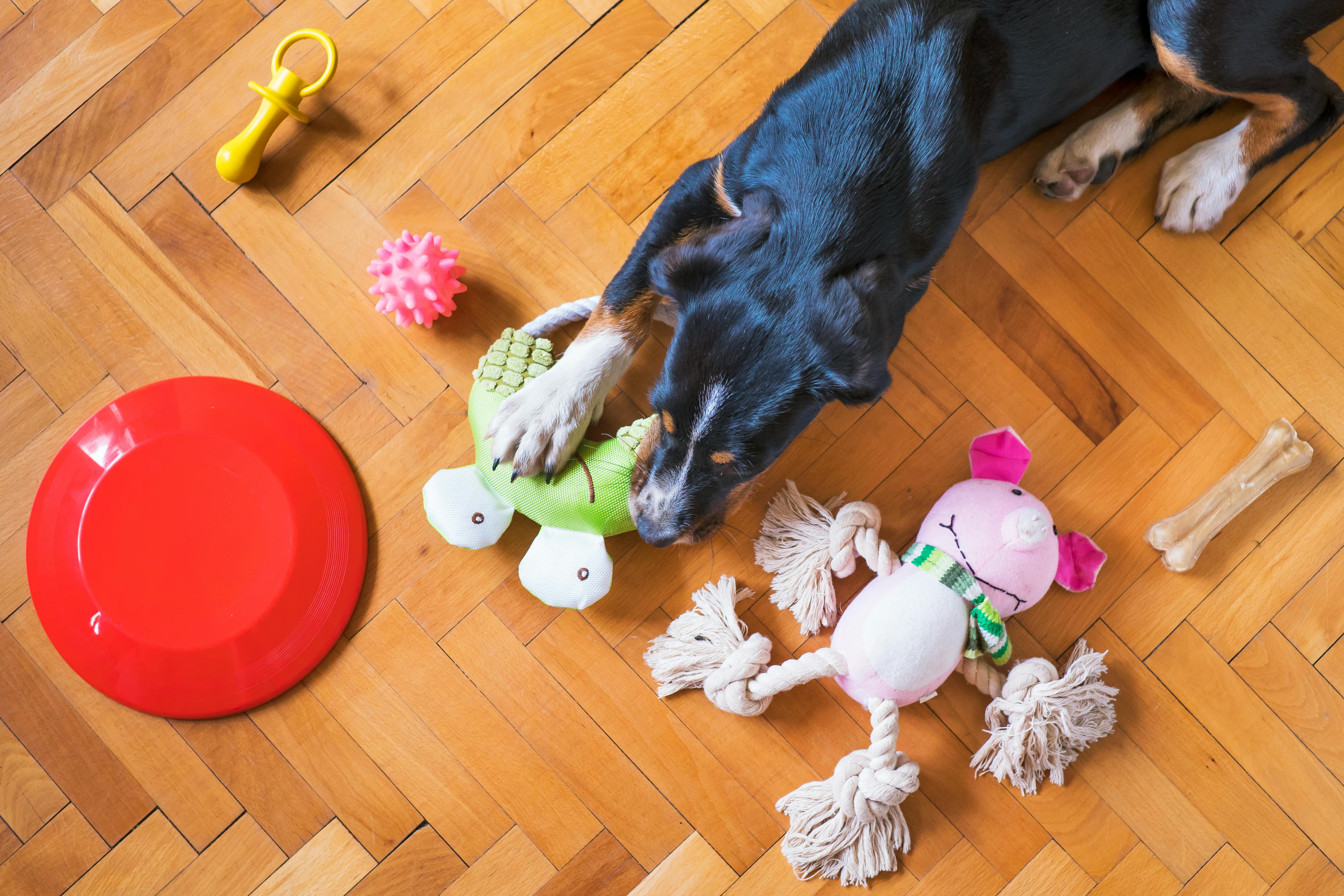 Pack an Emergency Kit for the Trip
There's nothing worse than embarking on a trip to a new home, only to realize halfway to your destination that you've packed something essential, like your pet's water bowls or car harness.
Put together an emergency kit containing your pet's most essential items before you leave. The kit might include enough food for a few days on the road, a travel water dish, a few favorite toys, medications or supplements, a leash, and your pet's bed.
4. Safely Transport Your Pet 
Especially when traveling long distance with a pet, you need to take extra precautions to keep them safe. Here are some tips to help you protect your pet on your way to a new neighborhood:
Select The Best Travel Option For Your Pet
If you're moving across town or to a neighboring state, driving with your pet in the back seat might be the best and most convenient choice.
However, if you're traveling across the country or overseas, you'll need to think more carefully about how you will fly with your pet. Will you be able to fly with them in the cabin, or will you need to put them in the cargo area? 
You might also want to look into special pet transportation services, too. These businesses can help with cross-country or overseas pet travel and keep your pet comfortable on its journey. 
Keep Them Comfy On The Drive
If you do decide to drive with your pet, take extra precautions to keep them safe and comfortable:
You might want to purchase a car-safe kennel that you can secure to the seat

Always buckle your pet in with a special seatbelt. We recommend using a carsafe dog harness, or a crash-tested carrier

Make regular stops for bathroom breaks, water, and snacks. Most dogs also will need a short run to expel energy

Never leave your pet alone in the vehicle. Remember that they are already in a stressful situation with the move, so keep them always close to you
5. Prepare for Moving Long Distance with Pets
We understand that there's no one-size-fits-all strategy that all pet owners should use when moving cross-country with pets. However, these long-distance moving tips can help everyone stay safe and say during the journey:
Practice
The sooner you start preparing your pet for your move, the better. Practice taking car rides or getting into a travel cage to build a positive association and minimize your pet's stress throughout your travels. 
Ask About Medications
Some pets fare well with natural calming supplements like CBD or melatonin. However, if you know your pet won't be comfortable or calm on a long car trip or flight, talk to your veterinarian about anti-anxiety medications and specific practices to make the journey easier.
Find New Care Providers Early
Get in touch with a new vet, a pet sitter, or a doggy daycare facility, before you arrive in your new location. Establish these connections early, so you know where to take your pet if they need medical attention or need to be out of the house while you move in.
6. Be Patient and Help Your Pet Settle in
Finally, remember that it takes time for your pet to get used to their new surroundings (just like you). Be patient with them as they get settled, and make room for activity in your busy schedule. 
As soon as you get to your new home, set up a special space for them by placing their bed, toys, and a fresh bowl of water. 
If you have a dog, you gotta make sure they can let off some steam. That means taking them for walks or letting them chill outside. Also, playing with your furry friend helps you bond and is a stress reliever for both of you!
Cats, on the other hand, may need some extra time to feel comfortable in their new surroundings. To help them out, try to keep things as close to their old routine as possible. We recommend to keep your kitty in one room for a day or two. When you're ready to introduce them to the rest of the house, take it slow. Open the door and let them explore on their own terms. Patience is key!
Extra Moving Tips By Pet Species
Throughout our years of helping families move with their pets, we've come to understand that each furry companion has unique needs. While we've covered some essential guidelines for planning a smooth move, we're also here to offer personalized advice for those whose loyal companions go beyond the realm of cats and dogs.
Moving with Birds
Birds, like other pets, require special care and planning to stay safe and healthy as you move to a new place. Here are some strategies for a successful move with a bird:
Put them in a smaller travel cage or carrier

Help the bird get comfortable with the travel cage or carrier before moving

Take the bird on short car trips to help them get comfortable with traveling

Only stay in bird-friendly hotels and travel accommodations (don't leave them in the car)

Bring plenty of food, treats, and bottled water
Take your bird to the vet before moving, too, and ensure they're up-to-date on their vaccinations.
Moving with Fish
Moving fish, whether they reside in a bowl or tank, can be tricky. These tested and trusted tips can help you ensure your fish make it to their new home in one piece:
Transfer the fish to plastic bags or small storage containers (visit the local pet store to pick some up)

Don't feed your fish 24 hours before moving them to the transport containers to keep the water clean

Empty and clean the tank and decorations

Transport pebbles or sand to a separate container

Remove and clean all equipment, such as filters, and pack them separately

Pack the tank and equipment in a padded box
Fish might be small, but they still experience stress during significant life changes (like moves). Avoid transferring them to their transport or storage containers until the day before your move to minimize their time in a new, potentially anxiety-inducing environment. 
Moving with Reptiles
Reptiles like lizards and snakes also need special attention and care when moving to new locations. These are our recommendations to help you protect your reptiles and keep them healthy:
Bring them with you in the car if possible to control temperature, noise, and other variables

If you can't bring your reptile in the car, transport them via airline (traveling in the cargo hold is less stressful than riding in a moving van)

Set up the reptile's habitat as soon as you arrive (pay special attention to factors like light and temperature to get them acclimated)
Be sure to research and abide by quarantine laws for reptiles in your new location as well.
Start Planning a Pet-Friendly Move Today
Moving to a new house with pets can be challenging. If you follow these guidelines, though, you'll have an easier time preparing for moving day and helping your pets get settled in a new environment.
If you need more help planning your move with pets, we're here for you at Oz Moving & Storage. Our experienced movers know what it takes to make pet relocation (and human relocation) as simple and stress-free as possible.
Reach out today to get a quote.