The Ultimate Guide on How to Pack for a Move
How to pack for a move to make it Faster, Easier, and Less Stressful
Even the most exciting move can feel cumbersome. All of the planning, heavy lifting, and anticipation of what's about to come can wear you down. However, there are certain moving tips and tricks to help make the move feel more manageable and reduce any unnecessary stress. 
The moving process is long and frustrating so we recommend starting right away. You don't want to end up scrambling at the last minute. 
How do I start packing to move? What is the best order to pack for moving?
To pack for a move, we recommend doing a few things first. 
Get boxes or moving crates ASAP. If you don't have any boxes lying around, use any suitcases you have lying around. It's important to start packing well in advance to lighten the load when the moving day arrives. 

Start packing away any items you don't need in the immediate future. Usually, start with clothes that you won't need for the season. For example, if it's summer, start packing all of your winter clothes away. 

Make a timeline. You don't even have to physically write anything down, but try and imagine a preliminary timeline of when to pack your belongings. Start packing the items you do not use regularly: random wall decor, knick knacks, obscure kitchen appliances, extra bedding and so on. You will be the best judge of this.

In the same vein, make a moving checklist. Make sure to remember to pack important documents like birth certificates, photographs, passports and social security cards in a special place. 

Find a big fat Sharpie for labeling boxes. You want to be able to find all of your belongings easily once you arrive at your new home. Labeling boxes in pen can make this a bit more difficult. 

When packing a big box, put heavier items at the bottom of the box and remember what side you packed first. Likewise, when stacking your moving boxes, make sure to put lighter boxes on top of heavier ones.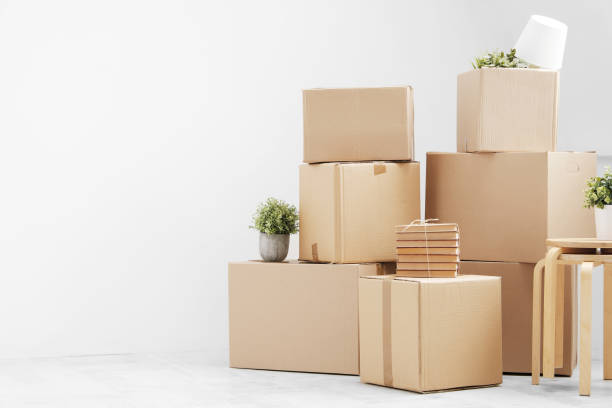 How to pack for moving, room-by-room
Typically, you will want to pack your bedroom and bathroom last, as these rooms are the most important for your day-to-day. Start with the attic, guest bedrooms and additional closets for items that you won't be reaching for regularly. You can also pack away any toiletries that you won't need for the upcoming weeks.
How long before moving should you start packing?
We recommend starting at least three weeks before. Typically, moves can coincide with work events and other family occasions which means you'll have to multitask to get the move done. Start packing right when you find out you are moving to ensure a stress-free move. 
What should you not pack when moving?
Do not forget to label your boxes. Labeling your boxes is perhaps the most important organizational task when it comes to moving. 
How should I pack my clothes when moving?
Clothes are some of the easiest items to pack as they are typically not breakable and act as their own cushions. However, for fancier clothes, we recommend getting several wardrobe boxes and fitting them with a metal pole to hang up any suits, coats or dresses on hangers. This can make unpacking easier, as you can simply take all of the hung up clothing and relocate them to your closet. 
For T-Shirts and less structured clothing items, you can even throw them in big plastic pages (think Ikea Bag or other durable shopper) to save your boxes for more fragile items. You can also use large garbage bags to pack pillows and other soft bedding items. Puffers and any other unstructured jackets can also be packed away in bags.
Avoid packing heavy items in garbage bags.
How do you declutter before moving?
Moving is an optimal time for decluttering your life. Decluttering is also a necessary step before you start packing. Look through all of the rooms in your house and start removing items you don't find useful. Typically, clothes are easiest to declutter. Also look for any expired makeup and toiletries that you can dispose of. Pick up any loose items around your house -- do you really need all that concert memorabilia? Do you really need all those free samples?  
Next try to identify pieces of furniture that you won't be bringing to your new house. Sell those on Facebook Marketplace or donate to a friend. Any superfluous knick knacks or kitchen appliances can also be donated to Goodwill.
Frequently asked questions:
What packing supplies do I need for moving?
Depending on how crafty you are, you may not need to get loads of packing materials. You can save money by using old clothes, towels and bedding to wrap fragile items. However, if you don't feel comfortable going the D.I.Y route, be sure to request packing paper, bubble wrap, and loads of packing tape from your movers. If you are not using reusable moving crates, you will need rolls and rolls of packing tape. 
Where can I get free packing and moving boxes and supplies?
Usually, your movers can supply moving boxes and packing supplies. However, you can also get free boxes by asking around local businesses and apartment buildings to see if you can recycle some of their old boxes. You should also start keeping cardboard boxes from any online orders. 
How do you pack dishes for a move?
Dishes should be individually wrapped in packing paper. Dishes that are the same shape can be stacked on top of one another once they are safely and securely wrapped. Don't use toilet paper as a packing material, as toilet paper tends to rip easily.
Make sure to organize your dishes in the same few boxes so that you can find all of them when you arrive at your new place. 
How do I organize items before moving?
Moving boxes are typically designed to fit specific items. For instance, book boxes (and other small boxes) are designed for packing books, board games, photo albums and so on. China boxes are designed for packing dishware. Using these categories can help you organize your belongings. Using these designated boxes will be helpful for making sure that everything fits properly.
You will also want to organize based on what room they are for: bathroom items should be kept in the same boxes as one another, kitchen items as well. 
How should I pack a moving truck?
A professional moving company will pack your moving truck for you. However, if you are renting a truck yourself, there are some important things to note, especially if you are moving long distance. When putting your belongings in the truck, we recommend placing all the heaviest items first, followed by items that may move around during (tables, couches). Try to put other heavy boxes towards the end to keep everything secure during transit. Be sure to rent an appropriate sized truck. You don't want things moving around!
Final packing tips before you move:
Don't wait until the last minute!

Hire professional movers and packing services if necessary. Professional packers can be your best bet when it comes to packing heavy duty items like wardrobes, beds, pianos and chandeliers. 

Make sure you have everything you need before you start packing (tape, boxes, packing peanuts, markers).

Last thing, be sure to keep all valuable items with you. Don't pack your passport or else you may lose it in the shuffle!
LIKE OUR FACEBOOK PAGE FOR MORE GREAT MOVING TIPS: