Wondering what room to pack first when moving? Packing the dining room ranks high on the list. Not only is the dining room a less frequented space in most homes,  but it is a great place to get a feel for packing everything from fragile items to textiles. Plus, once packed, it is the perfect area to stack filled boxes and store packing supplies. 
Whether you want to know how to pack dining room furniture, fine china, large rugs, or all of the above, our guide below is for you. We've loaded it with the best dining room moving tips, so you can get your dining space packed the right way!
Packing China and Glassware
The best boxes for packing china and glass are double-walled moving boxes. These thicker boxes provide extra protection for fragile items and can handle more weight. Plus, if you get cardboard dividers for the inside, they can make packing glassware a breeze. When packing, you want to make sure to: 
Wrap each piece of china and glassware in 3 - 4 sheets of packing paper. Newspaper also works, but be aware that the ink can mark, so don't use it on anything valuable.

Use extra sheets to pad the stem on martini glasses, wine glasses, and other stemware. 

Fill any open space in the box to keep items from rattling around. Packing paper works well, but so do dishtowels, clean clothing, and any other soft materials. 
Packing Rugs
Before packing a rug, give it a good clean. Using a carpet cleaner for a deep clean is an excellent idea if you have time before your move. However, at the very least, vacuum or shake it outside to rid of any dirt. From there:
Flip the rug upside down and roll it tightly (the bottom should be on the outside). Note that this may be a two person job for larger area rugs. 

For local moves where your rug will be unpacked quickly, you can wrap it with stretch wrap for extra protection against dirt. However, if you are putting the rug in a storage unit, live in a humid climate, or are moving long distance, skip the plastic wrap as it can trap moisture and mildew. Instead, wrap with packing paper, old sheets, or a moving blanket. Packing the bedroom next? This packing tip also applies to mattresses. 

Load it in the moving truck last and place it horizontally on the top of boxes—vertical placement can cause damage. 
Packing Curtains and Draperies
You can either pack your curtains in a wardrobe box or a standard moving box. Either way, you should start with clean drapes so they are ready to hang and unpack as soon as you get to your new home. After all, you are going to want privacy!
For a wardrobe box, line the bar and bottom with packing paper. Use packing tape to secure the paper on the bar. Wind your curtain panel over the bar like a scarf. Gently tie together curtain ends so they don't slip. Repeat with other panels. 

For a moving box, line the bottom with packing paper, neatly fold the curtain, then place it inside. Don't pack heavy items on top if you're worried about wrinkles or damage.

Pack curtains closer to moving day to maintain privacy in your old home. 
Packing Furniture
A dining room usually has a minimum of a dining room set, which includes a table and chairs. However, many also have other pieces like china cabinets, sideboards, and hutches. To keep them free from scratches and damage, you should:
Dissemble items to make them less bulky and easier to move. For example, remove the chair legs from dining room chairs. 

Organize any hardware and small bits in a resealable plastic bag. From there, tape it to the corresponding piece of furniture or make a box just for furniture hardware. Either way, make sure you label the bag clearly in case it gets separated.

Remove the drawers or tape them shut with non-marking tape so they don't move during transport. Keep in mind this advice is mainly if you are moving the item yourself. Otherwise, the moving company you hire should be equipped to protect your furniture. Just be sure to empty any drawers and cabinets before moving day.  

Secure the doors shut with masking tape or bungee cords. Bungee cords are quick and strong, but they are not the best for fragile pieces. 

Wipe down items before wrapping or packing—even small grains of dirt can lead to big scratches.

Furniture pads are a good investment that can make a DIY moving day much easier.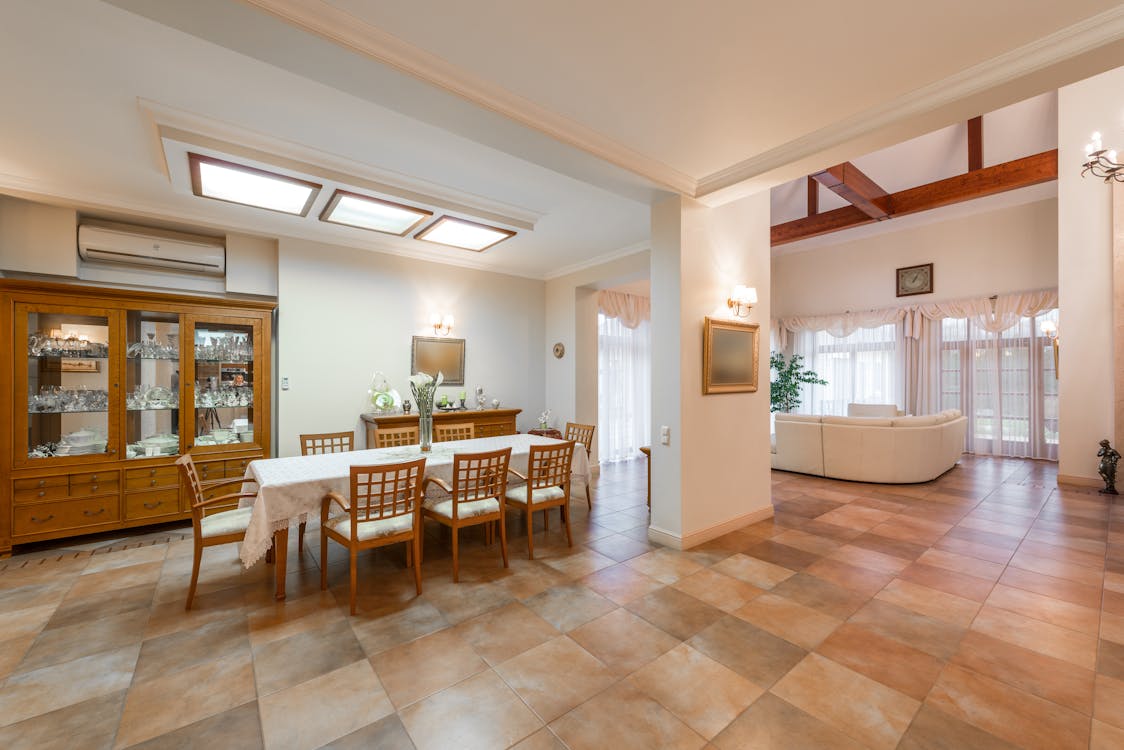 Table Leaves
Remove the table leaf (this includes if it is stored on the underside of the table). From there, ensure it is free of dirt and debris and wrap it with a clean moving blanket or other soft linen. You can add corner protectors for extra piece of mind, then secure it with tape or a couple of layers of stretch wrap. 
For packing a drop leaf table, lower the sides and then secure them down with masking tape before wrapping.  
Table Tops
Save this until last in your dining room since the top of the table is perfect for packing smaller boxes. However, when it comes time to pack, you will start by removing the table legs. You can either secure them to the underside of the tabletop or pack them separately. 
Your next step will depend on your dining room table type, as they all have different needs. 
Packing a wood table top: Prep by applying a layer of wood wax for extra protection—an optional step but highly recommended. From there, wrap with a moving blanket that covers the entire surface—especially corners—and layer on stretch wrap to secure it.
Packing a glass table top: Start by applying masking tape in various directions on the glass tabletop. This adds strength, and in the unfortunate event of a break, this will also create less of a mess. From there, wrap with moving blankets and then bubble wrap. Finally, place it in an adjustable box similar to your tabletop size—telescopic boxes tend to work best. 
Packing a marble table top: For extra fragile tabletops such as those made of marble or other genuine stone, look into custom crating. It is the easiest way to keep them safe during your move. You can find this as an add-on service at some moving companies or as part of a white glove moving service. 
Chairs
While you can move an entire chair as-is, a little extra prep can make the pieces less prone to damage and save you room in the moving truck. Try these tips:
Unscrew the dining room chair's legs and wrap them in packing paper before padding with bubble wrap. 

Gather all the hardware like screws and nuts, place them in a plastic bag, then tape the bag to the bottom of seat or put it in a designated hardware box. 

Wrap the chair backing, bars, rails, and any other parts that may get damaged in packing paper. From there, put on a layer of bubble wrap or stretch wrap. 
Important note:  Avoid having bubble wrap or stretch wrap directly in contact with wood or other porous materials—plastic traps moisture, which can cause damage.

Packing Lamps
Lamps come in various shapes and sizes, so no packing advice is one size fits all. However, you can follow these general lamp packing tips to ensure that yours gets packed safely and efficiently.
Remove any bulbs and harps. Bulbs are best transported in their original box (if available). 

Lampshades should be taken off and packed in their own box. Ensure there are a few inches of room on each side so you can pad with packing paper. 

You can place multiple shades in one box if you can nest them. Due to how fragile they are, though, don't pack anything else with them—even soft items. 

The base should be wrapped in packing paper and then layered with bubble wrap. Place upright in a sturdy box. For metal lamp bases and other sturdier materials, you can pack other items with them. However, for glass or ceramic, treat them like you would when packing fragile kitchen items like dishware.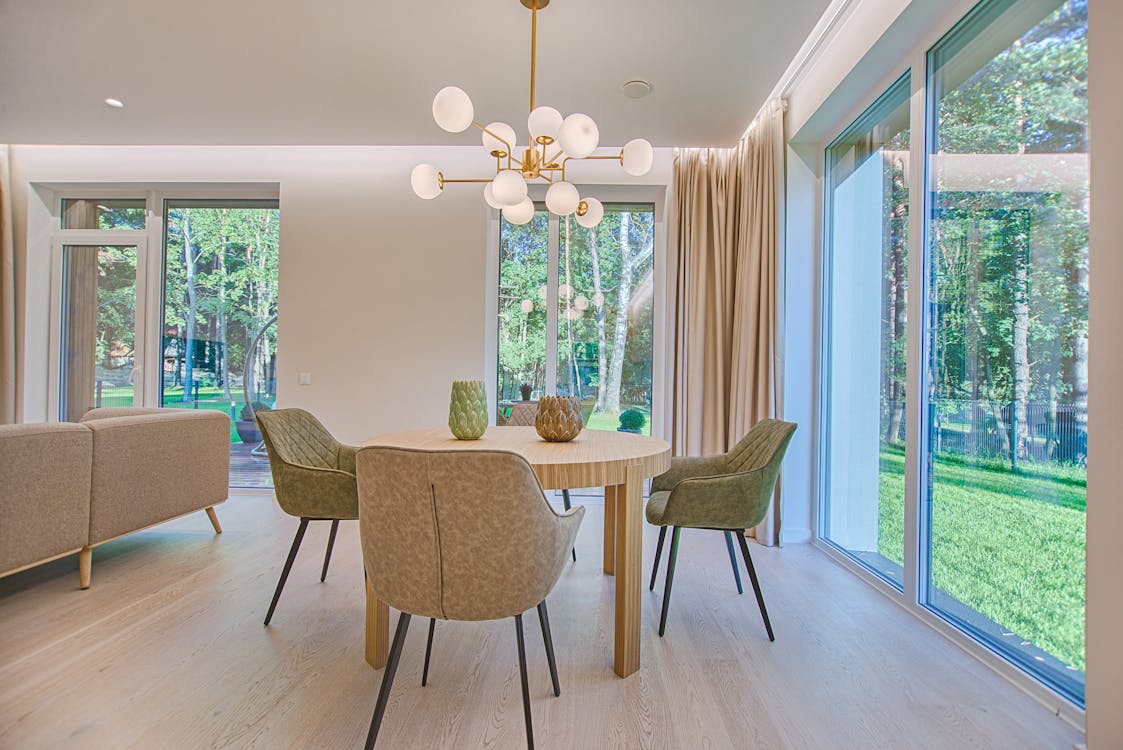 Packing Chandeliers and Leaded Glass Shades
Due to their breakable nature and heavy weight, it is best to get chandeliers and lead glass shades custom crated. However, if you want to pack a chandelier yourself:
Grab a sturdy box slightly bigger than the chandelier, allowing for a few inches of cushioning on each side. You'll also need a small box for the parts you take off. 

Take a photo to make assembly easier.

Remove loose parts and dangling pieces like crystals. Wrap anything you take off in packing paper and place it together in your small box. 

Remove chandelier bulbs and wrap all the arms in packing paper before bubble wrapping. 

Place in box, pad with packing paper, ensure nothing is moving, then seal. Make sure to mark as FRAGILE and which side is up.

Foam can be used at the bottom and top of the box for extra protection. 
Packing Paintings, Vases, and Statues
For art and fragile decor, you will need plenty of packing paper and heavy-duty boxes. You will want to: 
Use a mirror box or TV box to transport art. Otherwise, wrap it in fabric to protect it. 

Get high-end or valuable items custom crated for maximum protection. Contact us for a free quote. 

Skip the newspaper for padding as it can leave behind ink on items. Instead, use plain packing paper. 

Consider a roll of corrugated cardboard if you own many paintings. This pliable cardboard roll can be cut to custom sizes. Plus, it is easy to wrap around wall hangings and other flat items to protect them.
With a little practice, you can be an expert at packing everything from fine china to dining room sets to lamps. And when in doubt, remember it always pays to be cautious. Your dining room is full of fragile items, so don't be afraid to use additional layers of bubble wrap, add extra box cushioning, or hire professional packers and movers. Once your stuff is safely in your new home, you'll be happy you did!
If you found this article useful, consider seeing our ultimate guide on how to pack for a move.
LIKE OUR FACEBOOK PAGE FOR MORE GREAT MOVING TIPS: Oz Moving & Storage