Packing a garage is low priority on most peoples' checklists when they start packing for a move since it isn't the main living space. But the reality is, it has to get boxed up eventually so there's no good that comes from putting it off. In fact, organizing your garage items (and getting rid of the things you never use) can be very rewarding. 
We once assisted a family in Queens with their move, and their garage was a real sticking point. The parents were busy sorting the living room and kitchen, so we suggested their teenagers take on the garage project. Armed with labels and boxes, the teens not only decluttered but also rediscovered old hobbies and sports gear they'd forgotten about. The parents were thrilled; the move became a family affair, and the garage was finally organized.
The guide below dives into everything from decluttering the garage for an easier move to how to pack boxes for maximum efficiency. With a few simple packing tips, you can go from wanting to hide away in a box to packing boxes like a pro!
1. Declutter and Donate Your Stuff
The garage tends to be a dumping ground for everything from off-season outdoor items to long-forgotten hobbies. Over time, those belongings can pile up, and decluttering them before packing can make a huge difference. 
Start by putting all similar items together if they aren't already. For example, sports equipment, tools, garden items, seasonal décor, and any other sections you deem necessary. Next, go through item by item and ask yourself:
Do I use this? Do I need this? 

Does this fit in my new garage or home?

Have I used this in the past year?
If you answered "no" to any of the above, it is probably time to part with the item. Toss anything no longer usable and then decide whether to sell or donate other items. We give clients this simple list of questions, helping them quickly discern what's worth taking along. In the end, many not only reduce their moving load but also earn some extra cash by selling unneeded items, making the overall experience more efficient and less stressful.
Sell: Power tools and other expensive garage items can be well worth selling on Facebook Marketplace, Craigslist, or local buy-and-sell groups. Have lots of belongings that need to go? Consider holding a garage sale. You can throw in stuff decluttered from the rest of your home. Plus, it's a great way to get the kids involved in moving.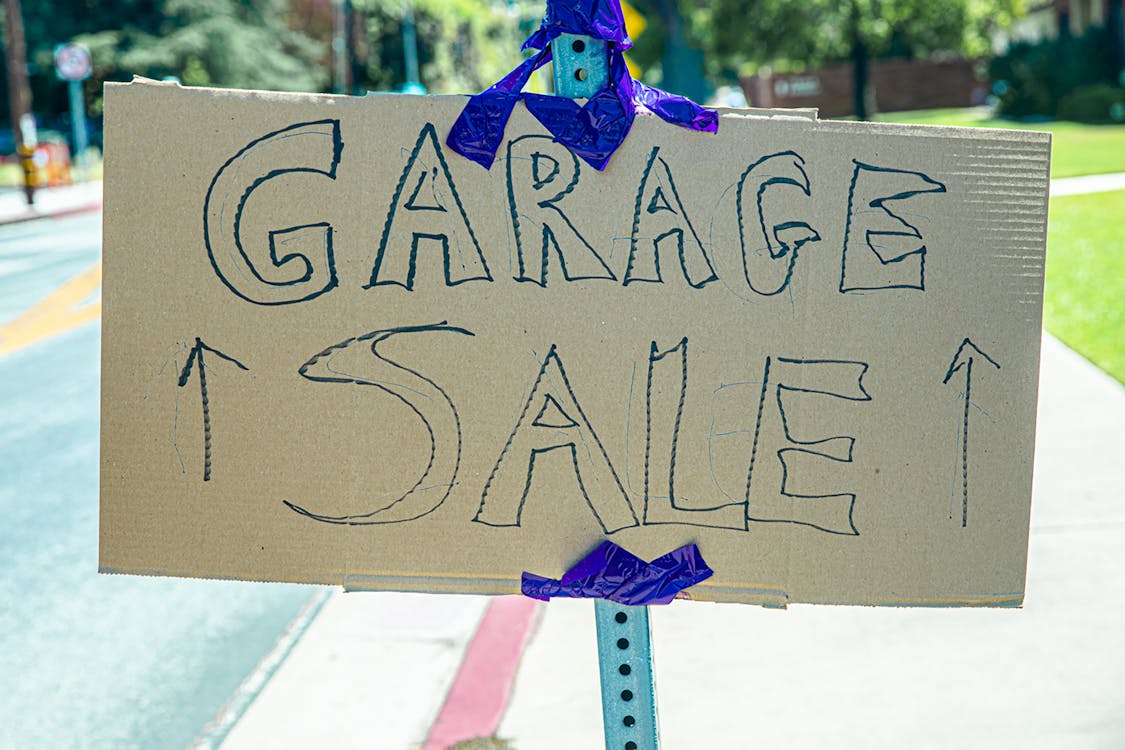 Donate: Places like the Habitat for Humanity Restore will take everything from pieces of useable wood to half-full paint cans. Keep in mind that movers will not take items like paint and varnish since they are flammable. The alternative is transporting them in your own vehicle, which often isn't worthwhile.
Pro Tip - If you are moving long distance or cross country, it is essential to pare down your belongings. Most moving quotes are based on the distance you are moving AND the amount/weight of stuff you own. 
2. Get Packing Supplies
Getting packing materials for a garage can be challenging due to the mish-mash of items. However, in general, you will want to pick up:
Cardboard boxes of varying sizes. Be sure to include a few double-walled ones for heavier items.

Box cushioning. Packing paper, newspaper, bubble wrap, old towels, and anything else you can use to pad boxes and fill in gaps. 

Movers wrap, moving blankets, and tie-down straps. Ideal for bundling items and securing them in the moving truck. 

Small packing items. This includes packing tape, a labeling marker, garbage bags, sealable plastic bags, etc. 
3. Pack Garage Tools
Before diving into boxing the garage, set aside tools you will need for packing and unpacking. At a minimum, this should include a measuring tape, pliers, wrench, hammer, and a couple of screwdrivers. You'll be thankful to avoid sending out a search team for tools when it comes to disassembling furniture, removing wall hardware, and other packing tasks. 
Power Tools
Power tools are challenging to pack with odd shapes and heavyweight. To add ease to the process, you should:
Pad sharp pieces, like blades. You can either tape bubble wrap or old towels around sharp edges or remove those pieces. If opting for the latter, pad them, then place them in a Ziploc bag (one bag per tool). Clearly label the bag and tape it to the side of the corresponding tool or pack it in a separate box. 

Place the tool in the original case or box (when available)—alternatively, layer in bubble wrap. 

Pack tools in moving boxes. How many you fit per box will depend on the power tool size and weight. 
Garden Tools
Gas-powered tools. This may include lawn mowers, snow blowers, whipper snippers, leaf blowers, and chainsaws. 

Sharp parts. Wrap blades, shears, etc., in bubble wrap or old towels. 

Large equipment. Use straps to secure lawnmowers, snow blowers, and other large equipment in the moving truck. These items are too large to box and will be one of the last things you load on moving day. Don't skip tying them down as their heavyweight paired with their rolling ability can easily cause damage. 

Long-handled garden tools. Transport brooms, rakes, hoes, and shovels in a bundle. To do so, bundle 3 – 5 tools with tape or rope, then roll in a moving blanket
Hand Tools
Grab your toolbox and fill it with small tools (hammers, screwdrivers, wrenches, etc.). Use crumpled packing paper in any gaps to keep tools from clanking around.

Pad any tools that you're worried about damaging. Bubble wrap works well, but old socks also make great tool sleeves. 

Pack the rest of the hand tools in small sturdy boxes. Check what your box is rated to hold, but generally, you don't want to exceed 20lbs. 
4. Protect Your Appliances and Furniture
Larger appliances like garage refrigerators and freezers should be prepped per the manufacturer's instructions (defrosted, produce drawers taped shut, etc.). From there, wrap them in a moving blanket if you are worried about damage. Patio furniture and other furniture should get disassembled. Wrap any delicate pieces in bubble wrap or a moving blanket—similar to packing dining room furniture.
5. Group Similar Items and Label the Boxes
Group together the unpacked items in the rest of the garage (if you didn't already when decluttering). It may feel unnecessary and time-consuming, but it is essential to a stress-free move—it will make boxing a breeze and unpacking even easier. From there, pack together similar items and label the box accordingly. 
Pro Tip: Go beyond vague labels like "garage" and also write 3 - 5 key items in the box. For example, "baseballs, catcher gloves, tennis balls, frisbee". Better yet, assign each box a number and make a master packing list that notes the contents in each box.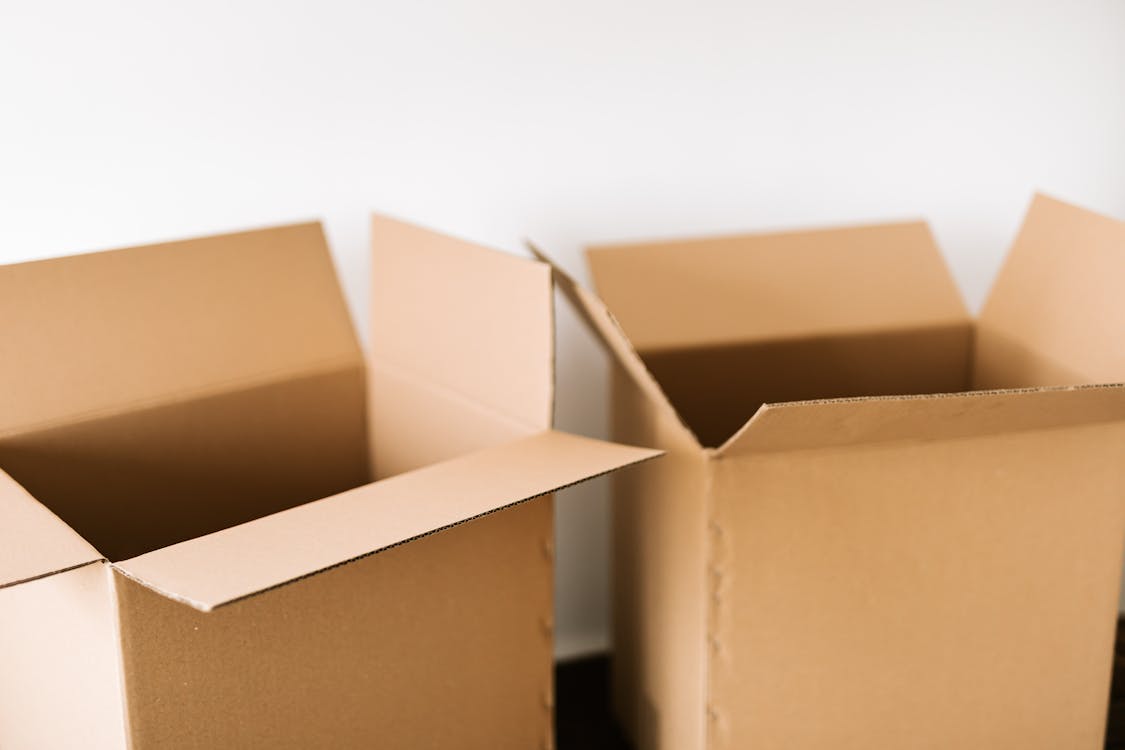 What Should You

Not

Pack When Moving?
The garage traditionally has numerous items that a moving company won't take for safety reasons. This mainly includes hazardous materials that are flammable, explosive, or corrosive, such as:
Aerosol cans 

Paint thinners and varnishes

Car batteries

Ammunition and fireworks

Propane tanks, gasoline, and charcoal

Hazardous cleaning supplies

Power tools and yard equipment with fuel in the tank

Plants, soil, pesticides, and fertilizers
We once assisted a Staten Island family who were surprised to learn that we couldn't transport certain items from their garage. To help them out, we provided a list of local services that could safely dispose of things like paint, chemicals, and aerosol cans. It not only made their move easier but also ensured that these materials were handled in an eco-friendly manner.
It's not unusual for garage packing to feel overwhelming thanks to everything from sharp tools to stashes of seasonal décor. However, it is nothing you can't handle. Good garage organization just requires some elbow grease and proper planning so your things can be packed securely for the trip to your new home!
Want more moving tips? You don't want to miss The Ultimate Guide to Packing for a Move.
LIKE OUR FACEBOOK PAGE FOR MORE GREAT MOVING TIPS: Oz Moving & Storage