New York City has a lot more to offer than just the hustle and bustle of the concrete jungle. Being the nation's biggest and most populous city, The Big Apple is actually comprised of a staggering 250+ neighborhoods. And these neighborhoods are a vast, intricate patchwork of skyscrapers, condominiums, lofts, brownstones, townhouses, and countless beautiful waterfronts, parks, and green spaces. All sprinkled with world-class eateries, shops, museums, cultural and recreational centers, and some of the country's best schools.
Each neighborhood, meanwhile, has its own perks and unique vibe. So choosing the right NYC neighborhood for your family can be tricky. Fortunately, as native NYC movers with 30+ years of experience, OZ has seen them all. And to help your family feel right at home too, we've compiled a list of our hometown's 10 best family-friendly neighborhoods.
1. Riverdale (the Bronx)
Our first stop is all the way uptown. The quiet little hood of Riverdale is nestled along the Hudson River, west of Van Cortlandt Park. And the latter is one of NYC's best-kept secrets, as this glorious north Bronx forest is almost a third larger than Central Park. But Riverdale has lots of other green spaces for you and your family to explore too. Moreover, its hilly tree-lined streets and calm, small-town feel are perfect for families looking to avoid the big city noise. The quaint semi-suburb also offers dozens of playgrounds, recreational activities, cultural and religious institutions, and some great schools. In fact, it's home to two of NYC's best private schools — Riverdale Country and Horace Mann. And the rent is more affordable than in the rest of NYC too.
2. Harlem (Manhattan)
Next — heading south on the red subway line — we enter Manhattan. And our first stop is the one and only Harlem. Harlem's unique character, diverse culture and arts scene, and overall sense of community are the stuff of NYC legend. Harlem also has plenty of schools, green spaces, theaters, outdoor and indoor activities — you name it. It's home to NYC landmarks like the Cloisters and Marcus Garvey Park. And hidden gems like the Museum of the City of New York and the Sugar Hill Children's Museum of Art & Storytelling. Not to mention its eclectic, world-renowned, and unparalleled food scene. And while Columbia University and Central Park are within walking distance, the rent still tends to be lower than the Manhattan average.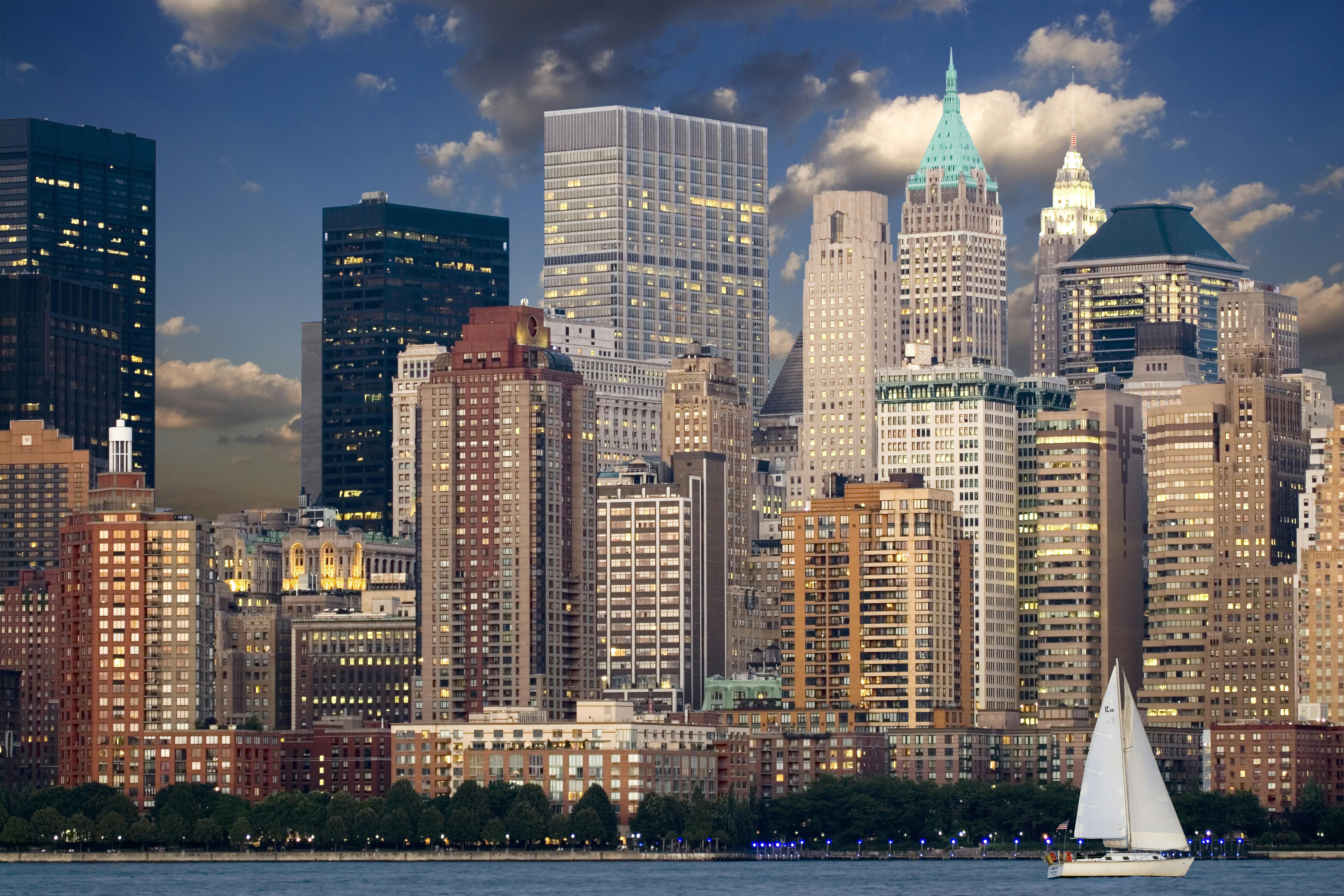 3. Upper West Side
Moving further down we enter one of the city's most affluent areas — the UWS. Nestled between Riverside Park and Central Park, the Upper West also offers plenty of peace, quiet, and nature. But right in the heart of Manhattan. It's also home to the American Museum of Natural History. As well as the Children's Museum of Manhattan. And the world-class culture of Lincoln Center. Plus plenty of shops, boutiques, cafes, restaurants, a vibrant nightlife, and excellent schools. The UWS is one of the best neighborhoods in the country for young families too. So strollers (as well as dogs, sometimes in strollers too) are an everyday sight on its spacious sidewalks.
4. Greenwich Village
Going further south — past Midtown and the bright lights of Times Square — you'll find Greenwich Village (aka the Village). This historical hub of bohemian culture has kept its eclectic and carefree vibe throughout the years. But along with artists, writers, and musicians, it's also chock-full of beautiful parks, playgrounds, markets, and world-class shopping and dining. The Village's unique mix of lively nightlife and laid-back day vibes also makes it a great place for families. Oh, and the Museum of Ice Cream is a few blocks away.
5. TriBeCa
Further down in Lower Manhattan is the Triangle Below Canal Street — aka TriBeCa. Located next to SOHO and the financial district, TriBeCa has some of the country's most desired real estate. And not only because of its prime location, luxurious residences, and vibrant culture and arts scene. TriBeCa is home to dozens of first-class markets and eateries (including the NYC staple Whole Foods). It also boasts countless outdoor and indoor activities for all ages. And there are plenty of daycare centers, schools, toy stores and children's boutiques too.
6. Battery Park City
And the last Manhattan stop on our list — Battery Park City — is situated on the southwest tip of the island. Like TriBeCa, it grants easy access to all the perks of NYC. But it's also uniquely quiet and serene. Its upscale high-rises are intertwined with playgrounds, parks, ballfields, and one of the city's most scenic running esplanades. In fact, one-third of its landmass is parkland. Which means plenty of outdoor fun for both you and the little ones. The neighborhood also offers stunning waterfront views of the Hudson and the Statue of Liberty. And it's home to two of the city's best public schools: Stuyvesant High School and PS-IS 276.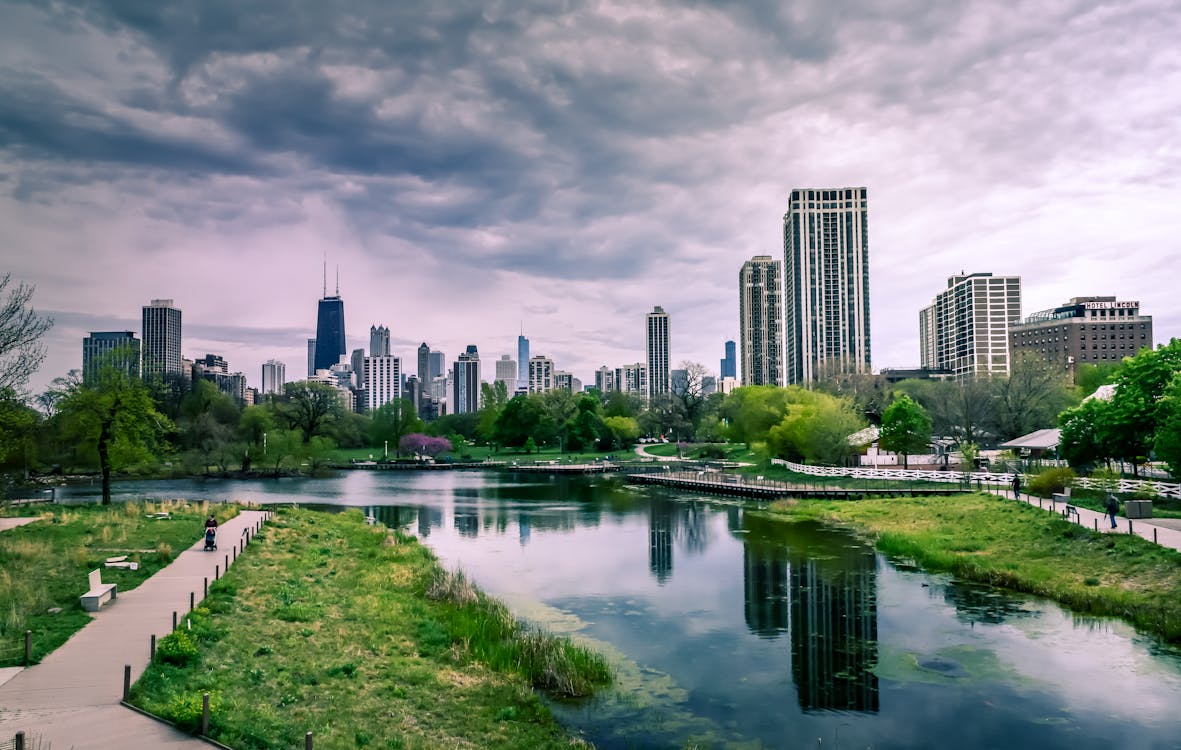 7. Williamsburg (Brooklyn)
Heading across the East River on the L train we enter the hippest of NYC's boroughs. And our first stop is the trendiest of all the Brooklyn neighborhoods — aka Williamsburg. A hub for hipster culture, it's the perfect blend of laid-back and big-city vibes. Williamsburg's proximity to Manhattan also makes it one of the most desirable addresses on the planet. That — coupled with food, shopping, and entertainment of every variety — has made it increasingly family-friendly in recent decades. It's also home to such staples as McCarren Park (complete with pool and ice skating rink), the Twinkle Playspace, and Brooklyn Bowl. Which means plenty for you and your kids to explore.
8. Carroll Gardens
Further south is the somewhat lesser-known Carroll Gardens. The historic brownstones here are lined with first-class shops and eateries, dozens of playgrounds, and lush greenery. Stock up on some wooden toys and organic clothes for the newest addition to your family at Sprout. Play some family board games at the Brooklyn Strategist. And then grab some sundaes at Brooklyn Farmacy & Soda Fountain. This quiet, family-friendly Brooklyn gem also boasts some of NYC's best public schools.
9. Park Slope
Right next door is Park Slope — one of NYC's increasingly hot spots for single young professionals, couples, and families alike. This small, peaceful, and vibrant neighborhood gets its name from the luscious green of the adjacent Prospect Park. It also has some of the finest wining, dining, and shopping in NYC. And it's home to the Brooklyn Museum, the Brooklyn Public Library, and — among many other gems — the Brooklyn Superhero Supply Company. Plus some excellent schools too.
10. Astoria (Queens)
And for our last stop, we head back up north to Queens. NYC's largest borough has plenty of family-friendly neighborhoods. But Astoria is perhaps its most popular. First off, it's nestled along the East River directly across from Midtown Manhattan. Which means easy access to everything NYC — but minus the hecticness. Plus fresh air, beautiful riverfront views, and lush greenery. Along with playgrounds, cultural centers, beer gardens, eateries, and shopping to easily rival those of its Brooklyn and Manhattan neighbors. Astoria Park and the Museum of the Moving Image are just two of the more famous highlights of this chill little Queens enclave. But it's also home to some great public schools and libraries. And the relatively affordable living — compared to its Manhattan and Brooklyn neighbors — also makes Astoria a top destination for families.
What to Consider When Choosing Your Neighborhood
The neighborhood you choose completely depends on what's best for your family. And here are some factors to consider in NYC:
Proximity to Schools and Education
NYC's overall educational system is among the best in the world. And its public school system is the largest in the country. For example, there are 84 public schools and 43 private schools in Staten Island alone. In other words, you have options. However, are your littluns going to kindergarten, high school, university, or all three? Because Manhattan tends to top the list in terms of higher education — as well as status and proximity. Brooklyn and Queens, meanwhile, come in at a close second.
Safety and Low Crime Rates
Staten Island is also the safest NYC borough. And the reason the beloved "forgotten borough" didn't make our list is its relative remoteness — i.e., proximity to the rest of NYC. But all ten neighborhoods above are among NYC's safest. With Manhattan's TriBeCa, Battery Park City, and Greenwich Village topping the list.
Access to Parks and Recreational Facilities
As for parks and recreation, size is a major factor. So Queens and Brooklyn (NYC's "fittest" borough) are, therefore, your best bet. Although Manhattan — due to its density and accessibility — often tops the list of neighborhoods for exercise enthusiasts of all ages too.
Family-Focused Amenities and Services
And in terms of keeping your family happy and healthy, proximity and accessibility are key factors. Most NYC neighborhoods have dozens of grocery stores, daycare centers, pharmacies, hospitals, and general family-oriented services and businesses to choose from. But remember that NYC is huge — so having a car in certain neighborhoods may make things easier.
Tips for Finding the Perfect Family Neighborhood
And here are three quick tips for finding the best NYC home for your family:
Tip 1: Choose your Lifestyle
NYC is an ever-changing blend of dense urban cosmopolitanism, laid-back suburban living, and everything in between. So does your family prefer peace, quiet, and solitude? Or are you all ready for the 24-7 hustle and bustle of the concrete jungle? With a bit of research, you're sure to find communities and amenities to suit any family's individual way of life.
Tip 2: Budget Wisely
The neighborhoods above — while some of the best in the country — are by no means cheap. So do your homework carefully in terms of rent, bills, schools, groceries, gas, etc. Take notes, and calculate your family's NYC budget accordingly.
Tip 3: Explore Firsthand
And the best way to understand an NYC neighborhood is to spend time there. So start exploring. And once you've seen Times Square, Central Park, and the Statue of Liberty — venture out. Because nothing beats discovering the unique magic of an NYC neighborhood firsthand. In fact, it's the perfect family mini-vacation.