Moving from LA to Seattle? Here are some things you should know about moving to this incredible city in the Pacific Northwest.
There are many wonderful cities along the West Coast of the United States. Though the "West Coast" generally brings to mind a sunny, beachy locale, many destinations across the West Coast have vastly different weather. Aside from California (which we typically think of), this region of the U.S is also home to Oregon, to Washington to Alaska. For those in Los Angeles hoping to move up the coast, Seattle may be an enticing option for their new home.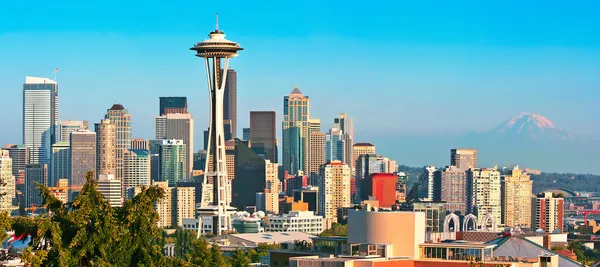 GETTING USED TO THE PACIFIC NORTHWEST CLIMATE
The Seattle climate may be an adjustment for those who are used to the Southern California sun. Unfortunately, Seattle is the gray-est city in the United States (meaning they have more cloudy days than any other city in the country). However, don't fear! Though the winters are rainy, grey and cold-- the summers are quite lovely with plenty of sunny days and spells of warm weather. 
NO INCOME TAX
There are several places in America where you won't have to pay income tax and Seattle is one of them! Though you still will have to pay Federal taxes, there are no local taxes in the city! This can be an attractive feature for those headed to Seattle!
THE DAZZLING SAN JUAN ISLANDS
A great part of living in Seattle is vacationing in the San Juan Islands, which are located between Washington State and Vancouver Island. Many in Seattle head to these islands to go whale watching or kayaking! Moreover, there are plenty of spas, resorts and fine dining options throughout the archipelago. The only way to get there is by ferry or plane which makes the experience far more special and peaceful!  
START UP CENTRAL
Plenty of Fortune 500 companies are headquartered in Seattle like Microsoft, Amazon, Starbucks, Nordstrom and more. The success stories of many prominent corporations have led Seattle to become an attractive destination for young people in tech.  
The booming Seattle startup industry makes the city a great place to relocate for young entrepreneurs and visionaries hoping to change the future of tech. Moreover, the city boasts a relatively low unemployment rate which is a good sign for those hoping to start a new company or are looking for a new job. So, forget the Bay Area! Seattle is the one to watch!
SO MUCH NATURE
Residents of Seattle are known for their love of the outdoors. This is evident in the high concentration of Patagonia, REI and Columbia apparel throughout the city. There are wild forests and national parks surrounding Seattle (like Mt. Rainier), which means that you can spend your weekends hiking, climbing, camping, mountain biking or kayaking. Though Seattle is a big city, there are plenty of trails in the surrounding area that  are perfect for day trips. 
COOL COFFEE CULTURE
Seattle arguably has the best Coffee in the United States (though those in Portland might disagree). The city is famous for being home to the first Starbucks ever! Many tourists flock to Pike Place Market to see where it all began, but there's plenty of other local coffee shops to check out around First Hill, Central District and West Seattle. The city's overcast climate and chill vibe is perfect for hanging out (or doing work) at coffee shops all day. Hopefully at these coffee shops, you can avoid the 'Seattle Freeze' and meet some new people!
BUT SUPER EXPENSIVE....
Though living in Seattle sounds like a dream, their real estate does not come cheap! As of 2019, Seattle is one of the top 5 most expensive U.S cities for renters. Moreover, the cost of groceries in Seattle is the second highest in the country! But Seattle was not always so expensive. Like other big cities along the West Coast, the cost of living in Seattle has soared in the past decade.  
Though life in Seattle is still cheaper than cities like New York, the area is heading towards NYC level prices. 
TRAFFIC & GETTING AROUND
LA people, rejoice! The average commute time in Seattle is 28 minutes, which is nothing when compared to the average commute time in LA (53 minutes). Seattle is a medium sized city, so traffic is not nearly as much of a problem as in LA. Moreover, there are public transportation options like the Light Rail, buses, ferries, and streetcars. 
WHERE TO LIVE?
Though Sleepless in Seattle may have us thinking that everyone in Seattle lives in houseboats, don't let the Hollywood depiction fool you! There are many wonderful neighborhoods in Seattle (and most people do not live on boats). Some areas of the city offer a more hip and cosmopolitan style of living like Capitol Hill, Downtown and Fremont. While others are more traditional and suburban like Redmond, Kirkland and Bellevue (which have great public high schools and low crime). Depending on your preferences, there are plenty of great neighborhood options in Seattle. 
READY TO MOVE? REACH OUT TO LOCAL MOVING SERVICES
Moving to Seattle can be a great decision for Angelenos who love coffee, hiking and have a deep passion for tech! But this long distance move can be a huge hassle if you don't hire the right moving company. Be sure to reach out to prominent Los Angeles Movers, like Oz Moving, and ask for a free quote to start planning your move today! 
LIKE OUR FACEBOOK PAGE FOR MORE GREAT MOVING TIPS: