So you're thinking about making the move from sunny Los Angeles to the Pacific Northwest? As someone who has helped countless clients with their relocations, I understand that it can feel overwhelming. But fear not! I'm here to provide practical advice based on my expertise and experiences.
There are many wonderful cities along the West Coast of the United States. Though the "West Coast" generally brings to mind a sunny, beachy locale, many destinations across the West Coast have vastly different weather. Aside from California (which we typically think of), this region of the U.S is also home to Oregon, to Washington to Alaska. For those in Los Angeles hoping to move up the coast, Seattle may be an enticing option for their new home. 
We recently helped a client transition from Southern California to the Emerald City. While she was excited about the culture and tech scene in her new location, we advised her to prepare for the shift in climate, as well as the more compact urban layout. We made sure her belongings included the right gear for Seattle's infamous rain and helped her downsize her patio furniture, which wouldn't quite fit on her new, cozier balcony.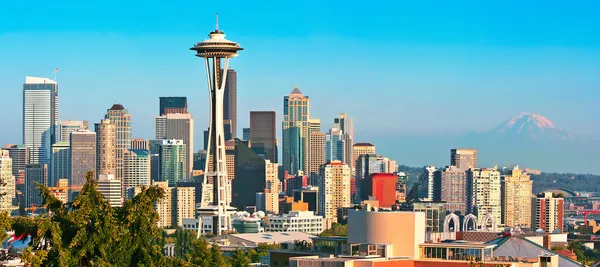 COST OF LIVING: GET READY TO SPEND
Now, I have to be real with you. Living in Seattle does come with a price. As of 2019, it's one of the top 5 most expensive cities in the U.S. for renters, and the cost of groceries ranks second highest in the country. Over the past decade, Seattle's cost of living has skyrocketed, much like other West Coast cities. While it's still cheaper than New York City, it's important to be financially prepared for the higher expenses. 
WHERE TO LIVE?
Moving from LA to Seattle? It's a big step, but we've got your back. First, forget the Sleepless in Seattle myths; not everyone lives on houseboats. Seattle's neighborhoods vary from bustling Downtown to quiet suburbs like Bellevue. So, pick a spot that matches your lifestyle—whether you want an artsy vibe or a family-friendly area with great schools. There are many wonderful neighborhoods in Seattle (and most people do not live on boats). Some areas of the city offer a more hip and cosmopolitan style of living like Capitol Hill, Downtown and Fremont. While others are more traditional and suburban like Redmond, Kirkland and Bellevue (which have great public high schools and low crime). Depending on your preferences, there are plenty of great neighborhood options in Seattle. 
PLAN YOUR MOVING BUDGET
Generally speaking, a move like this could cost you anywhere from $4,000 to $8,000. Yeah, we know it's a broad range, but several factors can significantly affect that number.
First up, the volume of your belongings. The more stuff you have, the higher the costs for labor and transportation. We recently helped a couple move, and they managed to cut costs by about 20% just by decluttering their home before we arrived. So, consider having a garage sale or donating items you don't need. It'll save you money and make your new Seattle home less cluttered.
Timing is another big factor. Peak moving season is May through September, and rates can surge during these months. If you have the flexibility, consider moving during the off-season. One client of ours saved almost $1,000 by opting for a mid-October move.
Once you have an idea of your moving scope and preferred timing, the next step is to get a quote. This will give you a more accurate cost estimate, allowing you to budget accordingly. We offer free quotes either online.
NO INCOME TAX
One major perk of moving to Seattle is the lack of state income tax. Yup, you heard that right! While you'll still have to pay federal taxes, you'll save some money by not having to pay any local taxes in the city. This can be quite an attractive feature for those heading to Seattle.
TRAFFIC & GETTING AROUND
If you're used to the infamous LA traffic, you'll find some relief in Seattle. The average commute time here is just LA people, rejoice! The average commute time in Seattle is 28 minutes, which is nothing when compared to the average commute time in LA (53 minutes). Seattle is a medium sized city, so traffic is not nearly as much of a problem as in LA. Moreover, there are public transportation options like the Light Rail, buses, ferries, and streetcars. 
START UP CENTRAL
Seattle is not only a great place for relaxation, but it's also a thriving hub for startups and tech companies. With Fortune 500 companies like Microsoft, Amazon, and Starbucks headquartered here, the city has attracted a young and vibrant entrepreneurial community. The low unemployment rate is good news for those who are hoping to start a new company or find a new job. Seattle is definitely the place to be for young entrepreneurs and tech visionaries looking to make their mark.
GETTING USED TO THE PACIFIC NORTHWEST CLIMATE
First things first, let's talk about the climate. Seattle is known for its gray skies and rainy winters, which can be a stark contrast to the sunshine you're used to in LA. But don't worry, there's a silver lining. Summers in Seattle are absolutely stunning, with plenty of sunny days and warm weather to enjoy. It's all about finding the beauty in each season!
SO MUCH NATURE
Seattle residents are known for their love of the outdoors, and it's easy to see why. Surrounded by wild forests and national parks like Mt. Rainier, there are endless opportunities for hiking, camping, mountain biking, and kayaking. Even though Seattle is a big city, there are plenty of trails in the surrounding areas that make for perfect day trips. Trust me, you'll never run out of adventures in this outdoor lover's paradise.
READY TO MOVE? REACH OUT TO LOCAL MOVING SERVICES
Moving to Seattle can be a great decision for Angelenos who love coffee, hiking and have a deep passion for tech! But this long distance move can be a huge hassle if you don't hire the right moving company. Be sure to reach out to prominent Los Angeles Movers, like Oz Moving, and ask for a free quote to start planning your move today! 
LIKE OUR FACEBOOK PAGE FOR MORE GREAT MOVING TIPS: