Moving to the Sunshine State has been on the top of many bucket lists, especially for those who hail from the Northeast. Residents from New York, Connecticut and Maine are often pining for warm Florida sun and cool ocean breezes. The distance between Connecticut and Florida is over 1200 miles, but the move does not have to be painful. Almost 1000 people move to Florida every day, which is a tell tale sign that Florida is a welcoming place to newcomers from all over the country. 
The popularity of this move indicates that there are plenty of professional Connecticut movers equipped to help you out. From assisting with loading the truck, packing your belongings, to calculating the most efficient route, hiring moving services can make the move to Florida a reality.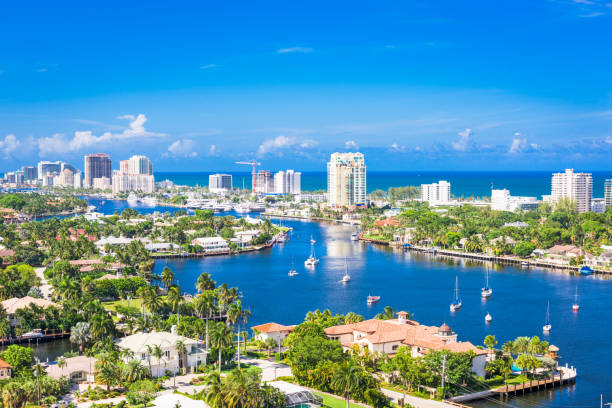 Moving From CT to FL? Things to know beforehand
Long distance movers can be expensive so it's important to understand how to budget this big move. We recommend you contact several moving companies in your area and request a moving quote well in advance. Moving costs can vary depending on what services you require so be sure to ask about additional services like packing, unpacking, supplying packing materials as well as assembly or disassembly of furniture/appliances. 
How much does it cost to move from CT to FL?
A ballpark estimate for a move from CT to FL is around $3000-$5000. However, this price can go up or down depending on several factors like volume, distance and additional services requested. Also, it is important to remember that movers rely on tips which usually come out to 15-20% of the total cost. Be sure to request a free quote from a long distance moving company to get a more accurate estimate. 
What are the benefits of moving to Florida?
Florida is an attractive option for a variety of people; both retirees and young professionals alike have found themselves heading to Florida to start a new chapter of their lives. 
Unlike Connecticut, Florida has no state income tax which is good for people looking to save some money on their annual taxes. The cost of living in Florida is also generally more affordable than Connecticut. However, the cost of living depends on which city you hail from and which city you are moving to. The most expensive city in FL is Palm Beach, which is still 26% cheaper than Greenwich (the most expensive city in CT). There are more budget friendly cities in Florida like Hartford and New Haven which are comparable to Orlando, Jacksonville and St. Petersburg in terms of housing pricing and day to day expenses. 
Florida is also a great place to move with your family. In terms of education, there are a number of excellent public high schools and public universities throughout the state. Moreover, there are dozens of exciting family friendly activities like Disney World, Universal Studios and other popular theme parks. If you are a young professional, moving to Florida may be enticing due to the bustling nightlife or the opportunities in real estate and hospitality. For retirees, Florida can be a huge draw due to the many elderly care homes and renowned healthcare professionals in the area. 
Most Popular Cities to Live in Florida
The coronavirus pandemic has inspired a surge of interest in folks relocating to Florida. The most popular cities in Florida are often located in South Florida thanks to the region's year-round sunny climate and abundance of gorgeous beaches. These areas are concentrated around Miami, Fort Lauderdale, Boca Raton and West Palm Beach. However, there are some other popular destinations in Central and Northern Florida like Orlando, Tampa Bay, Clearwater, Sarasota and Tallahassee.
How long does it take to drive from Connecticut to Florida?
The drive from CT to FL takes around 18 hours, which means that some may prefer to fly to their new home and then wait for their belongings to arrive by truck. Others may be fine with renting a moving container and attaching it to the back of their car and driving their belongings to Florida themselves, making a few pit stops along the way. When driving a moving container or moving truck, you'll have to cover all the tolls, parking tickets, gasoline expenses and hotel rooms. This can add a few hundred dollars to the cost of the move, so don't be surprised if the DIY route is more expensive than you planned for.  
Whatever route you choose, be sure to keep an itemized inventory of your belongings to keep track of your items during the move. Also, keep track of where you store your items in the truck by correctly labeling the contents of every moving box. The logistics of moving can be a huge burden, so staying organized can be vital to ensuring all of your belongings get to your new home safely and in a timely manner.
What is the cheapest way to move out of state?
The cheapest way to move is to do it yourself. Instead of hiring a professional moving company, consider renting a moving container or a U-Haul to shave some costs off the move. Typically a DIY move can be around 50% cheaper than a full-service move, so keep that in mind. A moving truck rental starts at around $1200 and goes up depending on the size of your apartment and the amount of furniture you own/intend to move. 
Another way to save money on this move is to downsize your wardrobe/belongings. The benefit of moving to Florida is that you won't have to deal with long and nasty winters like you would in New England. Therefore, to save yourself some money and space, you can rent an affordable storage unit in Connecticut to store all of your winter belongings and cold weather accessories. That way, you won't need to lug everything you've ever owned across the entire East Coast. 
Acquiring packing materials like boxes and bubble wrap can also be done on the cheap. Head to some local stores in your neighborhood and ask if they have any leftover boxes they'd be willing to give you. For a more eco-friendly packing tip, use old curtains and bedsheets to wrap your fragile items and protect them during the move. Though moving companies can make your life easier, they are not the only option. 
LIKE OUR FACEBOOK PAGE FOR MORE GREAT MOVING TIPS: