Connecticut is considered one of the most affluent states in the U.S. Home to investment bankers and CEOS, Connecticut boasts the highest income per capita. However, what is it really like to live in CT? How much does it cost? We went to find out exactly how much you need to live comfortably in CT. This way you can make an informed decision before looking for moving companies in Connecticut and start planning your move.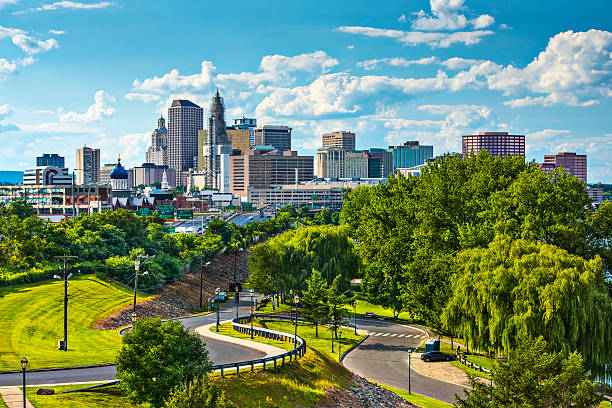 What is the cost of living in CT?
The Cost of Living is an important indicator of how much it costs to attain a certain standard of living in a given area. The Cost of Living is generally assessed by looking at grocery prices, restaurant prices, utility prices and housing. The Cost of Living in CT remains higher than the U.S. average, but it varies from place to place.
Out of all the counties in Connecticut, Fairfield County is by far the most expensive area of CT, with day-to-day expenses hovering at around 50% more of the national average. Fairfield County encompasess the metro areas of Greenwich, Stamford, Norwalk and Bridgeport. However, there are more affordable areas in the state like Hartford County and New Haven County, where day-to-day expenses are only about 12-20% higher than the national average.
According to an analysis by Best Places, the cost of living index in CT is 107.8/100. Using their scale, they appraise that CT is around 8 points higher on the index than the general U.S. Though CT living may be pricier than the U.S norm, it is important to acknowledge that CT living can be more affordable than NYC/NJ and other highly coveted parts of the Tri-State area.
Connecticut Housing Costs
Housing in CT can be surprisingly affordable. The median cost of a home in the state is $239,000 compared to the national average at $231,000. However, affordable housing is not available in every part of CT; in areas like Greenwich, real estate property prices can start in the millions. 
When it comes to renting, the average renter in Connecticut spends around $1,156 per month, which is only ~$130 more than the national average, meaning that home prices in CT are comparable to the general U.S market.
Connecticut Transportation Costs
The public transportation in CT is excellent, which means that owning a car can be optional. The Metro-North pass can cost anywhere between $300-$500 per month, depending on your designated station and daily commute. For a pass to get you between Greenwich and NYC, this monthly charge will be closer to $300, from New Haven, closer to $500. 
However, despite the access to public transportation, most CT residents drive to work. Car insurance payments in the 'Nutmeg State' come out to around $1,500 per month which is comparable to the national average. 
Connecticut Health Care Costs
Health care costs in CT total to around $4,500 per year for a single adult, which is only slightly more than the national annual average at $4,260. This is especially affordable when you consider healthcare costs in nearby New York, where a single adult pays $6,400 on average per year. In Massachusetts, this figure is even higher at around $8,600 per adult. 
Connecticut Food Costs
Groceries can be a huge financial burden depending on where you live and the affordability of the area. In NYC, a single person will spend around $5,600 a year on groceries, while in CT, a single person will spend around $3,400 per year, which is far closer to the national average. 
Child Care Costs in CT
Childcare is an expensive necessity for many working families. In CT, monthly childcare expenses for a family with two children will come out to around anywhere between $1,100 and $1,400 per month, however in Fairfield county, this figure will be more like $1,600 a month. 
Connecticut Taxes
Connecticut Taxes are higher than the national average; an adult in CT will pay around $7500 a year in Social Security and Federal Income Taxes, whereas the national average for taxes hover around $6500. However, compared to New York, this is actually considered a good deal. In New York, singles pay upwards of $8000 a year in annual taxes. CT tax rates are not low by any means, however, neighboring Rhode Island and Massachusetts residents also face high tax rates. In general, New England is a pricier region than the Midwest or South-West. The higher price tag can usually be justified by the improved quality of life: good public schools, low crime rates and tons of beautiful nature right outside your front door.  
Cost of Living by County
The most affordable areas of CT are located in New Haven County and Hartford County. Specifically the towns of Waterbury, Manchester, Torrington, New London, Hartford, Meriden, Hamden and Bristol are generally considered to be affordable. In these areas of CT, the median cost of a home is around $150,000. 
The most expensive towns are Norwalk, Stamford, Greenwich and Danbury, towns mostly located along the Long Island Sound or as some call it 'The Gold Coast'. However, in these more expensive areas, the median cost of a home in Fairfield County is in the $450,000 range. These price assessments were made using a cost of living calculator by Salary.com. 
How Much You Need To Earn To Live In Connecticut: Average 
CT is the state that is home to the highest income per capita in the nation at $70,000. But depending on where you choose to live in the state, you do not need to earn that much. If you are a family on a budget, you may want to look into setting down in Norwich, Waterbury, Meriden or Milford. However, in a town like Greenwich, the average household salary is around $336,000, which is one of the wealthiest areas throughout the United States. 
Nonetheless, though Connecticut can be an expensive place to live, for a family of 4, you may be saving quite a bit than if you were choosing to live in Manhattan or Boston. To live comfortably, a family of 4 in New Haven County or Hartford County would need a household income of around $90,000. The same family in NYC may need to make around $125,000 a year to live as comfortably and enjoy the same quality of life. 
There are plenty of employment opportunities in Connecticut in Childcare, Healthcare, Service, Education and Finance. Prior to the Coronavirus pandemic, the CT job market was thriving with a low unemployment rate of 3.7%. Hopefully, with businesses reopening in the state, Connecticut can achieve that number once again. 
Conclusion: Cost of Living in CT
Though Connecticut is often defined by its more affluent regions, CT can be quite an affordable state depending on where you live, especially when compared to nearby NYC, NJ or Westchester County. The cost of housing, groceries, transportation and food in CT can vary widely, which means that it is important to do your research when moving to Connecticut and finding a new home. If you're still on the fence, we can provide you even more reasons to move to Connecticut.
LIKE OUR FACEBOOK PAGE FOR MORE GREAT MOVING TIPS: