Lots of New Yorkers are eagerly seeking a new city to make their own. Some are turning to Miami, the vibrant city in South Florida. Miami, like NYC, is an exciting and diverse metropolis offering lots of urban amenities with a few extra perks. There are many great reasons to make the move to Miami. Oz is here to bring you a few: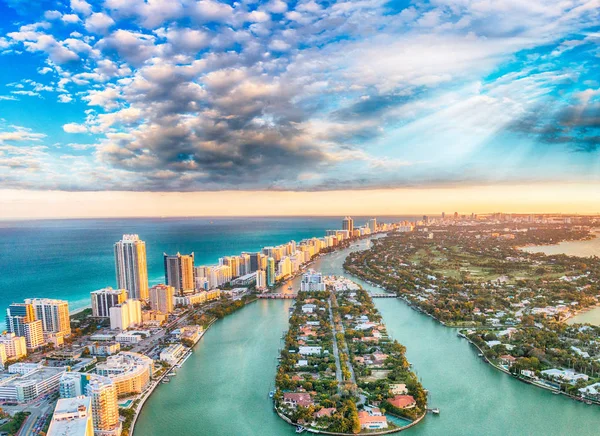 Warmer winters
For one, Miami weather is a vast improvement to NYC. Miami has the warmest winter in all of the U.S mainland. During the winter, the weather in this region of the Sunshine State doesn't usually fall below 60 degrees which means you can enjoy the outdoors year round.  Miami is also a lot more compact than NYC. It only takes around 40 minutes (at most) to get from one side of the city to the other. You can also easily reach places like Fort Lauderdale and West Palm Beach. Moreover, Miami is quite easy to get around. The city offers a great scooter share and bike share program, which means you can get around without a car! There's also the Miami-Dade Public Transportation system which offers buses, and an above ground rail system (Metrorail and Metromover).  
People flocking to Miami are certainly hoping to get some good beach time! It's no secret that Miami has some of the best beaches in the world. The Miami coastline stretches for miles and is home to two famous beaches — Miami Beach and South Beach that are famous for their teal waters and white sands. People argue over which side is better, but they both offer a good time. 
South Beach, is the crazier of the two. Full of bars, nightclubs, restaurants and lively sidewalks, South Beach is a lot of fun. The Art Deco architecture, too, remains one of the most iconic and stylish neighborhoods in the country. Miami Beach, on the other hand, is full of tall glass buildings, and is far more quiet. 
But, aside from the beaches, the drinking and the partying, Miami actually has a bunch of great other things to offer New Yorkers. 
Hip neighborhoods
Like NYC, Miami is super diverse, which means the food is delicious. In Miami you can find anything from Venezuelan cuisine, to Indonesian cuisine to Cuban cuisine all across town. (And of course try one of Florida's famous Key Lime Pie's!)
Miami is also so much more than South Beach. The city is growing by the day and building new neighborhoods. In the past few years, Miami has seen a growth in fun new places to hang out, like the Wynwood Art District. Wynwood has recently become one of Miami's hippest areas, full of cool shops, restaurants and art (think Williamsburg, Brooklyn). Other fun areas of Miami include the Design District, Bar Harbour and Downtown Miami. Downtown Miami is particularly good for those who like sleek modern NYC living. 
Since Miami is home to Art Basel, it's no surprise that the city has a flourishing art scene. With museums like Vizcaya, the Perez Art Museum, and the Museum of Contemporary Art. In Miami, there are plenty of incredible cultural institutions to visit when you're looking for something to supplement all the food and partying. 
Cheaper Living
And one of the most attractive parts of Miami, is that the city tends to be significantly cheaper than New York City. The cost of living in Miami is 22% lower than NYC, with rent being 42% lower than NYC. A 1 bedroom apartment in Miami typically goes for $1,825 a month while in NYC a 1 bedroom apartment will go for $3,327 (on average). 
You also can get a lot more bang for your buck in Miami Lots of apartment buildings in Miami offer full service amenities, like 24/7 security, pools and lounge areas, for a more affordable price than you would find in NYC. Moreover, restaurants and groceries also tend to be cheaper than NYC, which means that if you are a remote worker (or retired), moving to Miami may be financially advantageous. 
In recent years, changes in tax laws have made Miami an attractive destination for tax deductions.  According to the New York Post,  "The federal Tax Cuts and Jobs Act signed into law in late 2017 brought with it sweeping changes that limited deductions on state and local taxes — with taxpayers particularly hard hit in New York, New Jersey and Connecticut, which are among the states with the highest income and property taxes." The tax law may have inspired some to move to Florida. The Post continues, " According to US Census Bureau data, Florida had the highest number of migrants from other states, with New York contributing the most — 63,722 people during the 12 months ended in July 2018."
Though Florida has a cheaper cost of living, keep in mind that salaries in Florida are quite low when compared to NYC. In Florida, the minimum wage hovers around $8.46 an hour, while in New York the minimum wage is almost double that, at $15 
Nature
Miami is full of cool wildlife and nature sights. There are plenty of manatees, dolphins and alligators across the local area. Sometimes a sunset run can turn into a fun manatee watch. Also, there is the Everglades National Park not too far away, for those who are interested in hiking, boating, canoeing and birdwatching. Lots of Miami residents love to take part in fun activities like jet skiing, boating and fishing across many ports in the city. However, nature is not for all Miami residents! Plenty of Miamians prefer to head to Miami Heat basketball games or dance at the club. 
IS MIAMI MORE DANGEROUS THAN NEW YORK?
All big cities tend to have higher crime rates than their suburban counterparts. Miami is no different. In the past few decades, Miami's crime rates have dropped quite a bit. 
For comparison's sake, Miami has a higher crime rate than New York City, but lower than Los Angeles. However, it is important to note that Miami is also a smaller city than New York, so without adjusting for population, Miami has fewer reported total crimes but a higher per capita crime rate than NYC.
Real Estate
Miami has been nicknamed the 'Magic City' due to its historically rapid growth and expansion. This nickname is particularly true when it comes to Miami real estate, which has become a coveted and profitable investment. Miami real estate prices have grown quite significantly in the past few years. In 2014, the median Miami home cost around $270,000. As of 2020, that price has gone up to $366,519. Obviously, research different areas and appreciation trends before you delve into the market, but these trends signal that moving to Miami may be a profitable adventure. Given that Miami is a popular holiday destination, homebuyers can potentially make additional income by using their homes for Airbnb and vacation rentals. 
If you are planning a move to Miami, be sure to consult long distance movers for an estimate. Miami is truly one of the most exciting cities in the country, which makes Miami a great destination for New Yorkers who love to be in the hustle and bustle. 
LIKE OUR FACEBOOK PAGE FOR MORE GREAT MOVING TIPS: