Santa Monica is one of the most picturesque parts of Los Angeles. Home to the Third Street Promenade, and the famous Santa Monica pier, this waterfront destination is a wonderful, and attractive area of Los Angeles. Full of beautiful beaches, charming restaurants and boutique shopping, Santa Monica is a place that can't be beat.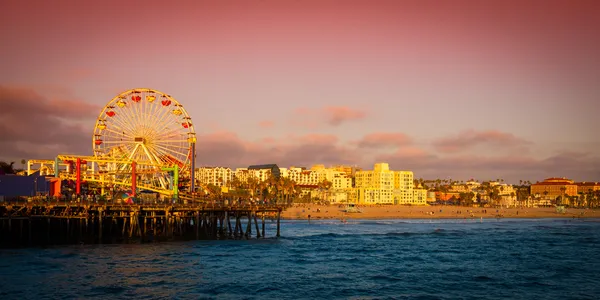 Is it Expensive to Live in Santa Monica
Like most of California, Santa Monica is a fairly expensive place to live. When comparing Santa Monica prices to the rest of Los Angeles, the cost of living in Santa Monica is significantly higher. The rent for a 1-bedroom apartment in Santa Monica will cost you around $3,000 per month, while a comparably sized apartment in other parts of Los Angeles will go for $2300. 
The real estate market in Santa Monica is highly competitive, full of condos and mansions selling at record prices (often going for the millions). The median value of a home in Santa Monica is $1.7 Million. The area is highly desirable for families, as it boasts low-crime rates and great public school districts. It's no surprise that Santa Monica is one of the most sought after places to live in Southern California. 
Moreover, the luxurious nature of the area means that basic necessities can be expensive (think restaurants, retail, grocery stores). Combining a chill beach vibe with posh retail, the area suits those who love both upscale and down to earth styles of living. Santa Monica is located right next to the famous Venice beach, which is a fun and eccentric destination. Be sure to head to Abbot Kinney or Muscle Beach for a good time! But if you want some extra glamour, Santa Monica is also perfect for that. Santa Monica is a mix of Brentwood or Beverly Hills style opulence with the dreamy shoreline of an area like Malibu.
How Much Movers Cost in LA
The cost of moving can depend on a wide variety of factors. Of course you can conduct the whole move yourself and rent a moving truck (or U-Haul) which should be the most affordable option. But, be aware, there can be hidden fees involved when you decide to conduct the move yourself. For instance, if you conduct the move yourself you may end up having to pay extra costs for vehicle insurance, gasoline, tolls, parking tickets and so on. These costs can add up and lead to additional problems along the way, especially if you are not an experienced mover. 
Hiring a moving company can be essential for times when a U-Haul won't work. Moreover, a full service move will typically include the costs of gasoline, vehicle insurance and tolls. 
Though moving to a new home can be demanding and draining, professional moving services can help! Movers can provide you with a reliable, efficient and stress-free move. 
So how much does moving cost? 
Moving costs depend on the volume of your move, the distance of your move and the added services you may require. If you are conducting a local move, then the pricing will go by the hour. The hourly rate is typically around $150 (for 3 movers) per hour. Depending on the volume and distance of your move, local movers should be able to finish the job in a few hours. A move can cost anywhere from $300 (single person living in a studio) to over $1000 (family sized home). These costs typically vary according to the size of your home.
For long distance moving, professional movers will typically charge a flat rate. This rate includes the door to door service of pick up, drop off and relocation of your belongings. A long distance move can cost upwards of $1000 depending on how far you are moving and how long it will take. A cross country move (NYC to LA) for instance can take up to two weeks! If you are planning to hire long distance movers, don't wait until the last minute! Be sure to plan your move far in advance. 
Pricing can also vary according to whether you decide to pay for additional services. First time movers may want the assistance of the professionals to help them throughout the moving process. These add-ons can include full packing services, which means that packers will come to your home and assemble and pack all of your boxes (and unpack them all upon arrival at your new house). Moreover, with full packing services, you will not have to fetch your own moving supplies. Instead, the movers will provide all the boxes, tape, and packing peanuts (or other necessary supplies). 
Movers can also assemble and reassemble all of your furniture pieces which can save time and money in the long run (and avoid any potential accidents). Also, during the pandemic, moving companies have been offering no-contact moves which means that you do not have to be physically present during the move. Be sure to consider these add-ons for your next move!
How Much Does Storage Cost in LA
In Los Angeles, storage units start at around $80 a month, for the smallest unit size. Storage units range from closest sized (5x5) to entire two bedroom home sized (10x10), with prices increasing according to storage volume.
To learn more about storage solutions in Los Angeles, be sure to inquire with local Santa Monica movers about their storage unit options. Storage can range in pricing depending on whether you choose to go the self-storage route or full-storage route. Pricing also depends on the size and location of your unit. Typically, more expensive areas charge more expensive rents for storage. 
For those hoping to have a seamless moving experience, be sure to research the best Los Angeles movers in your area and request a free moving quote.  
For more information on moving and storage costs in Los Angeles county and the surrounding area, check out our blog post here. Remember, that moving is a service and it is customary to tip your movers. Be sure to include a 15-20% tip on top of the estimate to understand exactly how much your move will cost you. 
LIKE OUR FACEBOOK PAGE FOR MORE GREAT MOVING TIPS: