Are you considering moving from Los Angeles to San Francisco? These two cities are known around the world but offer vastly different lifestyles, despite being in the same state. Be prepared for some differences when you arrive at The Golden City and experience the West Coast in a whole new way.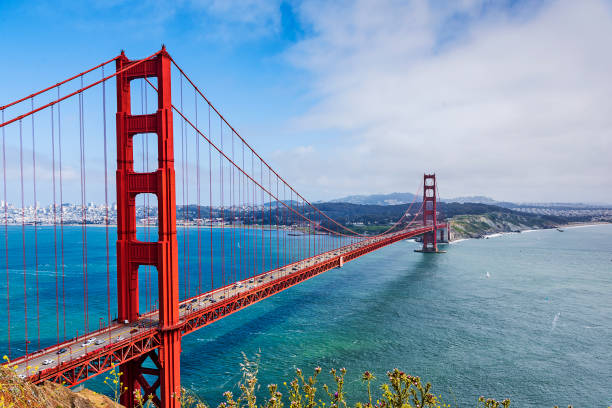 Los Angeles is a city with a population of 4 million, compared to SF's population of 880,000. However, just because SF is smaller in population, does not mean the city is any less vibrant. If anything, SF offers a more urban lifestyle, complete with a robust public transportation system, bustling nightlife and plenty of wonderful restaurants.
SO.. HOW DO YOU MAKE THE MOVE?
Moving from Southern California to Northern California is considered a long distance move. A lot of people we talk to think they can handle this move themselves because the two cities are located in the same state. Hoever the distance between cities is deceptively long -- nearly 400 miles, or roughly the same as moving from DC to Boston. Professional moving companies in San Francisco can offer you a free quote to help you understand the cost of this move. Movers can also provide packing and unpacking services, which can make your move far less hectic and stressful! Or you can hire movers to pack some bulky items for you like a bicycle or surfboard and pack the rest of your belongings yourself. In just 6 hours you can make the move from Los Angeles to San Francisco. 
In this article, we put together some helpful infomation for people considering a move up the coast:
San Francisco is renowned for its microclimates. One neighborhood might be sunny and warm, while another just a few blocks away is foggy and chilly. As you pack, consider organizing your clothing so that layers are easily accessible upon your arrival, especially if you're used to LA's more consistent weather.

Bridge Traffic: If you'll be commuting across the Bay Bridge or the Golden Gate Bridge, plan for potential traffic congestion. Unlike LA's sprawling grid, the Bay Area's geography funnels much of its traffic through a few key chokepoints. If possible, time your move or daily commutes outside of rush hours.
San Francisco is notorious for its limited parking, steep hills, and strict parking enforcement. If you're bringing a car, familiarize yourself with street cleaning schedules in your new neighborhood to avoid fines, and consider renting a parking spot if your new home doesn't provide one.
Prepare for rent shock! While LA is already expensive, San Francisco's rent can be even steeper, especially in desirable neighborhoods. Be prepared for sticker shock and consider looking into neighborhoods a bit further from the city center or exploring roommate options to offset costs.
Remember, both LA and SF are vibrant, dynamic cities, each with its unique flavor. Embracing the particularities of each will make your transition smoother and more enjoyable.
WEATHER
Moving from LA to SF may mean ditching warm sunny beach weather. San Francisco has a far milder climate, which means that they don't have real summers or real winters. San Francisco is known for being colder and more rainy, with temperatures rarely reaching the high 70s and 80s. Expect to wear jackets year round as California's reputation for being a sunny paradise does not extend to SF.
When we helped recent UCLA grad to SF for her first job, she was stunned at the amount of closet space she'd need in her new home. In LA, her wardrobe mostly consisted of summer dresses and light layers. But upon feeling SF's chilly breeze, she quickly realized she'd Need to buy a lot of new clothes!
ACTIVITES
Though SF is also a beachfront city, you may not be swimming much in the water like you would be in Santa Monica. But, you can still surf! There are many beaches throughout the area that are well-known for surfing -- even directly under the Golden Gate Bridge! Moreover, given that the city is largely located on hills, there are many great hikes and trailheads throughout the Bay Area full of beautiful views and impressive trees! The Golden Gate Bridge Recreation Area offers plenty of fun outdoor activities like boating or biking. If surfing or hiking isn't your thing, there are plenty of other SF outdoor activities that you will enjoy! Be sure to visit wine country in Napa Valley or Sonoma Country. The nature and landscape of the Bay Area is quite breath-taking!
EMPLOYMENT
The opportunities for employment in the two cities are varied. Typically, Los Angeles is seen as a hub for creatives looking to break into Hollywood and work in film, TV or music. San Francisco, on the other hand, is a perfect place for starting a tech company or working for an already successful tech conglomerate (like Apple, Amazon, Microsoft) in Silicon Valley. According to the San Francisco Chamber of Commerce, the main sectors of the SF economy include biotech, renewable energy, international business, software and social media/marketing. However, there are plenty of other employment opportunities for those not interested in tech! You may be surprised to learn that the number one SF industry is tourism. The tourism industry encompasses a bunch of service jobs like working in hotels, restaurants, bars and nightlife!
WHERE TO LIVE
Rents in San Francisco are far greater than LA. SF real estate, too, tends to be some of the most expensive in the country with prices for 1-bedroom apartments surpassing $1 million. Moreover, you can expect to pay 50-60% more in rent than you did in LA. For example, a 1 bedroom apartment in the center of the city can go for around $3,500 a month. That being said, there are many cute neighborhoods in SF, like The Mission, Russian Hill and Haight-Ashbury. Some up-and-coming neighborhoods to check out are Bernal Heights, The Sunset and Dogpatch!
PUBLIC TRANSPORTATION
Unlike LA, you won't necessarily need a car to get around San Francisco. The Public Transportation system is well-developed compared to LA. There are the infamous classic cable cars that can take you around the center of the city. Otherwise SF residents have access to the BART (Bay Area Rapid Transit System) and Muni Bus System.
THE GREATER SAN FRANCISCO BAY AREA
San Francisco is not the only city in the area worth visiting. Across the San Francisco bay is Oakland, California. Oakland complements San Francisco quite well and is a great place for artists and musicians. Not only is Oakland home to University of California -- Berkeley but Oakland is full of cool music scenes, art galleries and creative youth. Oakland has typically been seen as a cheaper alternative to SF, but these days the prices in Oakland have grown significantly.
SF GRUB
If you live in LA, you're probably going to miss the local food. LA is known for authentic taco-stands and delicious vegan options. SF, too, has some great Tex-Mex food. One of the most famous dishes in the area is the Mission Burrito (which you can grab in the Mission District).
It may be haerd to say goodbye to Teddy's Red Tacos in Venice Beach, but just wait until you check out the burrito game at El Faro -- home of the original Super Burrito!
If Mexican food isn't your thing, SF is also known for its seafood (which you can try in the Fisherman's Wharf). And if you're vegan, there are plenty of creative vegan restaurants throughout the area! Check out this list of the best Vegan Restaurants in the city.
SPORTS
One of the most fun aspects of life in San Fransisco is rooting for the city's sports teams, which in recent years have become some of the most decorated teams in the professional leagues. SF teams are known to win championship after championship which means the streets of the city are often filled with parades, and celebrations for the city's teams! Just this past year, the 49ers made it to the Super Bowl! In the past 5 years, The Golden State Warriors have won 3 NBA championships and in the past decade, the SF Giants have won 3 World Series!
LIKE OUR FACEBOOK PAGE FOR MORE GREAT MOVING TIPS: