Why You Should Move to Brooklyn?
If you're already contemplating a move to Brooklyn, then it won't be too hard to convince you to take the plunge and head to BK! Brooklyn is one of the most exciting places to live (not just in NYC) but all throughout the United States (and maybe even the planet?). Brooklyn is home to a diverse crowd; from young professionals to singles to families to old school New Yorkers, there's a neighborhood in Brooklyn for everyone.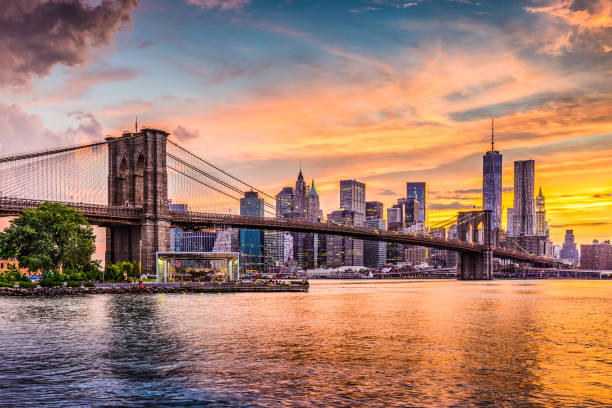 Is Brooklyn Good Place to Live
Brooklyn is a highly coveted and desirable place to live. There are tons of cool Brooklyn neighborhoods, all of which cater to different lifestyles. Young people tend to flock to Bedford-Stuyvesant, Williamsburg, Greenpoint, DUMBO and Bushwick for good shopping, theatres, nightlife, cool dive bars and delicious food. These areas definitely have some 'hipster' flair and offer plenty of fun activities for those into music, fashion, comedy and art. 
One of the best parts about living in Brooklyn is all the extra space! Brooklyn offers more room to breathe than other areas in the big apple. It's not uncommon to have a front yard or a backyard which can be super nice for summer BBQ's or playing in the winter snow!

Because many Brooklyn residents live in brownstones or single-family homes instead of high rise apartment buildings, living in Brooklyn can actually feel like an escape to the country and even function as a mini oasis in a crowded city. Furthermore, like Central Park in Manhattan, there are plenty of lush parks and green spaces to enjoy throughout Brooklyn like Prospect Park, McCarren Park and Fort Greene Park. In Brooklyn, there are tons of neighborhoods where you can feel free from the hustle and bustle of NYC and feel like you've entered the suburbs (especially in areas like Ditmas Park or Dyker Heights). 

Brooklyn is also well connected by public transit networks like the LIRR, MTA subway system and ride-share apps like uber and lyft, which can be especially convenient when commuting between Brooklyn and Manhattan. Brooklyn is also well connected to Queens via the G train and Kosciuszko Bridge. However, getting to Staten Island or The Bronx may be a challenge which is something to consider if you work in those areas. For a better understanding of where to live in Brooklyn be sure to check out our blog post on the

Best Neighborhoods to live in Brooklyn.
What is special about Brooklyn?
The Brooklyn Bridge promenade and Coney Island boardwalk are two of the most iconic places that come to mind when thinking about the concrete jungle that is NYC. These two Brooklyn hotspots symbolize the dynamic energy of this wonderful and exciting borough, full of history, culture and possibility. Historically, Brooklyn was where most immigrants would move when arriving in New York, which helped establish many distinct ethnic enclaves like Brighton Beach and Sunset Park. For much of the 20th century, Brooklyn was one of the most welcoming and affordable areas and served as the first stop for many 'rags to riches' stories. 
One of the most special aspects of Brooklyn is the sense of community, particularly in areas like Park Slope, Brooklyn Heights, Red Hook and Fort Greene, where there are weekly farmers markets, community events, and plenty of Facebook groups for neighbors to interact with one another. A notable Facebook group to join is '

Buy Nothing

' where you can donate and exchange old knick-knacks and furniture to your neighbors. Brooklynites are super proud of their borough and have developed a strong sense of identity around the borough. Living in a place where people care about their neighbors is a great thing to witness especially in a big city like NYC. 

Food lovers also love heading to Brooklyn for a good meal. The Smorgasborg food festival in Williamsburg attracts thousands of hungry foodies looking to try some local bites like the Ramen Burger and other fan-favorites. If you're not into street food, be sure to check out some of the old school italian joints in Italian Williamsburg or visit one of the newer trendy restaurants along Bedford Avenue. 

Another special spot in Brooklyn is the Barclays Center in Prospect Heights where tons of concerts are held and the Brooklyn Nets play regularly. Brooklynites go WILD for the Nets so be sure to catch a game during their season! If you're not into sports, be sure to check out the Brooklyn Museum to see some art nearby. The Brooklyn Museum has a great permanent collection and frequently hosts cool exhibits. 

Brooklyn is also home to some of NYC's best beaches! Of course, NYC is no Miami but Brighton Beach and Coney Island are a good place to cool off and go swimming during the summer. If you're not a beach person, there are some public pools in the borough as well as luxe hotel rooftop pools that you can get memberships to (like DUMBO House). 

Finally, one of the best parts about living in Brooklyn are the insane views! Climb atop any rooftop and you'll (typically) be able to see the NYC skyline somewhere in the distance. Brooklyn rooftops are ideal for tanning in the sun, hosting cute summer picnics and having sunset drinks! 
Where Should I move in Brooklyn?
Brooklyn is a huge borough and certainly not uniform; there are both areas that cater to those who seek a more modern style of living, with glass high rise buildings, luxury gyms and trendy cafes, but also tons of areas for those who prefer old-school diners and classic 20th century architecture. 
The cost of living in Brooklyn varies depending on neighborhood. The areas closest to the East River of Manhattan (like DUMBO) tend to have the highest real estate prices and monthly rents. However, there are many good deals in other parts of Brooklyn like Flatbush and Bay Ridge where you can find more affordable rents. 

The current average rent price in Brooklyn is around $2,700 per month, though prices may continue to fall due to the coronavirus pandemic. The more expensive areas of Brooklyn (Williamsburg, DUMBO, Brooklyn Heights) tend to skew this number higher. However, it is definitely possible to find a studio for under $1500 and a room for under $800 (if you plan to live with roommates) and look for places in a cheaper part of Brooklyn. 

Choosing a neighborhood can depend on your personal needs, budget and preferred style of living. Be sure to check out Streeteasy when searching for apartments in NYC. If you don't want to sign a lease (and would rather sublet) check out

Gypsy Housing

on Facebook or look through sublet listings on

Craigslist

. Another place to check out is the

Listings Project,

which typically lists super cute places. Sometimes, it's better to sublet in an area before you sign a lease to make sure that the neighborhood fits your needs before you make a long term commitment. 
Ready to move?
It's no wonder that Brooklyn is one of the most popular areas to live in New York City, home to over 2.6 million residents.  If you are planning a move to Brooklyn we recommend that you request a free quote from local movers in your area. Moving into a new home can require a ton of planning and organization so be sure to reach out to a good moving company beforehand.