Moving from Miami to Fort Lauderdale
Fort Lauderdale is like Miami's chiller older brother. While Miami may be the go-to nightlife destination, Ft. Lauderdale offers many of the same amenities as life in Miami but with a more family-friendly twist. Fort Lauderdale is home to some of the most beautiful beaches in the United States, in addition to dozens of quaint canals, which has given rise to the nickname 'Venice of America'. Boating, Kayaking and Paddle Boarding are a way of life to some in the area.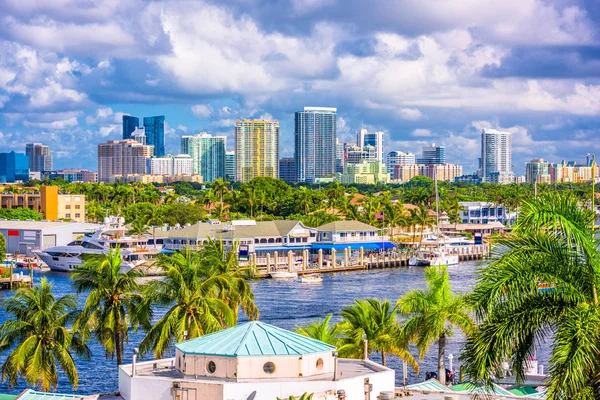 Cost of Living: Is Miami more expensive than Fort Lauderdale?
The cost of living in Fort Lauderdale (and South Florida in general) is higher when compared to the rest of the United States. Fort Lauderdale is actually the 7th most expensive place to live in Florida, boasting a cost of living that is almost 40% higher than the national average. Fort Lauderdale is far more expensive than Orlando, but slightly more affordable than Miami. When analyzing the cost of living between Miami and Fort Lauderdale, Fort Lauderdale comes out to be the more affordable option. Fort Lauderdale is around 5% cheaper than Miami when it comes to real estate and other living costs like healthcare, groceries, restaurant and general housing costs. 
Florida can be a cost beneficial destination due to the lack of state income tax. However, home prices in both Miami and Fort Lauderdale have grown significantly, especially in the past year, which means that it may be harder to find a Fort Lauderdale Home than usual.
Is it better to live in Miami or Fort Lauderdale? (The Pros and the Cons)
Depending on what you are looking for, Fort Lauderdale may be the better option. Fort Lauderdale may lack some of the iconic Miami traits like streets full of Art Deco Architecture and crazy nightlife that extends until the early hours of the morning, however, Fort Lauderdale is seen as a safer and more easygoing option. It's not uncommon for people to move from Miami to Fort Lauderdale when hoping to settle down and start a family.
Miami is more culturally diverse than Fort Lauderdale and is home to an abundance of languages and cuisines. That being said, Ft. Lauderdale still has tons of options for food like Seafood, Cuban, Mexican, Chinese and so on.
Fort Lauderdale Culture and Nightlife: What to do in Ft. Lauderdale?
Like Miami, Fort Lauderdale is full of bars, restaurants, clubs, chic hotels, boutiques and art galleries. One of the most thriving areas in Downtown Fort Lauderdale is called Las Olas Boulevard, a long thoroughfare where you can find just about anything you're looking for from casual live music to crazy nightlife to upscale dining.
There's plenty of fun cultural activities to take part in Broward County and the greater Fort Lauderdale Area ranging from visiting historical museums like the Holocaust Museum and some funky art galleries. A trendy place to go is the F.A.T Village Arts District to go on an art walk and do some gallery hopping. The Flager Arts District resembles the Wynwood Walls neighborhood in Miami, which some say has a hip New York flair. 
There are plenty of scenic nature routes throughout the area, especially around the Hugh Taylor Birch State Park and further away in the Everglades; be sure to look out for all the subtropical wildlife you can find in these parks. 
If you like to stay active, you can go on a jog in the upscale Victoria Park neighborhood along many of the running paths. You can also try biking along Fort Lauderdale Beach Boulevard which can be a great activity and a leisurely workout. The city of Fort Lauderdale offers a bikeshare program called Broward B-Cycle for those who don't own a bike or just want to go on a casual ride.
Those who love to swim will have a great time at nearby Harbor Beach, Hollywood Beach or even West Palm Beach if they're willing to make the trek. Whether you like to jump in the ocean or lounge by the pool, you'll be floating in style.   
Moving from Miami to Fort Lauderdale? Here is What You Need to Know
Hiring a Miami moving company can be your best bet, but you can also coordinate a D.I.Y move using a truck rental or rent a moving van. Local movers (as in those moving you from Miami) will typically run you around $600+ or more depending on the size of your house. If you're conducting an intracoastal or long-distance move the cost of moving to Fort Lauderdale will most likely reach the low to mid thousands. Though it can seem like a major expense, hiring professionals can be a worthwhile investment to ensure the safest and most efficient move. Moving services can also assist with packing, unpacking, storage solutions and furniture assembly. 
LIKE OUR FACEBOOK PAGE FOR MORE GREAT MOVING TIPS: