Choosing a location to call home is never an easy decision; every city has its ups and downs and its advantages and disadvantages, and comparing them is not a simple task. For example, many individuals are relocating from New York City, which has five boroughs, to Philadelphia. How can Philadelphia compete with New York City in terms of amenities? Are the people who are moving making the right decision? Some of the reasons individuals are relocating from New York City to Philadelphia are listed below.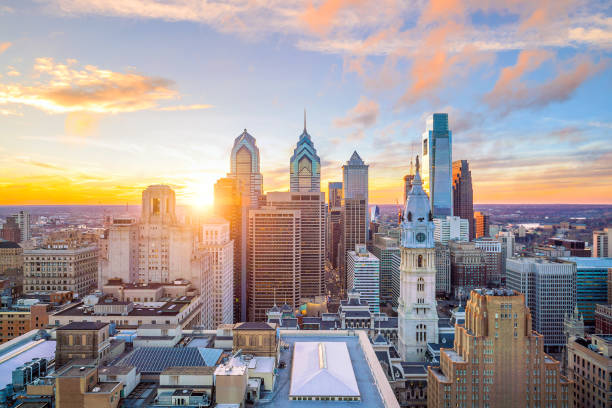 Rent in Philly Is Significantly Cheaper Than NYC
For much less than you pay in New York, you may get a lovely apartment in a beautiful location in Philadelphia. However, you may have to give up plenty of additional perks while living in New York City for the same price in Philly: a private bathroom, a front yard, or a kitchen with stainless-steel appliances. Furthermore, income in Philadelphia isn't that much lower than in New York City, allowing you to save a significant amount of money on rent for an apartment.
Remote Working
Many individuals want to leave pricey places like New York City and adjacent states like New Jersey because of the rising popularity of freelancing and remote employment. Philadelphia is an excellent choice if you want to work from home. Additionally, there are several office spaces and coffee cafes in the Philadelphia region for remote employees.
Startup Scene
There are a lot of startup prospects in Philadelphia, just as in other places around the country. Philly's vibrant tech ecosystem draws a growing number of entrepreneurs and innovators.
Cool and Trendy Neighborhoods
Philadelphia, like New York City, has several cool neighborhoods. Great music venues, clubs, cafés, and eateries can be found in abundance in neighborhoods like Old City and Manayunk. In addition, living in South Philly is a delight, thanks to the neighborhood's abundance of culture, delectable cuisine, and professional sports teams.
Art
There are a variety of world-class museums in Philadelphia, including the world-renowned Philadelphia Museum of Art. Exhibits of contemporary art and historical artifacts abound as are museums devoted to American history.
Walkable
You don't necessarily have to know how to drive if you move from New York City to Philadelphia since much of the city is walkable, especially the downtown district known as Center City.
Easier Life for Families
Philadelphia's quieter pace is ideal for people who want to raise families and lead a more peaceful, less hectic life.
Food & Beer
Philadelphia's service industry is thriving, showcasing various cuisines and promising newcomers. As in New York City's Chinatown, Philadelphia's Chinatown is packed with excellent eateries. In addition, Philadelphia has a thriving craft beer scene, with hundreds of breweries open for public tours and tastings. Overall, there are 85 breweries along the Craft Beer Trail.
Philly Pride
When you move to Philadelphia, you'll be greeted with a sense of pride from the locals. The Eagles, the Phillies, the 76ers, and the Flyers have devoted following among Philly's sports faithful. In addition, the city is brimming with cultural wonders. A sampling of the city's favorite pleasures, from the many Wawa convenience stores, places that sell Italian ices, and the famous Philly cheesesteak, can be found all over town. 
History and Tradition
Philly is a city with a rich history. The Mummers Parade is held each New Year's Day on Broad Street. In addition to the St. Patrick's Day and Caribbean Day parades, the city organizes many more events each year. Independence National Historical Park is where you'll find Independence Hall, the Liberty Bell, and other attractions related to the founding of the country.
The Murals
Beautiful pieces of art may be seen all across Philadelphia. You'll find more than 3,600 murals created by artists worldwide and distributed throughout the city. Philadelphia's musical history is well-represented in many of the city's murals. Questlove, Meek Mill, and Hall & Oates are just a few notable Philadelphians whose work can be seen throughout the city's public art.
Music
Philadelphia offers a wide range of musical genres to choose from, including jazz, rock, hip-hop, and electronic dance music (EDM). When deciding which music venues to visit during your time in Philly, you have plenty of options thanks to the city's vibrant and diversified music culture. The city offers a wide variety of music alternatives, so don't limit yourself to just one.
Public Transportation
In addition to servicing Bucks, Chester, Delaware, and Montgomery counties, the Southeastern Pennsylvania Transportation Authority (SEPTA) also offers public transportation to and from Philadelphia.
Close Proximity to NYC
The proximity of Philadelphia to New York City makes it a viable option for those who miss the energy and bustle of the Big Apple. You can get back to New York City in only two hours to see your friends, family, and anybody else you left behind. Even if you do not own a car, public transit like Megabus or Bolt will get you straight into the center of NYC at a reasonable cost.
Laid-Back Life
Even though Philadelphia, the City of Brotherly Love, is a large and sprawling metropolis, its residents enjoy a more laid-back pace of life. Philly is a great city, but it's a little less crowded and more laid-back. As a result, several neighborhoods in Philadelphia have a sense of community and belonging.
What Are Some Things Philly Has That NYC Doesn't?
Many cultural and entertainment options may be found in Philadelphia. Philadelphia's public art projects are unparalleled in terms of both number and quality. A perfect example can be seen at the exclusive Rittenhouse Square Park, just next door to The Laurel. Known for its sophisticated restaurants, chic shops, and glitzy nightlife, this coveted area of Center City is hard to beat. Many reasons why New Yorkers select Philadelphia as their new home may be found in The Laurel as it's a great place.
Is Moving to Philly Worth It?
There is no doubt that relocating to Philadelphia is a good idea. The city is one of the most culturally and recreationally diverse in the nation. There are several advantages to living in Philadelphia, including access to public transit, a walkable downtown, and a great cultural scene. The city of Philadelphia has become a popular choice for people looking to live in Southeastern Pennsylvania but who would rather not pay the high cost of living in New York City and Washington, DC. This is because of the city's low cost of living, abundant employment opportunities in healthcare and education, vibrant arts and culture, and well-regarded educational institutions.
What Are Some of the Best Places in Philadelphia to Move To?
Searching for an ideal neighborhood in Philadelphia can be challenging. When searching for a neighborhood in Philadelphia where you'll feel most at home, there are several aspects to consider, including your budget and transit needs. Here are a few of the most incredible places to call home:
• Fairmount: Fairmount, located away from the hustle and bustle of downtown, offers a wide range of activities for all members of the community, particularly families. Eakins Oval's green areas are open to both residents and tourists. Fairmount, Philadelphia's cultural hub, is aptly dubbed the "Art Museum Area."
• Fitler Square: Fitler Square, a historic neighborhood in Philadelphia, is located directly on the Schuylkill River. Along with Devil's Pocket and Grays Ferry, it is part of a broader region known as the "Schuylkill." This neighborhood is popular with renters because of its proximity to parks and excellent eateries.
• Logan Square: Logan Square is home to a mix of modern business buildings and landmarks dating back to the early 1900s, including City Hall. As a business district, this area also attracts municipal events like the Philadelphia Marathon and Fourth of July celebrations because of its large streets.
• Center City: The countless restaurants and cafés in Center City's heart are packed with businesspeople during lunch breaks. Businesses and bars catering to LGBTQ people may be found in this neighborhood, also referred to as The Gayborhood. Midtown Village is a hive of activity at all hours.
How to Move From New York City to Philadelphia 
Long-distance moving from New York to Philadelphia takes logistical planning. It takes a lot of time and effort to prepare and organize. If you're relocating to another city, hiring a professional moving company in New York City is a good idea. With the assistance of a Manhattan moving company, you will be set. With most professional movers, you can choose from partial to full-service moving solutions, including packing, unpacking, and secure transportation. If you are looking for a mover in NYC, call today for a free quote on the best deals. 
LIKE OUR FACEBOOK PAGE FOR MORE GREAT MOVING TIPS: