Why Are People Moving From NYC to Philadelphia
For many New Yorkers who find themselves overwhelmed with NYC's expensive and hectic lifestyle, there is another exciting city not too far away. Philadelphia, one of America's oldest cities, is becoming a popular place to relocate. Though in the past, many from Philly would move to NYC for job opportunities, in recent years this trend has reversed. These days, more people are moving out of NYC and into Philadelphia than the other way around. According to the Inquirer, the net migration between the two cities from 2012-2016 showed that "400 more New Yorkers moving in per year than Philadelphians moving out." With the growing cost of real estate in NYC, more people are hoping to find an alternative to NYC living. For those unfamiliar with the city, many may be unsure of exactly what Philly has to offer. Oz Moving is here to fill you in, on why some people have considered the move from NYC to Philly.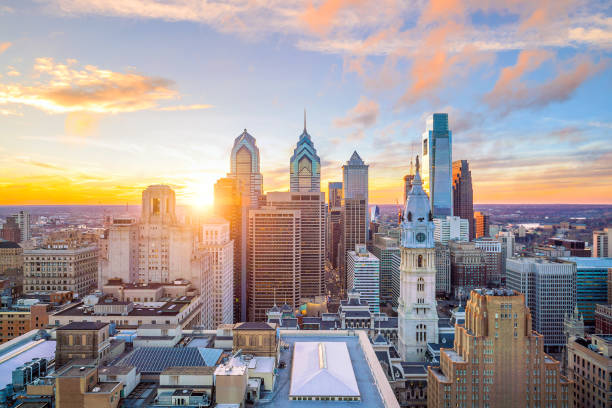 1. Rent in Philly is significantly cheaper than NYC. In Philadelphia, you can rent a room for around $500 in a great neighborhood. And, for that price you can have your own bathroom, a front yard, a stainless steel kitchen, a bunch of other amenities that may you sacrifice when living in the Big Apple. Moreover, salaries in Philadelphia are not necessarily worse than salaries in NYC, which means that you can spend a lot less of your income on rent.
2. Remote working. With the growing popularity of freelance and remote work, many people are hoping to move out of expensive cities like NYC. Philadelphia is a wonderful city for remote working, in that your NYC salary may take you a lot farther there. Moreover, for remote workers, there are plenty of coworking spaces and coffee shops around the Philly area.
3. Startup Scene. Like other cities around the U.S, there are many opportunities in the Startup world. The thriving tech scene is attracting many entrepreneurs and visionaries to move to Philly.
4. Cool and Trendy Neighborhoods. Like NYC, there are plenty of hip and exciting areas throughout Philadelphia. Two popular neighborhoods for young people are Kensington and Fishtown, which are frequently compared to Brooklyn neighborhoods like Williamsburg and Bushwick. These areas boast a high concentration of cool music venues, bars, coffee shops and restaurants. Moreover, South Philly is also a fun place to live, full of art, delicious food and home to Philly's sports teams! Fun fact: The famous La Colombe Coffee actually started in Philadelphia!
5. Art. Philadelphia is home to many incredible museums. Aside from museums on U.S History, there are incredible venues to view art exhibits and installations. Check out The Philadelphia Museum of Art, the Rodin Museum, Barnes Museum and Institute of Contemporary Art to name a few popular destinations to see some good art!
6. Walkable. New Yorkers love to walk, which is why Philly attracts so many of us. Lots of Philadelphia is walkable just like NYC, which means that moving from NYC to Philly does not mean you have to learn how to drive!
7. Easier life for families. According to Numbeo, the cost of living in Philadelphia is 23% cheaper than NYC. For families, or couples hoping to start a family, this becomes a huge attraction, as larger families may find it difficult to afford life in NYC. Moreover, the slower pace of Philly life is great for those hoping to raise a family and live a more affordable, less chaotic life.
8. Food. New Yorkers won't go hungry in Philly! Aside from endless Hoagies and Pizzas, there is a booming restaurant scene in Philadelphia full of diverse cuisines and up-and-coming establishments. Philly even has its own Chinatown, full of delicious restaurants, just like the famous Chinatown in lower Manhattan.
9. BEER. Philly has a great culture of breweries, where you can tour and taste hundreds of local craft beers. There is an entire Craft Beer trail, complete with 85 individual breweries.
10. Philly Pride. People from Philadelphia boast a lot of pride for their city, which makes moving to Philly all the more fun. Philadelphians love their sports teams like the Eagles, the Phillies and the 76ers. Philly is full of unique cultural feats. From Wawa to Water Ice, to Philly Cheesesteaks, there are many fun treats that are quintessential to life in the city. The love that the people of Philadelphia have for makes the city all the more exciting.
11. History and tradition. Philadelphia is a city rife of tradition. Aside from being the site of the Liberty Bell and Every New Year, The Philadephia Mummers hold a parade in Center City. There is even an entire museum devoted to the Mummers, as this tradition has been going on for over 120 years. Philly also hosts an annual Carribean Day Parade and St. Patrick's Day Parade.
12. The Murals. Philadelphia is full of beautiful public artworks throughout the city. There are over 3,600 murals painted throughout the city, which are fun to go out and discover.
13. Music. Many of these murals feature some of Philadelphia's musical icons. Philadelphia is home to so many impressive cultural figures like Questlove, Hall & Oates, Meek Mill, Kurt Vile, and a lot of the cities' public art reflects this history.
14. Public transportation. Like NYC, Philadelphia has an incredible public transportation system, called SEPTA (The Southeastern Pennsylvania Transportation Authority). The SEPTA is the 6th largest public transportation system in the country and connects the greater Philly area.
15. Close proximity to NYC. Finally, for those who feel attached to the hustle and bustle of NYC, Philadelphia is a good alternative because of how close the two cities are. In just 2 hours, you can be back in NYC to visit your friends, and family, and anyone else who you left behind. Moreover, if you don't drive, there are many affordable options for public transportation like the Megabus and BOLT that will take you right to the heart of NYC.
16. Laid-back life. Despite Philadelphia being a size-able and expansive city, the metropolis boasts a far less hustle and bustle lifestyle. Philly is a really cool city, that is more low-key and relaxed. Lots of areas in Philly have a homely neighborhood feel and strong community ties.
It's not surprising that some New Yorkers are turning to Philly as their next destination. Philadelphia offers many of the same amenities as New York City, but at a fraction of the cost. Moreover, the popularity of this move means that many NYC moving companies are pros at getting your stuff to Philly safe and sound!
LIKE OUR FACEBOOK PAGE FOR MORE GREAT MOVING TIPS: