Where to live in Lower Manhattan
What It's Like to Live in Lower Manhattan, NYC
Lower Manhattan is where life happens. It's home to some of the world's best nightlife, art galleries, restaurants, shops and museums. Lower Manhattan or "Downtown" as some may call it, is one of the most exciting places to be, full of lights, music, bustling dance floors and tons of job opportunities. Moving to Lower Manhattan can be a dream come true for those who wish to embark on this journey, however life there is fairly expensive so you may want to save up beforehand. We're here to guide you on what it's like to live downtown.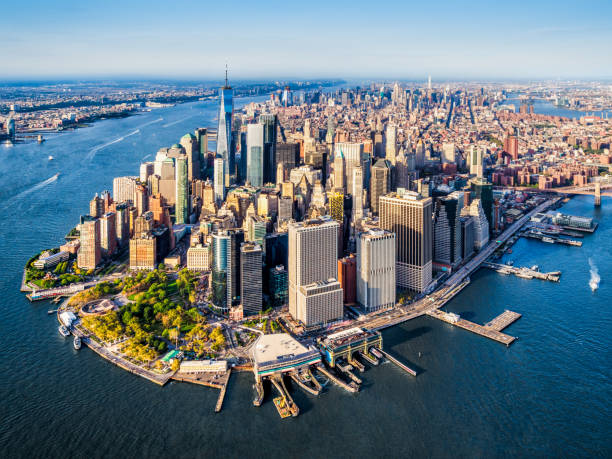 Lower Manhattan location and getting around
Lower Manhattan is connected by a number of subway lines, bus routes, citi bike sharing stations and NYC ferry stops. Though you can usually just walk to where you want to go, public transit is widely available. Lower Manhattan is one of the most conveniently located neighborhoods and offers easy access to other parts of the city like Downtown Brooklyn, Queens, The Bronx, Staten Island, Midtown Manhattan and Upper Manhattan via the MTA. 
Should I Move To Lower Manhattan?
Moving to Lower Manhattan is an exciting achievement However, you should consider the reasons why you want to move, and what lower Manhattan may offer you. Some may choose to move downtown to be closer to work. Lower Manhattan is home to a lot of industries and office buildings for those in finance, tech, production, service and art. The Financial District is where Wall Street and the New York Stock Exchange is located. However, there are tons of other employment sectors based in downtown Manhattan.  
Others may move to Lower Manhattan to raise a family. There are a number of good public schools in the area, and lower Manhattan boasts low crime rates. Schools like PS41 in Greenwich Village and Stuyvesant High School in Battery Park City are consistently ranked as some of the best schools in the city. 
Plenty of New Yorkers choose to live downtown for no reason other than their personal lifestyle preferences and wanting to be close to all of the excitement. Compared to other areas of New York City, Lower Manhattan offers a more urban and busy landscape, which is great for those who thrive off of high energy places. However, some may find that lower Manhattan may feel too busy and noisy and prefer something more laid back like Brooklyn or somewhere Uptown. There are some quieter areas in lower Manhattan like the West Village and Battery Park City, but be sure to do some research before deciding on a place to live. 
Cost of Living 
Lower Manhattan is expensive. Rent, groceries, restaurants and other day to day expenses are some of the highest in the world. A one bedroom apartment in lower Manhattan will typically go for around $3000 depending on the neighborhood, and often, a $3000 apartment may not be all that spacious or comfortable. Areas like Chelsea, Tribeca, West Village tend to be pricier than places like the East Village and Chinatown. In general, real estate prices downtown tend to be higher than uptown, particularly when compared to areas further uptown like Harlem, Washington Heights and Inwood. 
However, despite the high cost of living, the convenience and thrill of living downtown can make the hefty price tag worthwhile. New Yorkers have to hustle to maintain a good standard of living. The good news is that salaries in NYC tend to be higher than in other parts of the country, which is how plenty of New Yorkers make it work.
What is the best neighborhood to live in in Manhattan?
The best neighborhoods in Manhattan will vary according to who you ask. Lots of New Yorkers prefer to live uptown by central park in either midtown, the Upper East Side or the Upper West Side. However, there are also decent parks downtown like Tompkins Square Park, Gramercy Park or Washington Square Park, as well as greenspaces that can be found at Union Square Park or along the East River or Hudson River. 
Is Lower Manhattan dangerous? Is Greenwich Village safe at night? 
In short, Lower Manhattan is incredibly safe, even at night. It is home to some of the safest areas of NYC. Tribeca, Battery Park City, Nolita, Gramercy, SoHo, West Village and FiDi are consistently ranked as some of the safest Manhattan neighborhoods. There are also low crime rates in nearby Hell's Kitchen and Murray Hill.
Things to do 
Many New Yorkers love to hang out in lower Manhattan, particularly in areas like Soho, Greenwich Village, Bowery and Little Italy. There are hundreds of beautiful brownstones to awe at, and dozens of coffee shops to enjoy. For history buffs, there is ample history radiating through the streets of downtown; be sure to get a pastrami sandwich at the legendary Katz Deli on Houston street or take a tour at the Tenement Museum nearby.
Moreover, nightlife in lower Manhattan can't be beat. Whether you are bar hopping in the LES (the lower east side) or clubbing at the Standard Hotel rooftop in Meatpacking, you'll have a night to remember. A classic NYC night out is usually made up of bar hopping, dancing, which is followed by a slice of pizza at one of NYC's many pizza shops on your way home. 
If you're seeking something more PG, there are plenty of daytime and kid friendly activities to engage in throughout downtown. Window shopping in SoHo can be a fun (and affordable) pastime as well as visiting some art galleries in Chelsea (be sure to look up the schedule for gallery openings). There are some world renowned museums downtown like the Whitney Museum of American Art and the New Museum in Bowery. 
Another great activity is to go biking or kayaking around the Hudson River for those who want to stay active and explore the city in a unique way. For those who prefer walking to biking, be sure to stroll along Broadway (the longest avenue in NYC) or head down to City Hall to embark on a walk across the iconic Brooklyn Bridge. 
If you're planning a move to Lower Manhattan, reach out to some Manhattan Movers and ask for a free estimate. Top rated NYC moving companies in New York City will be there to assist you whenever you're ready to relocate.  
LIKE OUR FACEBOOK PAGE FOR MORE GREAT MOVING TIPS: