Cost of Moving an Office in New York City
 
Over the past two years, many office buildings have been sitting empty waiting for employees to return. However, with remote working becoming the new standard for many employers, many companies have had to re-evaluate their need for an office space. Plenty of companies like Google, Adobe, Amazon and Microsoft have even announced a permanent hybrid or "work from home" option for its employees. However, not all companies are ready to forgo the office building and work from home forever. Instead, companies may be looking to downsize their office or switch to a new office space, one that better reflects the reality of the new work culture generated by the pandemic.
So, if your company is one of the many who have shifted their work strategy, here are a few things to know about the cost of office moving in NYC.
Office Moves Are More Expensive Than Residential Moves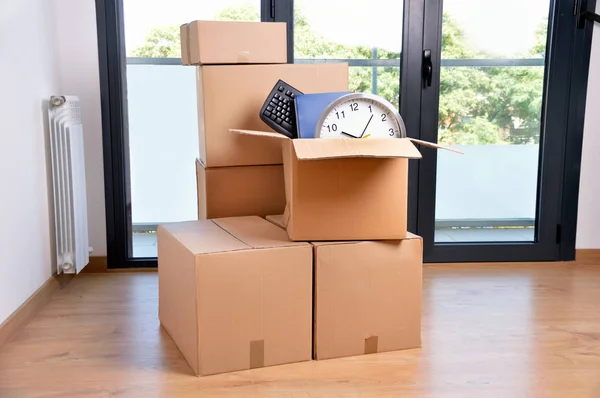 Office moving falls under the category of commercial moving, and, generally, commercial moving will cost more than residential moving. This is mainly because commercial spaces can be thousands of square feet and require several moving trucks. However, some NYC office spaces are quite small, comparable to the size of a one or two bedroom apartment. For those familiar with NYC residential moving, this may be a useful comparison. In this case, a local office move may cost similar to moving to a new medium sized apartment (anywhere from $600-$2000).
Pricing Differs Based on Additional Services
Office movers can range in price depending on the additional services required. For example, movers can offer packing services which include packing, unpacking and the cost of packing materials. Movers can also offer furniture assembly services, in which they disassemble and reassemble pieces of furniture. 
Hourly Cost for Office Movers
Moving services in New York City can be an expensive luxury. It can be difficult to calculate an average cost of moving due to the variation of type of moving job. For example, cross country moves (and other long distance moves) will be charged at a higher rate than a local move, as they require multiple crews of movers.
However, there are ways to determine what your move may cost. Office movers in New York City can start at $40 per mover per hour, but can go up to $200 depending on the distance of the move and the services required.
If you do not want to hire full service movers, there is an option to hire movers for large individual items of furniture like pianos, wardrobes, book shelves, industrial kitchens and so forth.
While NYC movers are often worth the investment, there are other, cheaper ways to conduct a move. You can go the DIY route, in which you rent a U-Haul and grab a few of your friends to help. New Yorkers can also head to Craigslist or TaskRabbit to hire a few stand alone movers. This can often be the cheapest way to move, but remember to take in account the cost of gas, packing supplies, parking tickets and any damages incurred on moving day.
Estimating the Cost of the Move Is Difficult
Though you can attempt to calculate how much your move will cost based on the information provided here, the best way to estimate the cost is to research local moving companies in your area and request a free quote. Moving companies have estimators that can do a thorough walk through of your space to provide a moving quote. They can take a number of factors into account like square footage, driving distance and inventory to accurately assess the cost.
Remember, on top of the price of moving, it is customary to leave 15-20% gratuity for your movers as a thank you. Another thing to note is that the final cost of your move may differ from the estimate due to traffic or other delays on moving day.
Ready to move?
When moving your office to a new location or your family to a new home, contact Oz Moving & Storage for a stress-free move. We recommend that you start planning the move at least 3 weeks before the moving date.
NYC moving has its own set of obstacles, however, Oz Moving has over 30 years of experience servicing the 5 boroughs of NYC (Manhattan, Brooklyn, Queens, The Bronx & Staten Island).
LIKE OUR FACEBOOK PAGE FOR MORE GREAT MOVING TIPS: