Big city dreams don't have to be expensive. Every year, thousands of people move to Los Angeleswith some goal in mind; some hope to break into Hollywood, others hope to live closer to the beach; and some simply just want to experience something new! Whatever is pulling you to LA, we got you covered. LA is frequently listed as one of the most expensive cities in the world, so the cost of living in Los Angeles can be discouraging to some, but we believe that moving here doesn't have to break the bank. There are many ways to live affordably in Los Angeles if you do it right. We''ve been moving people in Los Angeles for years and we're here to give you some tips about LA living on the cheap.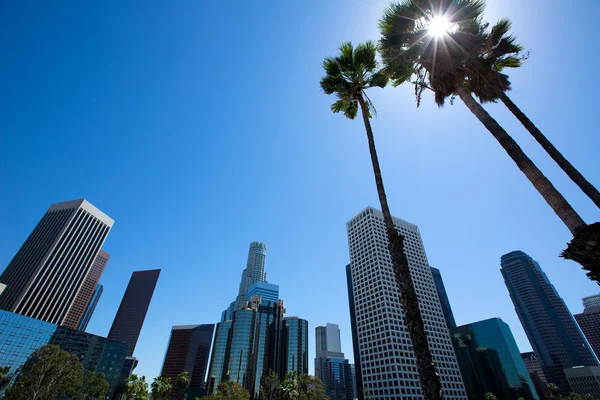 Moving to a new city means having to find a job.
Here are some tips for finding quick employment if you're moving to California with no job. Fortunately, there are many jobs available within the gig economy for those looking for full time work, or simply a side hustle. 
One of the most popular jobs in LA is to work for a rideshare app like Uber/Lyft. If you already own a car, it's quite easy to set up your account and get to work! If you don't want to drive, you can work for Postmates, DoorDash, Uber Eats and deliver food (you can deliver by bicycle or scooter) Another great option is to sign up for WAG (a dog walking app) to walk your neighbors dogs for extra cash -- you also get to hang out with cute dogs all day if you choose this option!

If you don't want to make a long term commitment to a gig economy job, we recommend you research some 'Focus Groups' or 'Market Research Firms' in your area. Focus Groups will pay you for your time and opinion and they generally pay quite well! Sign up for their mailing lists to find out what focus groups are taking place and if you qualify! They are surprisingly a lot of fun!

The service industry in LA is a huge sector of employment (and tips can be good if you are in the right area!) LA has plenty of bars, restaurants, theatres, clubs that frequently hire new staff. Print out several copies of your resume and bring it door to door until you get hired! Otherwise, research some catering companies and event firms to see if you can join their staff. 

Check out the 'gig' section on craigslist for some one-off jobs. These jobs can range from anything like being a Stock Photo model to bartending at a holiday party to moving someone's couch. Obviously, be cautious of these listings as they are not thoroughly vetted!

Sell your stuff! With websites like Depop and Poshmark, you can make some extra money by selling clothes you no longer wear. Otherwise you can try selling it to stores like Buffalo Exchange or Crossroads Trading. 
SAVE ON FOOD, FURNITURE, TRANSPORTATION & RENT
Rent in a cheaper neighborhood! While it may be tempting to flock to the cool and hip areas of the city, try and look into renting in a cheaper area. According to Zumper, some of the cheapest areas are in South LA, Central Alameda, Crenshaw and Congress West (some of these neighborhoods are actually just a short drive to LAX!) Do some research and see some apartments before you decide! Also, it may be helpful to sublet for your first few months before you get a steady job. Signing a lease can be a huge commitment when moving to a new place, so be sure you are ready before you sign!

Another great way to save money on rent is to live with roommates. Finding roommates in LA is quite easy if you know where to look. There are plenty of young people new to the area who might have similar interests to you! Check out craigslist, Facebook, Spareroom or Roomi. Also, ask your own friends if they know anyone. Sometimes, it's best to live with mutual friends! 

Grocery shop at ALDI. Though it may be tempting to indulge in some of the upscale LA gourmet grocery stores, saving money means buying cheaper food. Aldi is a great option for those on a budget. Try to buy in bulk, as to reduce the amount trips to the grocery store (and save money on gas!) 

Consider if you REALLY need a car. For some a car is a necessity, for others it can be a huge expense. There are many other forms of transportation (biking, scootering, Uber/Lyft) that can help you get from place to place without having to pay high insurance rates. Moreover, though LA public transportation is famously not the best, it is still affordable and can be a convenient option depending on where you live!

Check out this reddit thread: FrugalLA. This thread is constantly being updated with great deals on food, drinks and other necessities in the LA area. Some people post good flight deals, free comedy shows, discounted potatoes, and happy hour deals. This page can be a great resource for those new to the area and looking to save money. 

Furnish your home with used furniture! Because so many people come and go into LA, there are always good deals on old lightly used furniture. Check out local thrift stores, Facebook Marketplace craigslist and even the corner of your block. Sometimes people will leave old stuff they no longer want for you to grab! Other options include joining local Facebook Groups or try Buy Nothing or Nextdoor, where people in your area can post classified ads. 
OTHER
TIPS FOR MOVING TO LA
Commutes can be long and tiresome in LA. The average commute is around 56 minutes from door to door, and some Angelenos may spend a whopping 90 minutes just getting to their job. Keep this in mind when searching for a job. 

The weather in LA is warm year-round, which is good for saving money because you won't need to purchase winter clothes which can get quite expensive! You can even sell some of your winter clothes for extra cash, as you may not be needing them!

Another good thing about LA's climate, is that it's rather dry. Unlike living on the east coast (which can get super humid), you won't need to invest in Air Conditioning. Many in LA live without it! According to the LA Times, "Less than half of the homes in the city of Los Angeles have air conditioning, and fewer than 1 in 4 have central air, a utility survey says."

Save money before you go! Obviously, everyone is different, but we recommend saving up at least $5,000 before you head out to LA. Once you get to LA, you may need to pay for a security deposit or a real estate broker fee to secure an apartment so be sure you have some money lying around!

Real estate in LA can be pricey, so don't expect to buy property for some time! But, that doesn't mean that LA real estate is out of reach! If you are hoping to save up to purchase your own place, there are many smaller and affordable houses for sale, so be sure to keep an eye out! We recommend heading to Zillow and putting a maximum price on the search tool to see what's available. 

The Cost of Living in LA remains quite high; this means that a lot of creatives will have full time day jobs and spend the rest of their time working on their craft. Living expenses for a single person can be around $1000 per month (and that is without rent!) Be prepared to be busy!

Since many flock to LA for the Entertainment Industry, there is a lot of competition. Many young people have the same dream and are working tirelessly to achieve it. Don't get discouraged! 

California is full of young and friendly people, but making friends can be hard. There are plenty of ways to meet new people, whether it's just by going to the beach or through online meetups. We suggest using a website like Couchsurf when you first arrive. On Couchsurf, you can stay for free at someone's home. Moreover, hosts on Couchsurf are typically very friendly and looking to help out new-comers who arrive in their city. 

Finally, don't forget to download a dating app! If you're not looking to date, they can simply be a great resource for socializing and networking. Bumble has a great BFF option designed just for making friends. 
Moving to LA is an exciting adventure. There's lots to explore, like Santa Monica, West Hollywood, North Hollywood and Long Beach. The Los Angeles Metro area is one of the largest in the country, which is even bigger than New York or San Francisco. Moreover, Southern California is a blast to live in! The weather is great, the food is delicious and the laid-back lifestyle can be super refreshing especially if you are coming from a city like NYC. 
LIKE OUR FACEBOOK PAGE FOR MORE GREAT MOVING TIPS: