Moving to Greenwich Village? Things to know before your move
Greenwich Village just oozes romance and charm. It's hard not walk around the neighborhood and think "I'd love to live here someday:" The Village is where dozens of iconic movies and TV shows were filmed like Sex And The City, Ghostbusters and When Harry Met Sally. Strolling around the village can truly transport you into a whimsical state of mind. The West Village has been home to icons like Bob Dylan, Hugh Jackman, Alec Baldwin and Sarah Jessica Parker.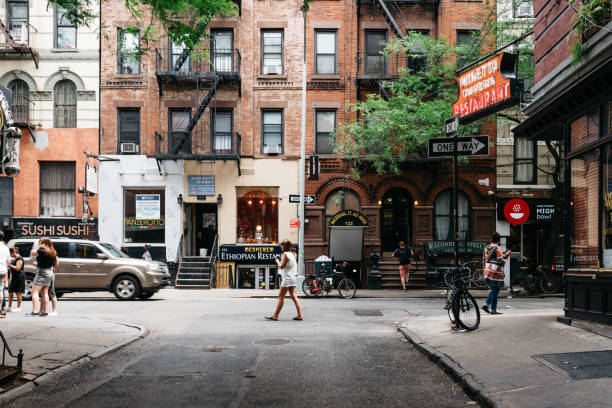 Greenwich Village is prime real estate, and is located in the center of lower Manhattan. The area is positioned on the West Side of Manhattan, near the Hudson River. The lower boundaries of the neighborhood start at around Houston Street in Soho, and the upper boundaries stretch into the 14th street Union Square area. Understandably so, if you head east of the West Village you will end up in the East Village (funny, how that works!). 
Moving to Greenwich Village? Things to know beforehand
Greenwich Village is as hip as it is upscale. Home to dozens of cool music venues and no frill dive bars, the Village is also full of 19th century architecture and beautiful tree-lined streets. The West Village has plenty of well-rated Italian and French restaurants like Babbo, Minetta Tavern and Buvette, where you can try some extraordinary culinary treats.
Greenwich village location and getting around
Like the rest of New York City, The Village is super walkable but also gives you easy access to plenty of subway lines like the 1, 2, 3, L, A, C, E, B, D and F trains. From Greenwich Village, you can get to Brooklyn or Midtown Manhattan in no time. If you don't feel like taking the subway, biking is a great way to get around the neighborhood. 
Should I move to Greenwich Village?
Moving to Greenwich Village is a goal for many New Yorkers. The convenience, atmosphere and history of this neighborhood makes it one of the most desirable places to live in the city. Real estate prices in the village tend to be higher than other parts of NYC, but most New Yorkers will tell you it's worth it to pay the price. From million dollar brownstones to small studio apartments, there are ways to make it work for your budget. 
Aside from being a cute neighborhood, Greenwich Village is home to the world famous New York University and serves as a landmark for LGBT history; check out the Stonewall Inn on Christopher Street to see where the gay rights movement began. 
How much does it cost to live in Greenwich Village?
The average rent for a studio apartment in Greenwich Village is around $2800 per month, which indicates how high the cost of living can be in this neighborhood. The prices in Greenwich Village are comparable to the prices in Chelsea, Gramercy, Dumbo and South Slope (in Brooklyn). 
Living in Greenwich Village will usually cost you more than living uptown or in Queens. Monthly expenses like groceries, restaurants, utility bills and so on will also run you another few thousand depending on your family size, budget and desire to go out to eat. Although there are plenty of fine dining options, you can also just get a falafel on Macdougal Street or grab a slice at Bleecker Street Pizza for some cheap grub. 
That being said, there isn't as much inventory in the West Village, as this area is full of smaller walk-up buildings and single family townhomes, rather than luxury high-rises that you may find in the Financial District or the Upper East Side. West Village properties typically have loads of character; be prepared, you may not have a dishwasher or a washer/dryer in the unit. 
Is Greenwich Village a good place to live?
Life in Greenwich Village is pretty incredible, especially when it comes to culture nightlife. For jazz lovers, there's no better neighborhood in NYC. Blue Note or Village Vanguard. For Rock Music, check out The Bitter End or Cafe Wha? And Comedy is a whole other world; The Comedy Cellar is one of the most iconic venues in the world to get a laugh. There are also a number of off-broadway theatres in the area to catch a play. 
During the daytime, there are a number of greenspaces to enjoy like Washington Square Park or Hudson River Park.  In Washington Square Park, you can usually catch some sort of performance art and live music. You can also host a cute picnic with friends or just sit on the grass and people watch. There are plenty of coffee shops nearby to grab a good brew and walk through the park or down fifth avenue. 
However, living in Greenwich Village may not be for everyone. The nightlife goes on until the early hours of the morning, which means that you may not always get the best night of sleep. Moreover, there are tons of young NYU students in the area who are also usually congregating outside bars and throwing parties in their dorms along University Place. If you are looking for peace and quiet, the West Village may not be for you.  
Is Greenwich Village safe to live? Is Greenwich Village safe at night?
The Greenwich Village neighborhood is one of the safest areas of Downtown Manhattan (and all of NYC). Greenwich Village is even at night. Greenwich Village has a consistently low crime rate. But, that being said, use your own intuition and take precautions when necessary.
Be sure to reach out to local moving companies in NYC before planning your move. Local movers in your area can provide you with a free estimate to help you plan and budget.
LIKE OUR FACEBOOK PAGE FOR MORE GREAT MOVING TIPS: