Are you planning on moving from New York to Chicago? We got you covered. Chicago is one of the largest cities in the U.S.A. and a great place to move after New York City. The two cities are actually quite similar which may make it easier to adjust when you move.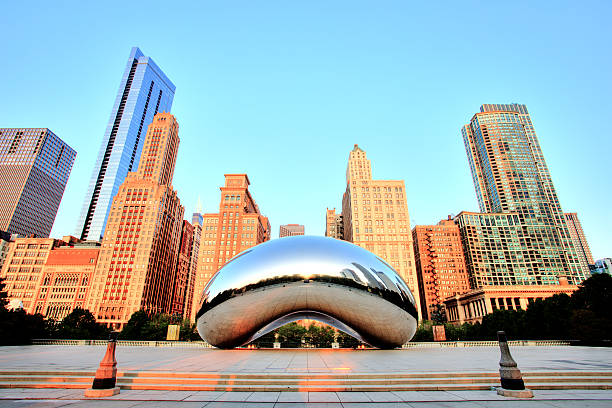 Chicago, like New York, has a tough continental climate where all 4 seasons are represented in their entirety. The city is super cold in the winter and super hot in the summer, which may sound familiar if you've spent enough time in NYC. The winters in Chicago can be super brutal and snowy, with lows that hit below freezing. The summer, on the other hand, can get well into the 80s and is prone to some stark heat waves. Also, similar to NYC, Chicago has beaches all across the city. Though it's no Bahamas, you can go swimming in Lake Michigan in the warmer months. Across North Beach, there are some cabanas (think Miami) which are fun to lounge in and some parks which are great for jogging!
Moreover, Chicago, like New York, has a great public transportation system which means that you may not need a car for your move! The Chicago public transit system has 8 train lines and 129 bus routes.
Neighborhoods in Chicago, Illinois
There are many cute neighborhoods throughout the city that offer different styles of living. There are more suburban areas like Oak Park, Roscoe Village and Ravenswood which are more quiet and spacious, with front yards and quaint feels. These residential neighborhoods are sought after for those hoping to start a family and want to be in a good school district.
However, if you are looking to live in an area that feels more urban and happening, we recommend checking out Wicker Park, Bucktown and Logan Square. These areas offer lots of culture and excitement, plenty of restaurants, nightlife and art. Moreover, there are several neighborhoods in Chicago that may even convince you that you never left NYC.
Magnificent Mile, for one is a fun shopping area that reminds us of 5th Avenue in Manhattan. Chinatown, too, can be a great place to get some delicious dim sum and tea (just like in NYC!). Some of the views in Lincoln Park can resemble parts of Brooklyn. The area is full of beautiful architecture and a shoreline park that faces Lake Michigan. The neighborhood is quite expensive, but definitely peaceful and nice. Another famous place in Chicago is Hyde Park which is home to the University of Chicago and a Frank Lloyd Wright property. Due to the University culture, there are plenty of good restaurants and bars to choose from!
When moving to Chicago you may want to live in a neighborhood with easy access to "The Loop". That area is seen as the vibrant center of the city full of lots of high rise buildings! This area is where the famous State Street is located, as well as Millenium Park and the world-famous Willis (formerly known as Sears) tower. Comedy & Theatre & Fun
Chicago is a popular destination for those hoping to get into comedy and the arts.
The city is home to Second City theatre, where lots of famous comedians got their start. Other well-known theatre establishments are the IO theater and the Hideout (which offers some more DIY stuff)
Chicago is also famous for their Lollapalooza festival, taking place every summer in Grant Park. Lollapalooza has hosted some incredible acts like Ariana Grande, Radiohead and the Strokes.
Rent & Real Estate in Chicago.
Chicago is a more affordable place than New York! The average rent for an apartment is around $1900 a month which is almost 50% lower than NYC. Moreover, the cost of living in Chicago is around 18% cheaper than New York. You will be happy to hear that buying an apartment in Chicago is almost 3 times cheaper than NYC. And, in Chicago you can find plenty of luxury housing with lots of built-in amenities like fitness centers, pools and concierge service.
Famous Chicago Grub & Chicago Pride
New Yorkers take great pride in their pizza, so they'll be pleased to know that Chicago, too, is a city full of delicious pizza! Their Deep Dish slices are classic thicker takes on Pizza. There are two chains that have a friendly rivalry over which restaurant serves the best deep dish, and as a new Chicago resident we bet you'll pick a side. Check out Lou Malnatis and Giordanos for some A+ Pizza! And tell us which one you prefer. Chicagoans also take pride in their famous hot dogs!
They also are home to the famous baseball team, the Chicago Cubs, which provide great pride for their residents. During baseball season, the neighborhood they play in (Wrigleyville) really comes alive. Also, let's not forget the Chicago Bulls, who have won 6 NBA Championships! Being a Chicago resident means taking part in the great spirit of the city.
Bustling Economy
Lots of big multinational corporations are headquartered in Chicago which means there is a plethora of jobs available. For instance, State Farm, United-Continental Boeing and McDonalds have their main offices in the city. There are also big Amazon warehouses located in Chicago that frequently hire, as well as UPS.
Ready to Move?
So are you ready to move yet? There are many ways you can make the long distance move to Chicago. For one, you can rent a U-Haul and take all your belongings there yourself. The drive between the two cities can take roughly around 13 hours, which means you may want to stop somewhere along the way. You can also hire a NYC Moving Companies to handle your move, fly over and meet your movers when they arrive with your stuff. If you already have a car and want to take the car to your new place in Chicago, driving it cross-country may be beneficial instead of shipping it. If you have any other questions about moving to Chicago, don't hesitate to request an estimate from a professional moving company.
For more information on moving to Chicago, check out our 6 tips for moving to Chicago.
LIKE OUR FACEBOOK PAGE FOR MORE GREAT MOVING TIPS: