Moving From Manhattan to Queens
How to move from Manhattan to Queens
Welcome to Queens: one of the most iconic boroughs of New York City! Like Brooklyn, which has become the go-to spot for young people and transplants, Queens has also seen a rise in neighborhood development for young professionals, while retaining its classic, old-school NYC charm.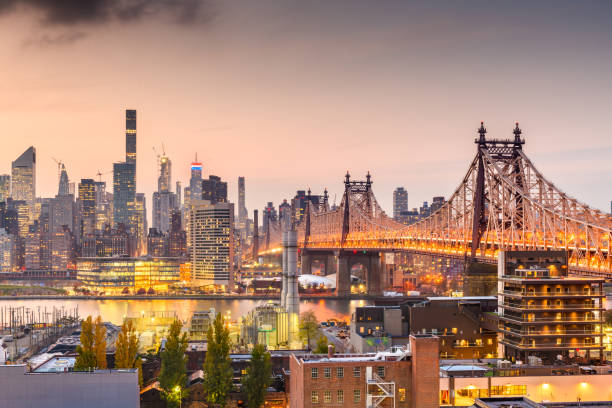 Queens is super well connected due to MTA public transit, which means that commute times into Manhattan won't be so bad (if that's where you work)! Queens is on the G, 7, N, W, M, E, R and F, and even has plenty of LIRR linkage, which means you can be at work in no time. 
Financial planning that you need to do before you move to Queens
Life in Queens is actually far more affordable than life in Manhattan, so you actually may be able to save a buck or two when moving to Queens. According to Numbeo, the cost of living in Queens is far cheaper than Manhattan; purchasing power in Queens is 15% higher than in Manhattan with rent being 23% lower!  There are plenty of well-priced housing options in Queens, particularly in Sunnyside, Elmhurst or Jackson Heights, where a 1-bedroom apartment can cost around $1800 a month. 
Though life in Queens may be more affordable, moving can be a huge expense.Hiring professional movers can cost you upwards of $1000, which largely depends on the volume of your belongings and distance of your move. Understandably, a one-bedroom move will be cheaper than a 2-bedroom move. However, if you don't feel like hiring a moving company is in your budget, there are other options for moving to your new home. 
Luckily, Queens is not too far away from Manhattan, so if you want to conduct the move yourself and hire a U-Haul moving truck, feel free! You may need a few extra hands on deck, but it shouldn't be too costly to hire one or two movers by the hour. Be sure to save up a few months in advance to make sure you can afford the move and the security deposit on your new place. The deposit is typically one month's rent, which means that you usually have to pay two months of rent upfront before you can move-in!
Lifestyle differences in Queens
There are several big lifestyle distinctions between Queens and Manhattan. The first is that much of Queens is considered to be more family-friendly than Manhattan due to its largely suburban landscape! Unlike the signature high-rise apartment buildings of Manhattan, many Queens residents live in single-family homes with front lawns and garages. 
Similar to residential parts of the Bronx or Staten Island, there are neighborhoods in Queens that don't even feel like you're in a big city. This can be a huge draw to those in Manhattan looking for extra square footage and room to breathe. Some of the best neighborhoods for this style of living are Forest Hills, Bayside, Jamaica Estates and Kew Gardens, which are full of giant tudor-style mansions and beautifully manicured lawns.
Another suburban locale that attracts many New Yorkers is Rockaway Beach. Full of front-row Atlantic Beach views and stand alone homes, Rockaway Beach feels sort of like the Jersey Shore! 
But those who love fast-paced city energy can also find that in Queens! Interestingly enough, both areas of Queens that boast hipster energy are those located adjacent to Brooklyn: Long Island City (which borders Greenpoint) and Ridgewood (which borders Bushwick). These Queens neighborhoods are super popular with young professionals and are good for coffee shops, bars and nightlife, and all the other fun things that young people love to do!
Friendly neighborhoods and places to visit around the corner.
Hanging out in Queens is super fun! There are so many iconic and fascinating places to visit like Flushing-Meadows Corona Park or the Queens Botanical Garden. Queens is known for its diversity of languages and cuisines, so be sure to check out one of the many ethnic enclaves in the borough. 
We recommend checking out Astoria, Jackson Heights and Flushing to see some of Queens' expansive cultural landscape. Astoria is a Greek enclave, Jackson Heights a South Asian enclave, and Flushing a Chinese enclave. Visiting these neighborhoods can make you feel like you're traveling all around the world, without leaving the borough! This can be particularly fun during covid times, when we can't travel outside the country. 
For museum-lovers and art-lovers, Queens is a huge cultural hot spot. Be sure to head to MoMA PS1 in Long Island City or The Museum of The Moving Image, in Astora. MoMA PS1 is a cool offshoot of the Museum of Modern Art, while the Museum of the Moving Image is a media-centric museum dedicated to the history of film. Both are super cool! For those into Music, don't forget the Louis Armstrong House in Corona; this museum is at the site of his former home. He lived there from 1943-1971, but now it is a historic cultural center dedicated to Jazz and Armstrong's unique talent.
Ready to move?
So, ready to ditch midtown for Astoria? We'll help you out! The moving process can be a big hassle, especially if it's your first time and you don't exactly know what to expect. Be sure to do research on local moving services in the Big Apple to approximate how much your move will cost. Don't be afraid to ask for a free estimate! 
LIKE OUR FACEBOOK PAGE FOR MORE GREAT MOVING TIPS