Moving from Manhattan to Connecticut
How Much Does Moving to Connecticut Cost?
The cost of moving depends on several factors. The most important being volume (how much stuff do you have) and time (how long it takes to transport your belongings). For long distance moves, moving costs are more expensive due to the increase of time and the additional labor necessary (often long distance moves may involve two crews). However, a move from Manhattan to Connecticut (though interstate) is not a long distance move, but is considered a 'short haul move' instead.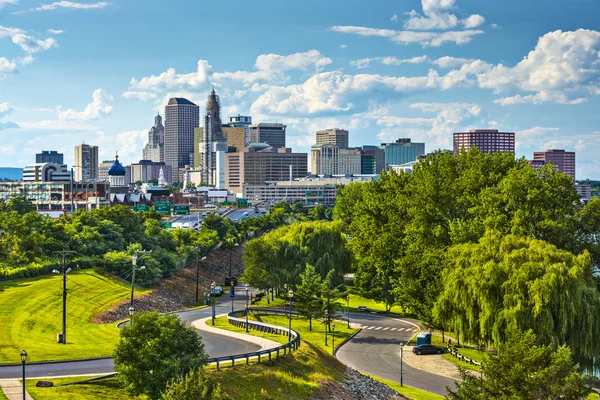 Moving an entire home from Manhattan to Connecticut will cost upwards of $1500 if choosing to hire professional movers. (Disclaimer: $1500 is just a rough estimate). The bigger your home is, the more it'll cost. A larger home (several bedrooms) may cost you a few thousand dollars. First time movers should know that the final moving cost may end up costing more than the estimate due to any delays that may occur along the way (traffic, or other hold-ups that can increase the time of the move). 
Why move to Connecticut?
For New Yorkers who are looking for a change, Connecticut is a great option within the nearby tri-state area. Like Westchester, New Jersey and Long Island, Connecticut offers quain suburban living not far from NYC. There are plenty of benefits of living in Connecticut like access to good public schools, and easy access to NYC via the Metro North and Amtrak. Some of the high schools in Connecticut are highly rated for their sports teams and college admissions. Connecticut is also home to excellent hospitals and medical services. 
Moreover, Connecticut has plenty of employment opportunities due to its large concentration of production studios, banking institutions and Fortune 500 corps. There are tons of well-paying jobs that are based in CT that can attract those looking for a career change or simply to advance themselves within their current profession.
Connecticut is a huge destination for those working or studying at higher education institutions. Home to Wesleyan, Yale, and Trinity College, Connecticut is a dream-land for liberal arts aficionados. Specifically, the proximity to Yale University can have its cultural perks (tons of museums, theatres and art shows to visit). You don't have to be a student or employee to take part in many of the events they put on!
Finally, the outdoor scenery of the state is a huge attraction for nature lovers. There are plenty of hiking routes, lakes, mountains, and state parks to enjoy. The Appalachian Trail even goes through Connecticut! If you're not a huge hiker or camper, there are still plenty of fun casual outdoor activities available throughout the area like picnicking or apple picking or even visiting one of the many amusement parks in the region. 
Is Connecticut Expensive?
Connecticut has the highest per capita income of the U.S (which technically makes it the richest state in America by that measure). Connecticut has expensive real estate and a higher cost of living than the national average, however, some may find that living in CT can be more affordable than living in Manhattan. The cost of living in Stamford is still noticeably cheaper than Manhattan.
The median price for a home in CT is $345,000, while the median price for a home in Manhattan is $665,000 for far less space. Though housing pricing in Manhattan has decreased in the past year, the housing market in CT has actually grown in several areas since the onset of the covid pandemic. It seems that CT has been a popular destination during these times. Connecticut also has one of the highest property tax rates in the United States, so be sure to keep that in mind. 
Where to move in Connecticut?
Connecticut is a perfect destination for New Yorkers hoping to have more space and a little more peace. Popular areas in Connecticut include Fairfield County, Hartford County and New Haven County among others. Some of the most popular cities in CT are Stamford, Bridgeport, Norwalk, New Haven, New Cannan, Hartford, Greenwich, Westport and Danbury. Choosing a city in CT depends on what you are looking for; some of the areas mentioned may be more suitable for those looking for a more urban feel like New Haven on Stamford, while others may want a more of a smaller feel like New Canaan or Westport. Part of the charm of Connecticut is living by the Long Island Sound. In the summer, you can go swimming or boating at many of the beaches along the coast! 
Connecticut is a state full of rich history and culture, which can be seen in parts like the former art colony 'Cos Cob' in Greenwich or at the Mark Twain House in Hartford. Otherwise, CT has tons of Victorian style homes and other architectural marvels dispersed around the state, which are a wonder to look at. If you're into vintage furniture and clothing be sure to go antique shopping or thrifting! You are sure to discover some cool finds. 
Commuting to NYC or Boston
When offices fully reopen following the end of the coronavirus pandemic, many Connecticut residents may resume their commute to their out of state (or local) workplaces. Connecticut is a great base for those who work in Boston or NYC, as well as those who work within their own state. To get to Boston, commuters can drive or take the Amtrak. To get to NYC, commuters can drive or take the Metro North. For added convenience, there are over 50 Amtrak/Metro North train stations located throughout the state. 
Ready to move?
Whether you are moving from Manhattan, Brooklyn, or any other part of New York City, be sure to reach out to a local moving company in your area to request a quote. Moving to Connecticut can be a great first step to achieving or cementing the future that you want, especially for retirees, families or anyone looking for a change of scenery!  
LIKE OUR FACEBOOK PAGE FOR MORE GREAT MOVING TIPS: