LosAngeles County and Orange County, though neighboring counties, offer different atmospheres and lifestyles.Though there are many overlapping qualities of the two areas, there are some distinctions in the reputations of the two counties. 
Typically, People move to LA to fulfill dreams in the entertainment industry or become more independent while Orange County, on the other hand, is more of a suburban locale, designed for families and those who have already achieved some stability and want to settle down. However, these are generalizations about the two counties, that may not be true for all.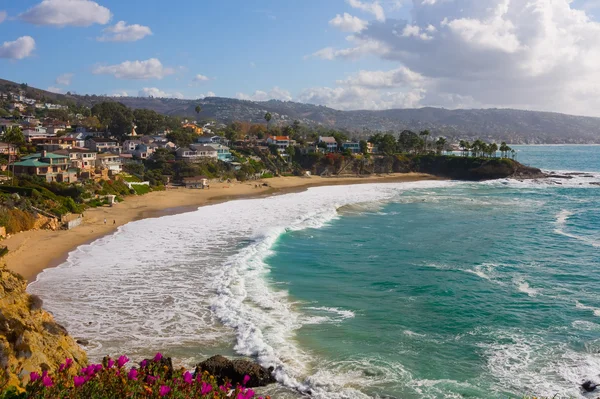 WHAT IS ORANGE COUNTY?
Orange County is one of the best destinations in Southern California. Orange County stretches from Southern LA all the way down to San Clemente and neighbors San Bernardino County, Riverside County and is not too far from San Diego. Some of the cities in Orange County are quite famous like Laguna Beach, Newport Beach, Huntington Beach, Irvine and Anaheim (home to Disneyland). Other notable cities in the area include Brea, Dana Point, Fullerton, Santa Ana, Costa Mesa and Garden Grove. Though Orange County is seen as more of a suburban locale, there are still plenty of diverse areas and a thriving culinary scene. 
LOWER PRICES
Orange County tends to be more affordable than Los Angeles which can be a huge benefit to those looking to start a family. Moreover, the cost of living in Irvine makes this city a better value than LA County. The Purchasing Power of Local Goods in Irvine is 22% higher than LA (which means you can buy more for less). Moreover, Irvine has cheaper rent, groceries and restaurant prices than Los Angeles (However, this may depend on your lifestyle and consumer choices). 
Those who want to keep their job in LA but move to the OC, should consider the additional commute time and choose a neighborhood accordingly. Though it may seem like a long commute, there are approximately 315,000 OC residents that commute to LA for work (according to the 2013 census).
SUPER SAFE
Irvine remains one of the safest cities in America for the 13th year in a row. According to the local city government, "Irvine is the Safest City of its size for Part 1 violent crime, FBI data for calendar year 2017 shows. The information released Monday shows that Irvine has the lowest rate of violent crime per capita of any city in the nation with a population of 250,000 or more." Other safe areas of the OC include Newport Beach, Seal Beach and Aliso Viejo (to name a few). 
GREAT PUBLIC SCHOOLS
Orange County also offers a good public school system. The Irvine Public School system has been repeatedly ranked in the top 10 for the state of California and in the top 100 for the nation. Moreover, the school districts in Los Alamitos, Huntington Beach and Laguna Beach are also continuously ranked as some of the best in the country in terms of AP scores, college readiness and graduation rates. 
LAID BACK LIFESTYLE
Like life in most suburbs, Orange County is fairly laid-back. The streets may empty out by 11pm, but life in the OC is not boring by any means. There are plenty of museums, malls and amusement parks like Knotts Berry Farm and Disneyland. There are also dozens and dozens of gorgeous beaches which are perfect for families who love the outdoors. There are also many canyons and parks to explore if you are into hiking!
GORGEOUS BEACHES
Like other parts of Southern California, Orange County is full of gorgeous beaches. Some of these beaches are comparable to Santa Monica or Long Beach, while others are smaller and more quaint. Aside from Huntington Beach, Laguna Beach and Newport Beach, there are also beaches in San Clemente and Crystal Cove that offer plenty of surfing and outdoor recreation. Moreover, there are tons of art galleries, bars, restaurants and activities located in many of these cool beach destinations, so be sure to check that out! 
BETTER WEATHER
Though Orange County also has great weather year-round, some actually prefer the weather in OC to the weather in LA. Typically, OC doesn't get as hot inland as LA does which means that the air can be more cooling and pleasant. When looking at average yearly temperatures, Los Angeles temperatures can regularly break into the 90s, while Orange County weather remains more arid and breezy and highs remain in the low to mid 80s. 
READY TO MAKE THE MOVE?
Moving from Los Angeles to Orange County can be a great decision for those looking to live in a more quaint area, but not sacrifice any of the fun of living in LA. The OC is not just a suburb of LA, but a bustling destination in it's own right. If you are interested in making the move, be sure to contact our moving team in Los Angeles.
LIKE OUR FACEBOOK PAGE FOR MORE GREAT MOVING TIPS: