Guide to Living in Queens
Introduction to Queens
Welcome to Queens, the largest borough of New York City. Located to the east of Manhattan, Queens is home to plenty of amazing food, iconic landmarks and cultural sites over 108 square miles of land. Queens is in an optimal location of NYC, offering the best of both worlds. The borough is close to the airports, the suburbs, and is only a few subway stops away from the center of Manhattan.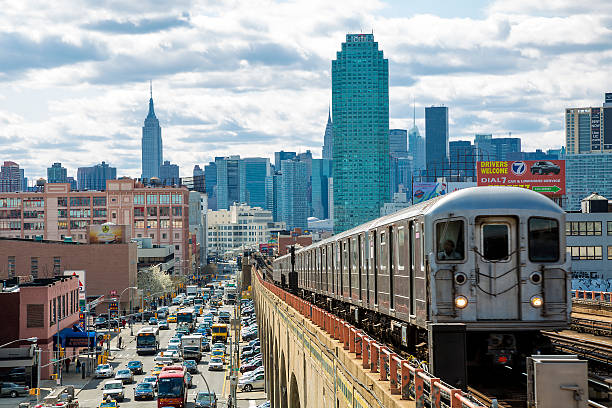 Things you need to know before you move to Queens
There are a number of MTA subway lines that connect to Queens. Namely, the G, 7, N, W, M, E, R and F. Most of these train lines connect from Queens into Manhattan, but the G connects from Queens into Brooklyn. If you work in midtown, Queens has easy access to Grand Central via the 7 train. Getting from Queens to the Bronx is also rather easy due to the Bronx-Whitestone Bridge. However, there is no simple access from Queens to Staten Island. 
Queens is not a part of Long island.
Though Queens borders Long Island, and there are certain areas of Queens where this distinction becomes a bit fuzzy, Queens is fully a part of NYC! Nonetheless, Queens is well connected via the LIRR (Long Island Rail Road), which makes getting to the Hamptons, or Penn Station, or the airport super easy. 
What is Queens known for?
Queens County is known for being incredibly diverse. In fact, Queens is the most diverse borough out of the 5. There are over 800 different languages in Queens, which makes it the most linguistically diverse place on earth! There are dozens of ethnic enclaves to check out. One of the best neighborhoods to visit is Astoria, a predominantly Greek neighborhood home to plenty of charming taverns and cafes. And if you're not feeling Greek food, Astoria has cute beer gardens and brunch spots too! 
Queens is also known for housing one of the three Chinatown metropolises in NYC. Flushing, Queens is the biggest chinatown in NYC and is the place to go for dim sum, bubble tea and soup dumplings. 
Another well-known part of Queens is Jackson Heights, which has also been dubbed 'Little India' due to its bustling South Asian population. Jackson Heights has delicious options for Indian, Tibetan and Nepalese cuisines! One of the best public schools in NYC is located in Flushing! Queens' Townsend Harris High School has been repeatedly ranked the best high school in the city.  
Cost of Living in Queens
Queens is generally cheaper than the popular areas of Manhattan and Brooklyn. Rent in Queens is 23% lower than Manhattan, and real estate in the area is generally far more affordable. Moreover, restaurants and groceries are also cheaper in Queens than they are in Manhattan, which makes Queens a very attractive option for New Yorkers. One of the most affordable areas in Queens is Sunnyside, which offers good deals on rents and other living expenses. 
Neighborhoods in Queens and family life in Queens
Lots of people prefer to live in Queens because it offers a more suburban style of living. There are several Queens neighborhoods full of single-family homes and front lawns, especially in places like Jamaica Estates, Bayside and Rockaway Beach, which can give you the feeling that you have left the city. These areas can even be good for retirement, or for those who need to be close to health care facilities and assisted living sites to look after older relatives. 
Queens is known for its residential and suburban areas like Kew Gardens, a nice middle-class neighborhood full of quaint tudor architecture and lush parks. Another family-friendly neighborhood is Forest Hills, which is full of charming mansions and tons of beautifully manicured green spaces. A good realtor will help you find some of these one-of-a kind architectural gems. 
Young professionals, on the other hand, may desire more urban areas of Queens like Long Island City. Full of glass high rises and unbeatable East River views, LIC has plenty of luxury options for city-dwellers. Another place where hip, young people love to gather in Queens is in Ridgewood. The neighborhood, which borders Brooklyn's equally cool 'Bushwick', has plenty of music venues, nightlife and cute coffee shops. 
Places to visit, shop and enjoy in Queens
One of the best destinations in Queens is the Museum of Modern Art's MoMA PS1. Located in a former school building, PS1 has tons of cool events and exhibits, particularly during the summer when they host their 'Warm Up' concert series. Another must visit museum is the Noguchi Museum, located not far away from PS1. The Noguchi Museum is an art center dedicated to Japanese Artist Isamu Noguchi and is full of his renowned sculptures.
Queens is a hot spot for all sports fans! The famous Flushing-Meadows Corona Park is home to both Shea Stadium and the U.S Open, which means the 7 Train can get quite rowdy during the U.S Open or Mets Season, which can be a nuisance for some Queens residents who don't care about sports. Nonetheless, it's a super fun energy to witness and be a part of! If you don't have a chance to catch a game, the Beaux-Arts architecture of the Park is a must see. Moreover, from April to October, Flushing-Meadows Corona Park hosts the Queens Night Market, which is a fun activity to do with family and friends. Independent vendors and cooks set up shop to sell their goods all night long. 
Over the summer, the best thing to do is grab your friends and head to Rockaway Beach or Jacob Riis Park, which we believe are some of the nicest beaches in New York State! These beaches are full of good waves, cute beach shacks and delicious food trucks, offering a perfect getaway for those looking to spend some fun in the sun.
Whether or not you are planning to move to Queens, or already live in Queens, all New Yorkers should get out there and see what this wonderful borough has to offer!
LIKE OUR FACEBOOK PAGE FOR MORE GREAT MOVING TIPS