Living in Chelsea, NYC: The Neighborhood, Things to Do and See
Chelsea is one of the most vibrant and desirable neighborhoods in NYC. Centrally located in New York's downtown, this area is close to dozens of hip bars, highly rated eateries and plenty of other top NYC attractions.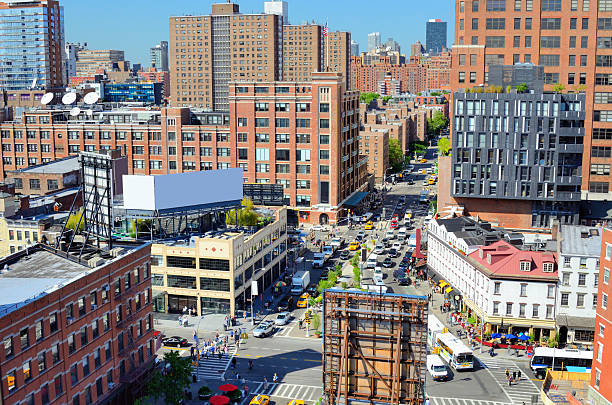 Living in Chelsea, New York: Things to Know beforehand
Chelsea has its roots as one of New York's most exciting locales for creatives. Back in the 70s, Chelsea was a working class neighborhood that evolved into the heart of the LGBTQ community in NYC. Up until somewhat recently, Chelsea was not seen as a particularly safe or expensive area, but was significant for its role in the lives of many iconic activists, musicians and artists. The famous Chelsea Hotel was once home to writers like Allen Ginsberg, Dylan Thomas and Arthur Miller. Today, many of the original artistic hubs and gay nightlife spots have closed but that spirit of creative remains. 
Chelsea is well-connected by a number of subway lines like the 1,2,3,A,C,E,F, 7 and L trains. From Chelsea, you can get to Brooklyn and other Manhattan neighborhoods like the East Village and Kips Bay in no time. The public transit options are plenty but you can also walk around or take a citibike. Living in Chelsea means that you are within walking distance of Union Square, SoHo and the Broadway Theatre District, though the latter two may be a longer trek.  
Is it safe to live in Chelsea NYC?
Chelsea is a very safe place to live, and boasts a below average violent crime rate. Chelsea  is located on the West side of Manhattan, alongside the Hudson River. It's upper boundaries go up to around 34th street and down to 14th, though some may debate exactly what is considered "Chelsea" proper. Chelsea borders the West Village, the Flatiron District and Hell's Kitchen in Midtown Manhattan. 
Is Chelsea NYC a posh area?
These days, Chelsea is quite posh, though there are still some emblems of old NYC grit. This neighborhood has undergone massive gentrification and continues to go up in price. There are tons of new projects like the Zaha Hadid Building in West Chelsea, the High Line, the Hudson Yards complex and the Google Headquarters that reflect the growing investment in the neighborhood. The High Line is a particularly impressive development, as a repurposed park constructed atop a defunct elevated subway track.  
How much does it cost to live in Chelsea NYC?
Chelsea is one of the most expensive neighborhoods in NYC. A studio apartment will cost you around $3000 a month in rent. In 2019, Chelsea was the most expensive area for one-bedroom rentals at $4,100 a month, when looking at median rent prices. Chelsea is often ranked as the NYC neighborhood with the highest real estate prices, so be aware of the high cost of living when considering a move to Chelsea. In Chelsea, you can find entire single-family townhouses, brownstones, luxury apartment buildings and co-ops depending on your personal preferences and budget. 
Though Chelsea is upscale, Chelsea is not necessarily a quiet area; there is usually something fun and loud going on nearby. Those who seek more peace and quiet may prefer to live in Gramercy, or the Upper West Side. 
Who lives in Chelsea Manhattan?
Today, Chelsea is a diverse mix of people. There are a number of public housing projects between 10th and 11th avenue that offer affordable options for low income residents. There are also a handful of artists who have maintained their leases from the 70s and continue to live in Chelsea. But, there are a plethora of new high-earning residents moving into the area ranging from finance executives, to tech bros to gallery enthusiasts to celebrities like Jay Z, Ariana Grande, Gwyneth Paltrow and Ethan Hawke.
During the day, some Chelsea residents may complain of the high concentration of high school students in the area. It's true, there are a bunch of high schools sandwiched between the streets of Chelsea. If noise is an issue, be sure to avoid these blocks. 
Things to do in Chelsea
There are dozens of notable attractions in Chelsea and the surrounding area particularly when it comes to art, nightlife and culture. Chelsea is surrounded by a number of renowned art institutions like the Rubin Museum of Art, and the Whitney Museum of Art. There is a huge art scene in Chelsea, be sure to check out the dozens of art galleries in the area and see if you can attend an art opening. 
One of the most popular destinations in Chelsea is Chelsea Market, a food hall located in the former Nabisco factory. Another iconic destination is Chelsea Piers, which is home to a number of sports facilities ranging from Gymnastics, to Golf, to Ice Skating. Lots of people also board cruises from Chelsea Piers. 
The Chelsea neighborhood is also famous for its restaurant scene with trendy spots like Buddakan, TAO and Cookshop. If you walk down to Greenwich Village, you'll have even more dining options like the famous Boucherie and Tartine.  
Adjacent to Chelsea, is The Meatpacking District, an area that is frequented by bar hoppers and club goers. Meatpacking is home to the Standard Hotel, which has a famous rooftop nightclub called Le Bain.
Fashionistas will be familiar with Chelsea's Garment District, which remains the capital for fashion design, fabric and accessory sourcing in New York City. The Fashion Institute of Technology is located nearby, whose alumni include designers like Calvin Klein, Nina Garcia and Nanette Lepore.  
Though Chelsea does not have many significant green spaces, you can stroll over to Washington Square Park or sit by the Hudson River to enjoy some grass. The High Line Park is also a beautiful option, but can be crowded with tourists so be sure to choose an off day.
Hiring professional movers in NYC can be a great first step when moving to Chelsea. 
LIKE OUR FACEBOOK PAGE FOR MORE GREAT MOVING TIPS: