Moving with kids can be challenging, regardless of their ages or how far away you're going.
Are you already feeling overwhelmed by the idea of relocating with your kids? If so, this guide is for you.
Read on to discover a variety of tips on how to move with kids (and stay sane while doing it).
How moving can impact kids
It's common for kids to struggle with the idea of moving. After all, this transition comes with a lot of changes, including a new home, new neighborhood, new school, and new friends.
Whether your children are toddlers or teenagers, relocating is a significant adjustment.
Moving might be necessary for your family's long-term well-being (maybe you or your spouse has a new job or your need to be closer to family). However, being aware of and prepared for how it might impact your kids is also essential.
The following are some specific ways -- shared by the American Academy of Child and Adolescent Psychology -- that the moving process might affect them:
Behavioral or academic problems at school

Difficulty making friends

Difficulty separating from parents (especially for younger children who are going to school for the first time)

Increased stress and anxiety

Depression
It's not always easy to tell if your child is struggling because they may be unwilling to talk openly about their feelings.
Some subtle indicators of mental health challenges like anxiety and depression might include appetite changes, withdrawal, drops in grades, increased irritability, and sleeping more or less than usual.
How to minimize the negative effects
Trouble adjusting to being the new kid is common but not inevitable. You can also mitigate the adverse effects of moving by taking the following steps to support your children before, during, and after the big move:
Explain the reasoning for the family move.

Familiarize kids with the new city and the layout of the new house; show them maps, photos, videos, etc.

Talk about the new community, such as easy access to lakes, mountains, shopping centers, parks, etc.

Get your kids involved in their new community; attend a local church, synagogue, mosque, or temple; enroll them in cub scouts or girl scouts; sign up for classes at a local recreation center, etc.

Let kids have a say in how they decorate their new rooms

Help children stay in touch with old friends and family members from their hometown via telephone, video chats, regular trips back (if possible), etc.
Maintain open communication with kids throughout all stages of the move, from packing to the first day at their new school. Talk about your feelings and invite them to share theirs. Let them know it's okay to feel sad, anxious, frustrated, or excited.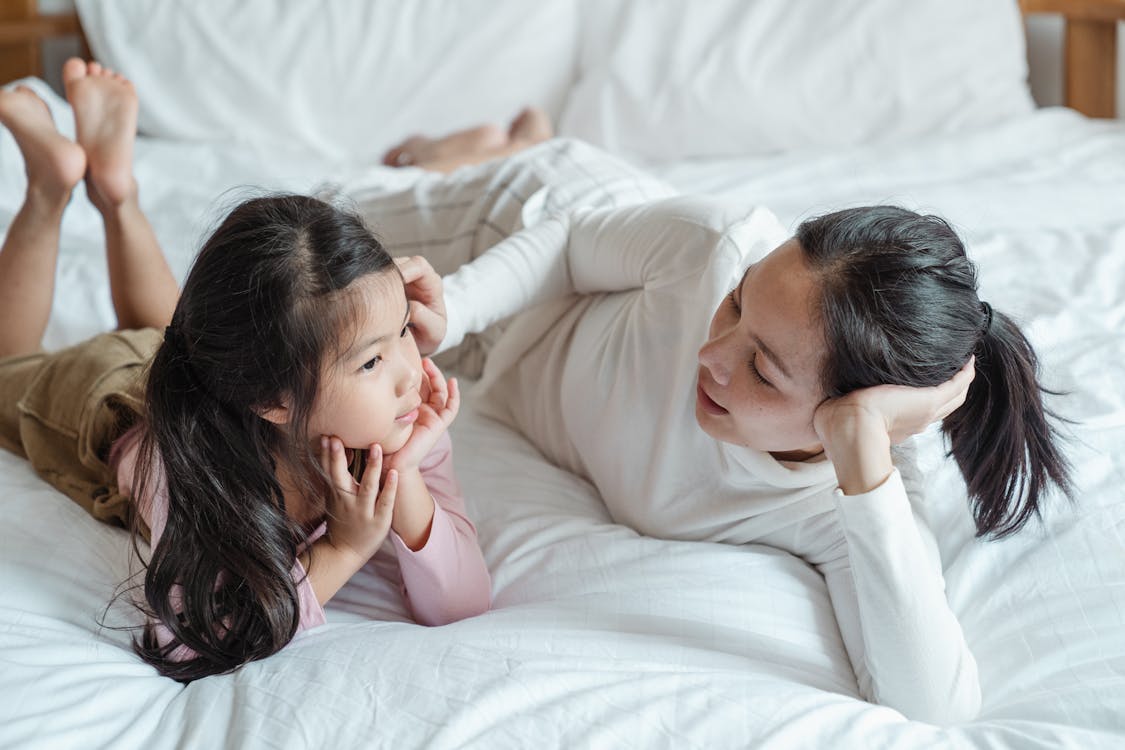 Age-by-age tips for moving with kids
Kids often react and are affected differently by moving based on their age. Here are some age group-specific tips to add to your moving with kids checklist as you strive to support them and simplify the transition:
Infants
Infants require lots of rest and consistent routines. It's easy for these things to fly out the window when you're moving, though.
Do your best to keep them on schedule while packing, coordinating with the moving company, etc. If you're struggling to manage this on your own, don't be afraid to ask for help from family members and friends.
Toddlers
Toddlers and preschoolers may struggle with a move because they will be able to understand that things are changing in their lives, but they likely won't fully grasp what's happening and what the changes mean for them.
Talk to them about the move regularly using simple words and phrases. Do your best to stay calm and positive, too, as they will pick up on changes in your energy, which could cause them to feel anxious and act out.
Older children
Older, school-aged children are better equipped to understand the reasons behind the move. They may also have bigger feelings about leaving their home and adjusting to new surroundings.
If they cry, shout, or get upset, try not to take their reactions personally. Acknowledge that this is a significant change for them, help the child feel seen and heard, and do your best to be patient and supportive.
Be sure to set aside time for your kids to say goodbye to their friends and family and visit some of their favorite places (such as a beloved local ice cream shop) one last time. Make arrangements for them to email or Facetime friends when you arrive in your new town as well.
Teenagers
Some teenagers may be on board with the move and eager to go somewhere new. Others may be devastated at the idea of leaving their friends and starting over in a different environment.
Regardless of where your teen falls on this spectrum, encourage them to be open about their feelings and give them time to process the difficulties of moving and saying goodbye to their old home and friends.
At the same time, you should also consider that letting your teen stay behind might be better.
For example, if you have a teenager in their last year of high school, you might want to consider letting them stay with a family member or close friend until the end of the school year. That way, they don't have to deal with the stress of adjusting to a new school while preparing to graduate and attend college.
Involve your kids in the process
Involving your kids in the move can help them get more excited about the journey and save you and your spouse from having to do everything alone. Below are some age-appropriate ideas you can use to get your children involved in packing, unpacking, and settling in.
Packing
Be sure to pack each child's essentials (a change of clothes, a couple of favorite toys or books, formula and diapers for infants, etc.) in a separate, clearly labeled box. Let older kids and teens pack their own boxes and choose what they want to have on hand.
Keep those first-night boxes in your vehicle so you can easily access them when you get to the new house or stop at a hotel for the night.
Look for ways to keep infants and toddlers busy while packing and moving. For example, put the baby in a pack-and-play or give toddlers some spare moving boxes and markers to play with while you coordinate with the moving company and do the heavy lifting.
You may also want to organize moving day childcare (send them to a family member or friend's house or hire a babysitter to hang out with them in the backyard) so you can feel confident they're safe while you get things done.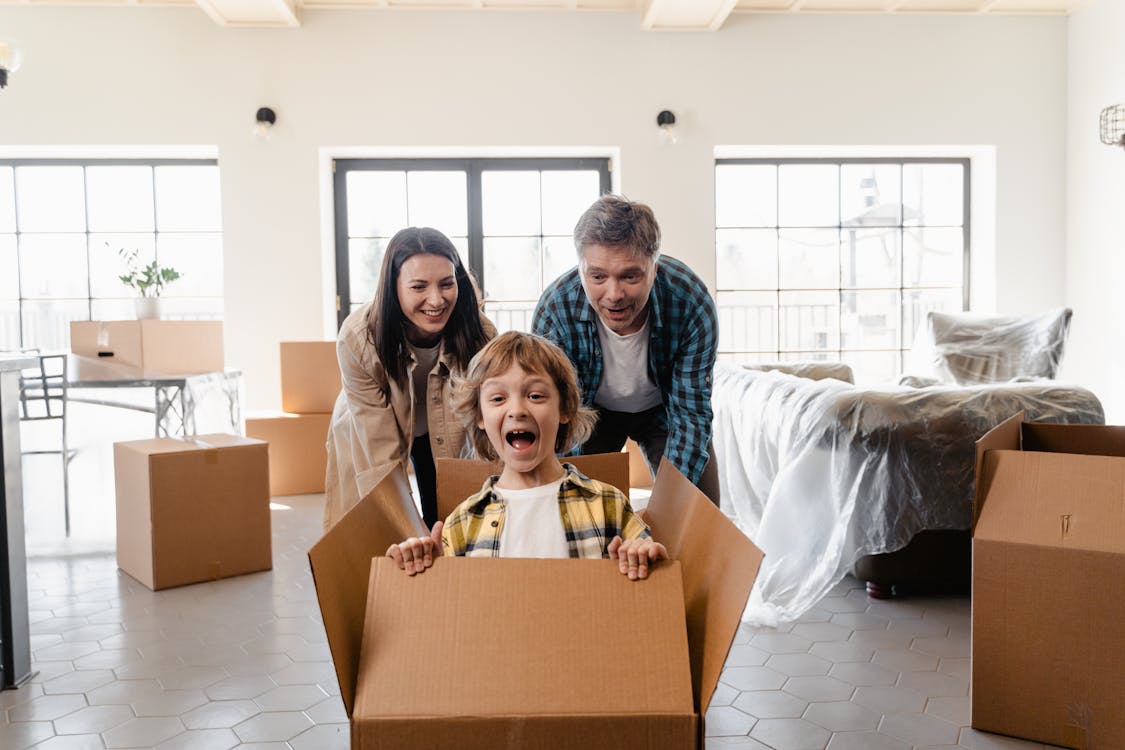 Planning
Moving with kids requires careful coordination and planning. Don't wait until the big day to figure out the route to the new place or where you'll stop along the way.
Create a timeline and schedule for the move, and do your best to stick to it. Share it with the family, too, so everyone is on the same page.
If you plan on hiring professional movers, coordinate with the moving company beforehand.
Clarify when the movers will arrive, the size of the vehicle they'll bring, and what specific services they'll assist with (packing, loading, unloading, packing, storage, etc.). Make sure they have your phone number so they can check in or address last-minute changes along the way, too.
The planning process should also include some important phone calls and online research.
For example, you'll need to find a new doctor for your kids (and yourself), as well as other healthcare providers like dentists, eye doctors, counselors, etc. Do these things ahead of time so you know who to call if something goes wrong shortly after you arrive.
Choosing rooms
When you get to the new house, consider letting each kid choose their room first before they start bringing in boxes and unpacking.
Doing this helps them to get excited and see what the house has to offer. Encourage them to be creative and start thinking about things like paint color and decorations as well.
If you suspect that your kids will fight about rooms or that it will create unnecessary challenges, you can also show them the new house's layout ahead of time and have them select rooms then. That way, everyone knows where they're going as soon as they walk in the front door.
Considerations for children with limitations
As you prepare and plan for the move, be sure to factor in specific limitations your children might have.
For example, does one of your kids use a wheelchair? If so, be sure to choose a new home that is accessible to them with ramps, elevators, etc.
Consider accessibility along the way to the new destination, too. A long-distance move will likely involve several overnight stops. Check each hotel or Airbnb for wheelchair accessibility and ensure your child will have everything they need.
Moving is also stressful for kids with sensory or processing disorders. Keep items on hand to help them manage their anxiety and stay calm, such as noise-canceling headphones, weighted blankets, special toys, etc.
If possible, ask a family member or friend -- someone who is familiar with your child's needs and knows how to support them -- to accompany you during the move. You'll appreciate having an extra set of hands.
What to do after the move
The first few weeks after a move can be just as hectic as packing and traveling. However, it's critical to stick to routines as closely as possible to help your kids settle in and adjust to their new home.
Try to wake up and go to bed at the same time each day, eat meals around the same times, stock the pantry with their favorite snacks, and look for opportunities for them to participate in their favorite activities (trips to the movies, hikes, park outings, etc.).
Remember to be patient with your children. Moving is a big change, and it may take several weeks or months before they feel fully settled.
Continue having open conversations and encouraging them to express themselves. Make sure you're practicing what you preach and being honest with them as well.
Prepare your kids for big changes with these tips
There's no doubt that moving with kids is tricky. You can navigate this challenge, though.
Start planning early and follow the guidelines discussed above. You'll have a much easier time supporting them, minimizing your own stress, and making the transition as smooth as possible.
Working with professional moving services providers will also help you simplify the move and ensure your belongings arrive safely.
Are you looking for a company with decades of experience that can assist with local and long-distance moves? If so, reach out to us at Oz Moving and Storage.
Contact us today for more information on our services or get a free quote.
LIKE OUR FACEBOOK PAGE FOR MORE GREAT MOVING TIPS: Oz Moving & Storage