If one thing is certain, it's that moving to a new home is stressful at any age. From packing, labeling boxes, and coordinating professional movers to eating takeout for several consecutive nights as you haven't unpacked yet.
Finding your dream home is a huge feat but successfully moving into it with young children is even more impressive. When you're tackling the moving process with babies, toddlers, or school-age children, there are many extra things to consider. Being mindful of your kids during the big family move will make it a smooth experience that doesn't negatively impact their lives. 
Check out these helpful tips and tricks for parents hoping to survive an upcoming move, local or long-distance, with their young children. 
Effect of Relocation on Kids
Moving can be tough on children, especially if they attend a nearby school or have formed a friend group with other kids in the neighborhood. Relocating a child once or twice during childhood won't have much long-term impact, but frequent moving can cause social decline or behavioral issues. That's why it's important to move only if it's necessary. 
Studies have shown that moving affects children differently at every age. Moving a child before kindergarten can impede their social skills, whereas moving a child in elementary school can hinder their social skills and cognitive behavior. When your child is over 12, local or long-distance moves mostly impede their cognitive behavior. But don't worry; the effects in all of these scenarios are typically small and often unnoticeable. 
The good news is that children bounce back quickly from big changes, especially with solid support from their parents, and may only feel upset or confused for a very short time. 
Preparing Your Kids for The Move
As an adult, saying goodbye to your home can be challenging, and children often experience the same feelings. Because of this, it's essential to properly prepare your kids for a big move and honor any emotions they have toward the situation. 
Discuss The Move 
Discuss the move with them as early as possible. Keeping the news from them or sharing it at the last minute can make your child feel left out. Tell your kids once you've decided on a new home. This way, they can start emotionally preparing themselves, as adults do. 
Bring The Topic of Moving up Often. 
The more it's brought up in conversations, the less scary the idea of a move will be to a child. When discussing the move, focus on the exciting aspects instead of the stressful moving process. When shopping with your child, help them pick out something for their new room, as this will help them see the move in a positive light. 
Let Them Feel Their Feelings. 
Depending on the child's emotional disposition, they could feel sad or angry about leaving their old home. When your child is experiencing these emotions, be supportive. The unknown can be scary for anyone, especially a child who is still learning to process their feelings.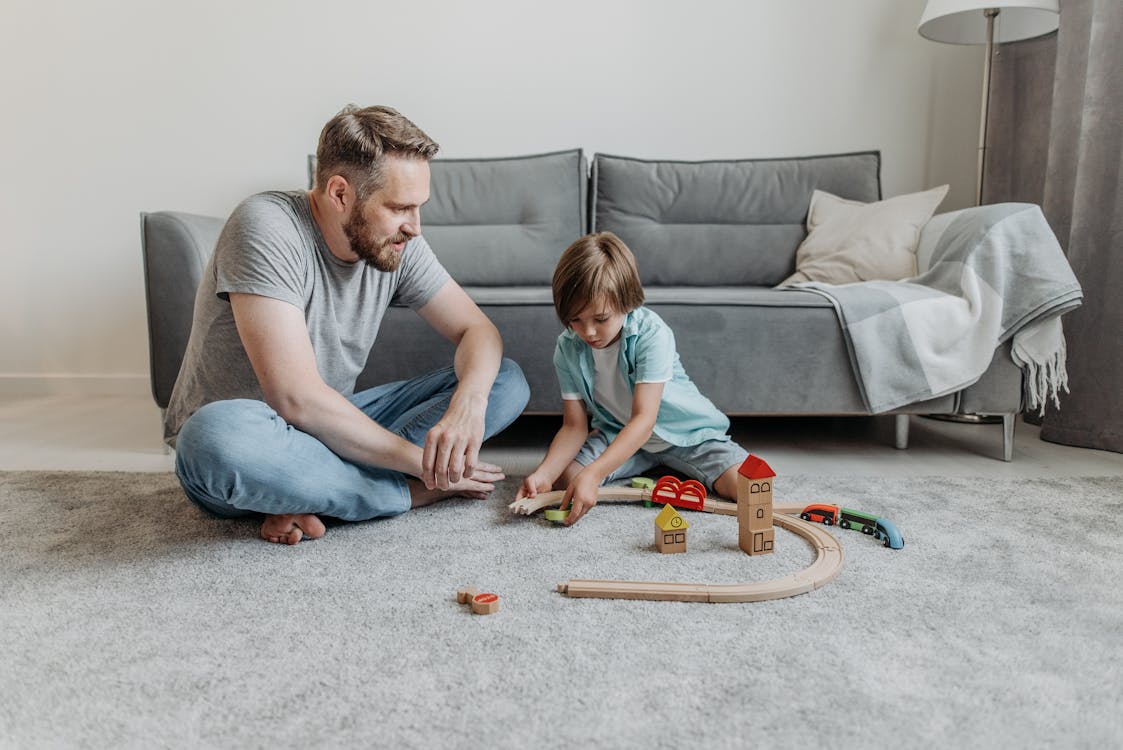 Age-By-Age Guide to Moving with Kids
Moving with a child can be a very different experience, depending on their age. The main goal of moving day is that it is a smooth transition for your baby or kid.
To help you further prepare for your upcoming adventure, we've found information on how to best handle moves with kids of any age.
Babies and Toddlers
Between 0 and 3, the most important thing is that their loved ones are around. Babies and toddlers aren't overly concerned about leaving their old neighborhood. However, they appreciate a predictable routine, which can be interrupted by a move. 
Try Your Best to Stick to Their Usual Routine For Babies And Toddlers.
Keep their bedtime and mealtimes as close to their regular times. When they aren't eating or sleeping, give them plenty of cuddles or play with them, as this will distract them from all the move-related hecticness.
Pack up Their Room Last And Unpack Their Room First. 
This will ensure your child doesn't have to go without their favorite toys or familiar bed for longer than necessary. Setting up your child's bedroom should be your priority when you finally arrive at your brand-new home. 
Let Your Child Help. 
If your child is around the 3-year-old mark, they can help you pack their books or toys. This way, they'll feel included in the moving process. 
Turn Moving Boxes Into Toys. 
Between the ages of 1 and 3, large moving boxes are considered the hottest of toys. If you need to put some dedicated hours into packing or unpacking, build a makeshift box cave for your child. They can crawl through boxes or watch a movie in a box filled with blankets.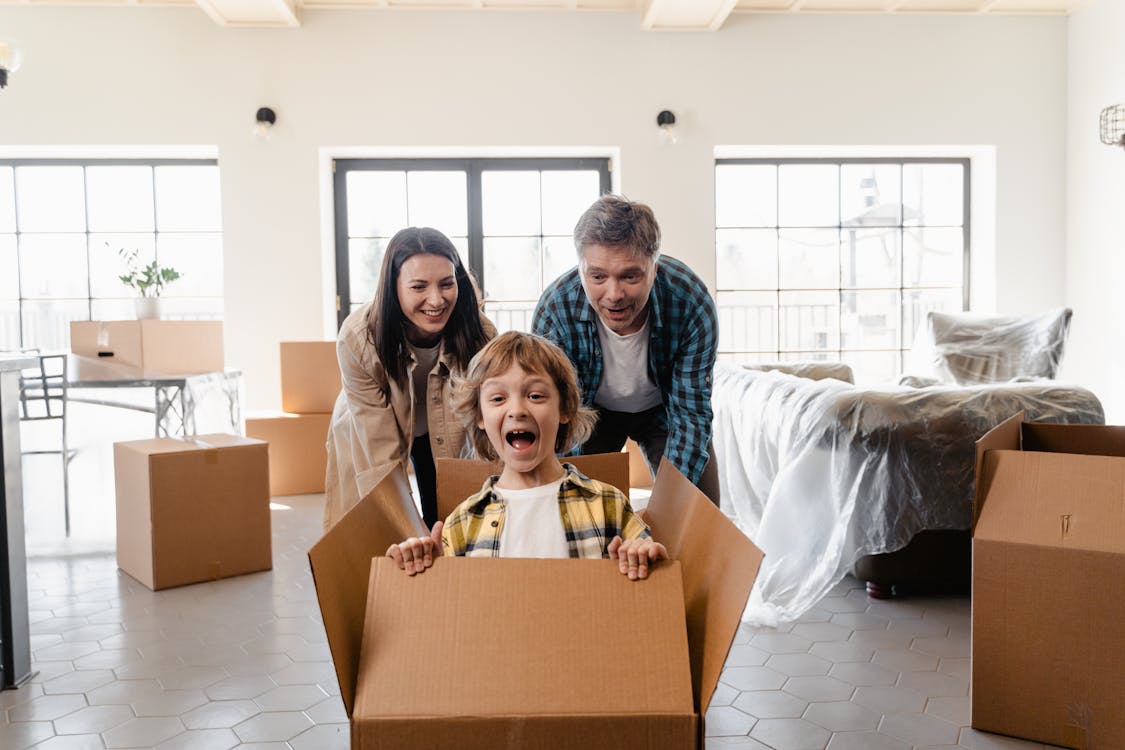 Explore The New Neighborhood Before Moving
This trick is helpful for any parent, no matter the age of their kids. Taking frequent walks throughout the new community and stopping by the new house will make everything seem a little more familiar on moving day. 
Preschoolers
Preschoolers, or children between the ages of 3 and 5, are typically curious and active. Because they are discovering their sense of independence while constantly on the move, they require a little more attention when packing, loading, and unloading at the new home. 
Let Them Say "Goodbye" to Their old home. 
Before leaving, suggest saying "goodbye" to every room. This is an excellent way for them to get closure and an understanding of the whole moving situation. 
Don't Take Anything They Say Personally
We've all been on the receiving end of an "I hate you" from a young child. Instead of disciplining them for saying something hurtful, which they likely don't even mean, try to find some common ground. If they are upset about leaving their bedroom, say something like, "I will miss my bedroom too, but I am so excited about the big backyard where we can run and play games."
School-Age Kids
Moving will take a bit more explanation if your children are between the ages of 5 and 12. These tips can make your kids feel more involved in moving into your dream home. 
Host a "Family Meeting" to Discuss Everything Related to The Move. 
By calling a special meeting, perhaps one that includes donuts, your kids will feel more involved and less worried about move-related uncertainties. For example, during the "family meeting," your child can ask questions or voice their opinions on the move.
Find Facilities Before 
Tour new schools, neighborhoods, and new childcare facilities near your future home before moving. Once you've found a school for your child, the whole move will feel much less daunting. Before moving, take your child to the new neighborhood, visit an ice cream shop, and explore a nearby park. This will help them feel excited about the upcoming move.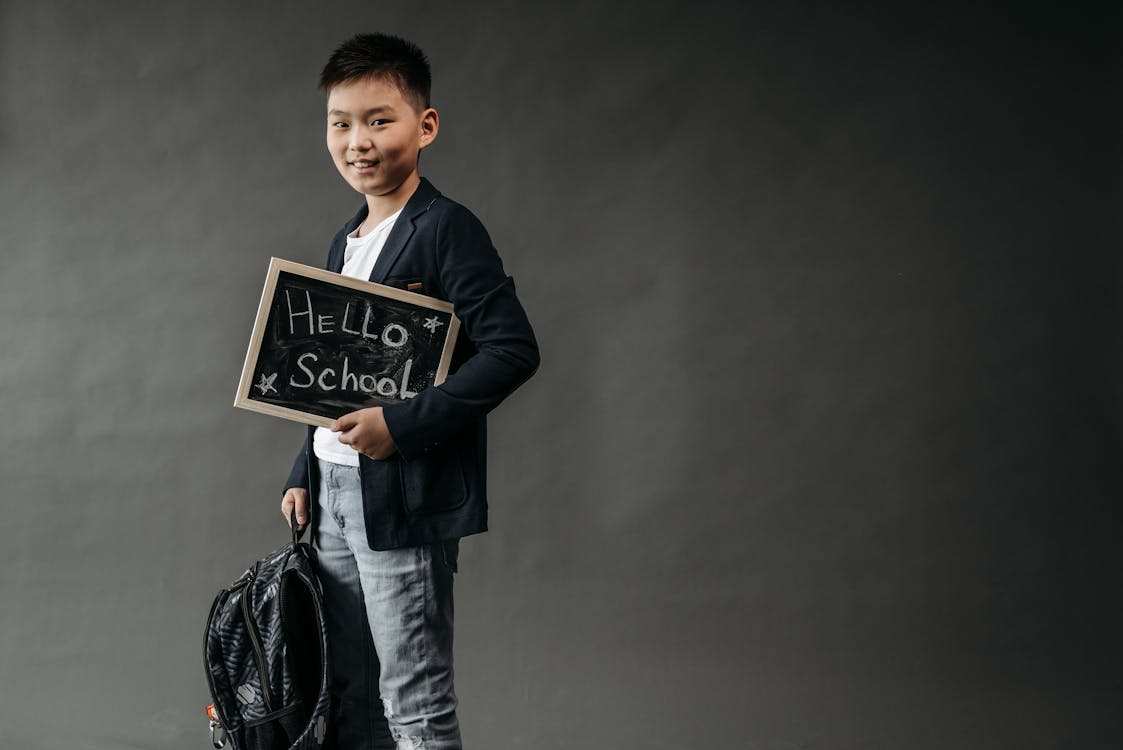 Plan a "Goodbye Party" For Your Child 
Even if you're moving 30 minutes away, your child might not see their old friends as much as they used to. Throwing a "goodbye party" will allow your child to say goodbye to their friends. During the party, keep the mood light and positive, with plenty of fun games for the kids. 
Create a Phone Book for Your Child
Creating a phone number book for your child, filled with their friends' contact info, can make them feel better about leaving. Throughout the move to a new city, continue to remind your child that they will meet new friends.
Help Your Child and Make Them Feel Included
Depending on your child's age, they could be just as helpful as a professional mover. You can do many things to make them feel important and included during the moving process. For example, let them go through their toys and pick out some that can be donated. Then, after sorting their toys, show them how to arrange them into boxes, close the boxes, and then even label the boxes. This can be a great learning experience. 
If you're hoping to get the damage deposit back from your landlord, ask your child to help you clean their room. Provide them with a broom, dustpan, and duster. But avoid giving them any harmful chemicals as these should only be used by adults. 
For children who like to draw or be creative, getting them to map out their new room can be an entertaining activity. Encourage them to sketch out where they would like their furniture to go in their new space, and then follow the plan once you've all arrived at the new home. 
How to Pack with Kids
When packing up the kitchen, bathroom, dining room, and bedroom, it's easiest to do that when your child (or children) are at daycare or school. This will give you a productive headstart with limited interruptions. 
Packing them in clear containers instead of cardboard boxes for their toys and clothing can make things a whole lot easier when it's time to unpack. Another great idea is working with your children to create "essential boxes" filled with toys or stuffed animals that they can't live without, even if it's just for one night. These essential boxes will help you avoid any emotional meltdowns or crying fits on the first night in your new home. 
As we mentioned before, involving them in the packing process is a wonderful way to make them feel included depending on your child's age or abilities.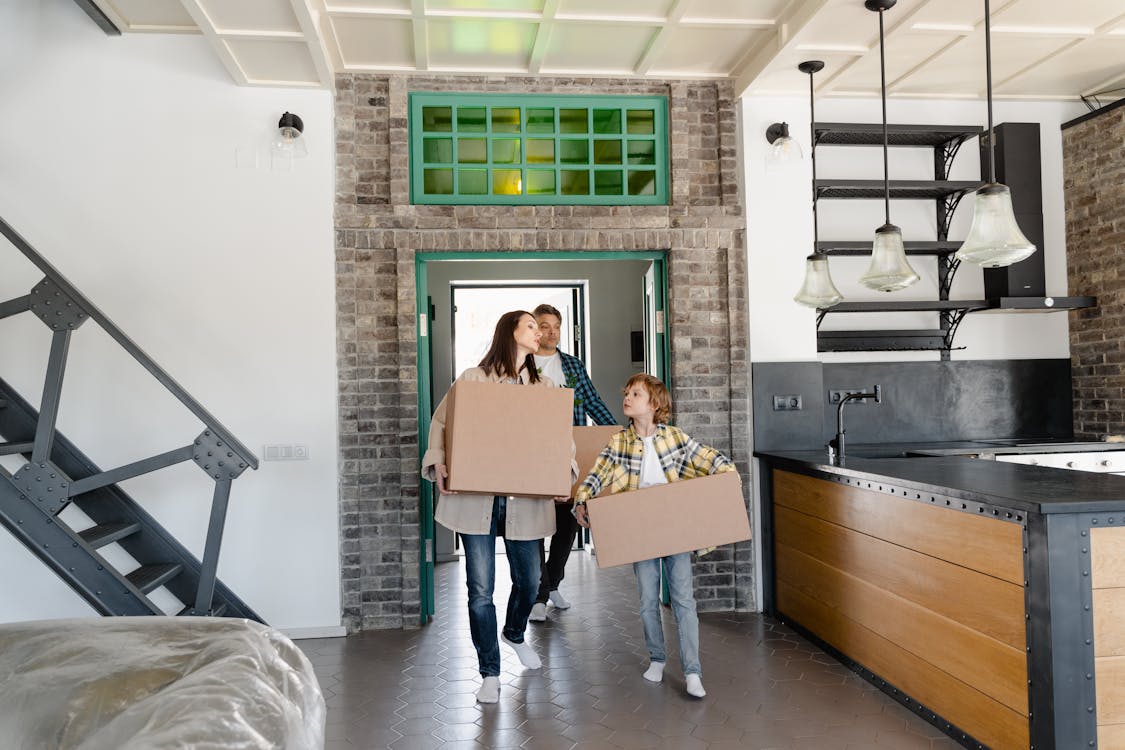 See also: What to pack first when moving. 
Helping Your Child Feel Stable and Cope with Change
Change can feel scary for most children, so it's best to provide them with ample support before any moving occurs. In addition to keeping routines the same and listening to their concerns, plenty of picture books discuss moving homes. Reading one of these books together can open up the conversation and make the concept of moving a little less daunting. 
Staying engaged and connected with your child through play is another great way to keep them feeling secure. Making sure your child feels stable, supported, and safe is the best way to ensure a positive transition into the new home. 
Moving While Accompanied by Specially-Abled Children
It's expected that moving with a specially-abled child can feel more challenging as they have different needs. Keeping a positive attitude and being mentally prepared for the unexpected is vital as children can sense when something is off. 
If your child can communicate with you, have conversations about the move in advance and ask them if they have any concerns about it. Open discussions will make them feel more involved, whether they are specially-abled or not. 
Some specially-abled children become very attached to their surroundings, so exploring the new home and nearby playgrounds, as much as possible before the move, can be very helpful. By visiting the house before moving, you can also see what modifications your child might need when your family finally moves in. 
Tips for Moving Out of State with Kids
When moving out of state with kids, it's best to plan for the move and start packing as soon as possible. In the months leading up to the move, start sorting through the items in your home and donate anything you don't want to take with you. Children can help to sort by placing stickers on the things they'd like to keep—the less you have to pack up, the better. 
Because your family is embarking on a long-distance move, keep your expectations of your child relatively low. Expect that they will be upset or angry, and familiarize yourself with how to act in these situations. If they don't act out or become sad, chalk it up to a pleasant surprise!
Modeling the behaviors you want to see, creating an in-depth to-do list, and letting them say "goodbye" to their home, friends, and teachers will make a stress-free, long-distance move. 
No matter where you're moving, it's crucial to remain cool, calm and collected. Parents should always be mindful of their stress levels, as chronic stress can impact their mental health and their child's well-being. 
LIKE OUR FACEBOOK PAGE FOR MORE GREAT MOVING TIPS: Oz Moving & Storage