Holiday Storage Tips

How To Store Holiday Decorations
Christmas is now over, meaning it will soon be time to put away those decorations. (But take your time, we won't judge.) We wanted to give some of our expertise on storing these items in the less festive times to you; after all, it is the season of giving. We talked to Ori Siri-Princz, a manager at one of our storage facilities, to get some insight on storage hacks that can help keep your holiday stuff in good shape. Use these tips to avoid a storage snafu next navidad.




Ornament Storage
Ori tells us "The best way to store ornaments is by wrapping them individually (for fragile ornaments) in loose bubble wrap and placing them inside a plastic box (from a dollar store)." Packing ornaments together is good for organization's sake, but direct contact between ornaments can be harmful and lead to damage. You can wrap the ornaments in loose bubble wrap or white paper to pad them in your bins. "If you don't have bubble wrap, use white paper and crunch it around the object, that will create the needed space between one ornament and another." [Make sure to take the ornament hooks off before storing the other ornaments - Ornament hooks can go all together in a ZipLoc bag.]
How To Store Christmas Lights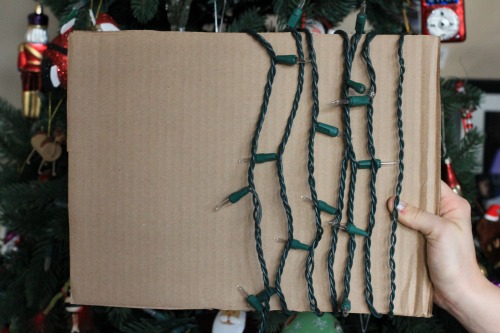 (Photo and idea via 100 Dollars a Month Blog)
How can one keep their christmas lights untangled throughout the first eleven months of the year? It's as simple as using a cardboard box. "You can make a Christmas light holder out of [one side of] a spare box. Just take your box, cut off an individual piece of cardboard, and neatly wrap your Christmas lights around your new lights holder." This will keep your lights safe and tangle-free through Valentine's, 4th of July and Halloween, ready to go for next year's holidays. [Thanks to One Hundred Dollars a Month for sharing this great concept.]
Storing a Menorah
"Menorahs should be wrapped in the same way as their decorations. Make sure you clean those from excess wax before storing them - use a little hot water to free the excess wax. (This can also be said for the Kwanzaa Kinara.) Keeping things in their original packaging is always a good idea when it comes to holiday storage."
Wreath Storage
Ori tells us a spare clothes hanger could be helpful in storing a wreath; "To store a wreath, try using a clothes hanger; simply attach it to the wreath and hang." You can then put the hanger in a box or bag knowing the wreath won't be crushed.
Another way is to use a box to individually pack the wreath or use an all-purpose storage bag like this one. (Picture via TheContainerStore)
Temperature tips
"You also want to make sure that you store these in room temperature and not in a radical temperature (hot or cold)." Otherwise, your holiday decorations could melt or harden from the extreme temperature. If you're using a storage unit to leave a few extra holiday items, make sure that the temperature is not too extreme in the units, or that the items that you're putting inside wont' be effected too much.
Thanks for reading our blog!

Interested in Storage space? Check out Oz Moving's storage page.
Like this blog and want to read more? Check out the rest of our blogs and Like Us on Facebook.