Have you dreamt of relocating to Brooklyn? If that's your case, you may be needing to find experienced Brooklyn movers soon. But before you do, take your time to learn that Brooklyn is one of the most exciting boroughs of NYC where views are excellent, the history is fascinating and the music never stops. But, moving can be expensive and stressful so we want to help guide you through the process. Moreover, there's never been a better time to move to Brooklyn! With prices down due to the coronavirus pandemic, there are many more deals available that you can try and score! Our experts at OZ Moving have compiled some tips and tricks to aid you through your move to Brooklyn!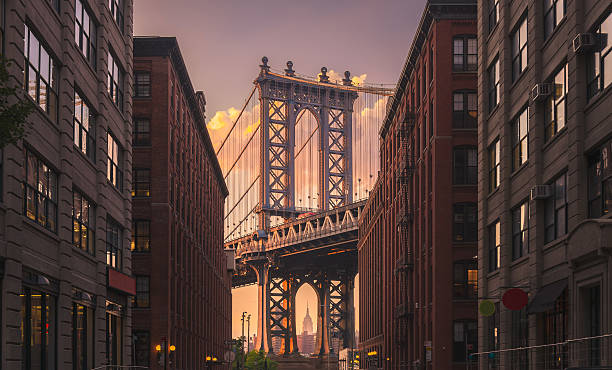 How To Move To NYC Stress-Free
First, get acquainted with Streeteasy! Though there are tons of websites for NYC apartment hunting, Streeteasy is one of the most popular resources for finding the perfect apartment. But, we don't think you need to sign a lease right away! We believe you should arrive in NYC first and spend some time seeing places before you make any concrete decision. And spending hours on this site will inform you on the types of apartments available and the pricing within each neighborhood.

Sublet before you lease! Try and see if you can negotiate a sublet before you make any long term commitments. NYC is hectic and you don't want to be stuck in a horrible living situation, especially during COVID times. The good news is that finding a sublet is not hard! There are plenty of resources available like Craigslist, Facebook 'Gypsy Housing' and Listings Project where you can either take over someone's lease or rent month-to-month until you find a place that is suitable for the long term. The best part about subletting is you don't need to worry about furniture, especially if you are just getting to NYC for the first time. 

Discover a neighborhood you love! NYC is huge, so you want to make sure that you are looking for places in an area that you enjoy. If you're looking for a more low-key chill vibe you may want to look at apartments in Brooklyn or Queens and parts of the Bronx. But, if you want to be by the hustle and bustle, you may want to live in Downtown Manhattan. It's wise to get familiarized with the city before you make a decision. 

Take a weekend trip and stay with a friend! A good tip for those who are planning to move to NYC is to reach out to a friend or acquaintance who lives in New York City to ask if you can stay with them, or at least grab lunch. It's important to see the city from the eyes of someone who lives there before you move there yourself. The movies can be deceiving and may not paint a honest picture of NYC life! 

Make a moving checklist! Start planning ahead and organize your belongings with a checklist to make sure that you have everything sorted well. Remember to label your moving boxes so that when you get to your new apartment and begin unpacking, you know exactly where to find everything! 

Don't wait until the last minute to pack. It's no secret that packing sucks, but it sucks even more if you don't organize your belongings in time. Start collecting moving supplies in advance so that you don't need to rush the day before the movers arrive. 

Set a budget! There will be loads of unplanned expenses throughout the moving process that may drive you insane if you don't budget properly. Decide on what you will splurge on and what you will save on. Will it be on furniture? Will it be on location? Will it be on moving services? You want to make sure that you spend wisely in case something goes wrong.

Research NYC prices! It's so easy to get ripped off if you don't know the rules of NYC real estate. There are always new laws being implemented to protect tenants from paying too much on broker fees and application fees: be sure to learn the current laws. If a housing policy or fee sounds ridiculous to you, ask around to make sure that you're not falling for a trap. 

See if you need a guarantor! It's very common for young people to be required to have a guarantor. If this is the case, be sure to ask one of your parents or relatives in advance to see if they'll help you out with this. Often, without a guarantor, it can be tricky to get an apartment!

Get a moving quote! If you are planning to hire movers, you should reach out to several moving companies in your area to get a sense of how much the move will cost. You don't want to be caught by surprise if the move ends up being far more expensive than your budget. 

And, finally, get ready to walk up many, many flights of stairs! So many NYC apartments don't have elevators and moving into a 5 story walk-up can be a huge pain. Drink loads of water and bring some ibuprofen in case your muscles start to cramp! It'll be a long moving day no matter what so be prepared!
How Much Money Should I Save Before Moving to Brooklyn?
The average cost of monthly rent in Brooklyn is $2600. For a one-bedroom apartment, you can expect to pay anywhere from $1700 (in Bay Ridge) to $3800 in the swanky DUMBO area. Of course, this depends on neighborhood and size, but typically you should expect to pay two times the monthly rent upon move in. Landlords will request first month's rent and last month's rent (which acts as a security deposit), sometimes they'll even ask for more. For those who have apartments with broker's fees you will need to shell out even more money. A comfortable sum to have on hand when you move in will be at least $5000 just to cover initial housing expenses. However, you may end up needing more depending on the cost of your apartment.  
To calculate a better estimate according to your needs and budget, just multiply your proposed rent cost by 2-3 times. 
Is it cheap to live in Brooklyn?
The cost of living in NYC is incredibly high; NYC is one of the most expensive cities in the world and Brooklyn is not much cheaper. Though Brooklyn is slightly more affordable than Manhattan, you can still expect to pay high prices at grocery stores, restaurants and for monthly utilities like internet and electricity. Monthly costs for utilities can cost you an average of  $150 for electricity, water and heat and $70 for internet, which is something to consider when budgeting for each month. 
Though it is not cheap to live in Brooklyn, you can find more affordable prices if you live in less desirable areas. There are plenty of neighborhoods in Brooklyn that are beautiful and offer a good quality of life, but are not as 'popular' , and thus, cheaper. These neighborhoods tend to be the ones that are furthest away from Manhattan.  
How Much Does Moving to Brooklyn Cost?
It's no secret that moving costs can be expensive! When hiring professional movers, you can expect to spend around $1,000 depending on certain factors. A long distance move can even cost you over $3000 depending on how far you're moving!  
But you don't need to hire movers if you're on a budget! You can save money if you conduct the move yourself. For around $300, you can hire some movers and a U-Haul to help transport your belongings from one place to another. Hiring a U-Haul can save you tons of money, but is an ideal solution for everyone. 
The moving process can be tiresome and exhausting if you are not experienced, which is why you may want to inquire with the professionals. 
Ready to move?
Whether you are heading to NYC from nearby New Jersey or all the way from Los Angeles, you'll blend in with the New Yorkers in no time! A professional NYC moving company can supply you with a moving truck, packing materials, plus professional and efficient movers to help get you into your new home stress-free and embark on your new life!
LIKE OUR FACEBOOK PAGE FOR MORE GREAT MOVING TIPS: