Apartment hunting in NYC can be a real adventure. There can be lines around the block for certain apartment viewings and additional hurdles to jump through like application fees and broker fees.
Nonetheless, when moving to NYC, securing a decent apartment is a necessity which is why we've compiled this guide to help you learn more about the best time to rent in NYC.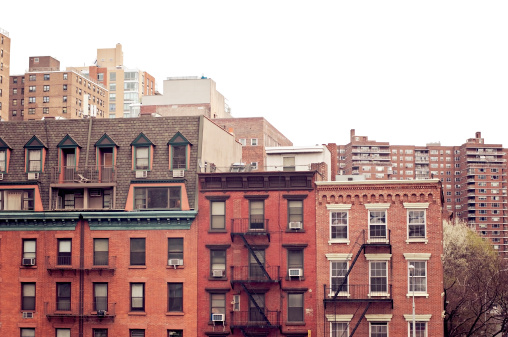 What is the Best Time to Rent an Apartment in NYC?
The NYC rental market is very competitive which is why we would recommend trying to find a rental during the off season. The summer months are when everyone moves to NYC which means that you may face competition and even higher rental prices. That's why during the winter months the market slows down and you can score a better deal without the chaos. According to Rent Hop, rent prices in NYC are the lowest in February. 
Though the summer months can be the most competitive, there is some added benefit to apartment hunting during this time. Often, there can be a wider selection of rental options. Sometimes landlords will even wait to list their properties until peak season, which means that there can be newer and more updated options to choose from. The peak season is considered the time frame between May and September.
Even though summer is the super busy time for moving, we've seen clients do well moving in both the busy and quieter seasons. Every moment of the year has pros and cons, and it all depends on what you want and need. 
Renting in NYC During Off-Season
Pros:
Reduced competition due to slower market
Potentially lower rental prices and better deals
Easier availability for movers and related services
Greater negotiating power with landlords
Cons:
Limited selection of available apartments
Some landlords may hold off on listing their properties
Renting in NYC During Peak Season
Pros:
Wider variety of rental options to choose from
Possibility of newer and updated apartments
Vibrant atmosphere as many people move to NYC during summer
Potential access to more amenities and features
Cons:
High competition among renters
Rental prices might be inflated due to demand
Limited availability  and higher prices for moving services
Less negotiating leverage with landlords
When to Start the Search for an Apartment in New York
Typically, it can take some time to secure a rental apartment in NYC. Though there are millions of apartments throughout the 5 boroughs, securing your dream apartment can be a challenge. 
The recommended timeframe for your apartment search can depend on a number of factors like your budget, the neighborhood, whether you are moving in with roommates, or what kind of lease you are looking for. Certain kinds of NYC apartments go faster than others, especially those that are rent-stabilized. From our experience, for typical rental buildings, you should start looking 4-6 weeks before as apartments that go on the market are usually looking for a prompt move-in date. However, as mentioned previously, for certain co-op buildings, the approval process can take a few months. 
One of the most important things that has helped our clients succeed in their apartment hunt is to start their search before even arriving in the city. Be sure to check Streeteasy to get a better picture of the current NYC real estate market.
It is important to familiarize yourself with the various neighborhoods, price points, and other rental terms. You should also start collecting all financial documentation beforehand to make sure that you don't miss out on an apartment because you were unprepared. Typically, you have to show proof of income (40x rent), tax returns, and credit score information among other details. 
You will also need to pay the first month and last month's rent (which often acts as a security deposit) upon moving in, so make sure you have enough money saved up before you start the apartment search. Some building management companies may ask for additional information so be ready. There may even be a long process of board approval in some Co-Op or condo apartment buildings. 
While a realtor can help you find an apartment, you don't necessarily need a real estate agent to find a rental apartment. You can often rent a place directly from the landlord and avoid broker fees.
Where to live in NYC
Amongst renters, Manhattan, Brooklyn, and Queens are some of the most popular boroughs to live in. However, prices can vary greatly depending on the neighborhood. The average price for a one-bedroom apartment in NYC is around $3000 per month. But you can find more affordable rents if you look outside of the trendiest places. 
Choosing a neighborhood is an important first step in the apartment search. Some areas are more suited to young professionals (downtown Manhattan, Williamsburg, Tribeca) while other neighborhoods are more family-oriented (Park Slope, Upper West Side). Finding the right neighborhood for you can depend on your age, budget, lifestyle and occupation. 
Sometimes it can be easier to try subletting an apartment first. There are many ways to find a sublet in NYC ranging from online rental companies like Sonder or Airbnb to Facebook groups and Craigslist. A short-term rental can be a great way to familiarize yourself with NYC before settling into a new apartment. However, because many sublets are unofficial and off the books, be wary of scams.