Moving to Manhattan is a dream for many, but it's important to know the pros and cons.
After 30 years of having an office in Manhattan, we've picked up some real-life wisdom about living in this borough. So, here's our down-to-earth but pro take on what you should know before diving into the Manhattan lifestyle.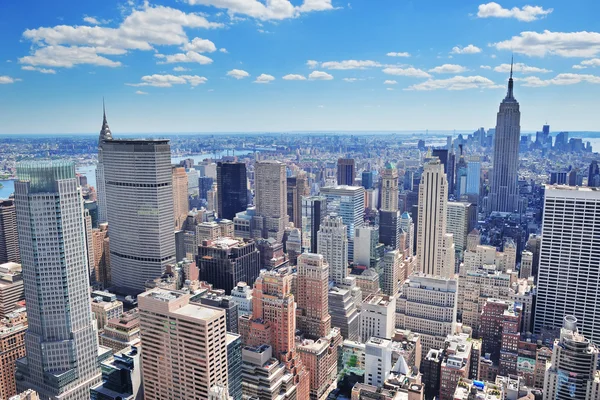 Costs of Living 
Manhattan is an expensive place to live! To date, the cost of living remains one of the highest in the United States and in the world. Currently, rent for a one-bedroom apartment (500-700 square-foot) in Manhattan is in the range of $2000-$3000 per month, though there are areas of Manhattan that are more affordable. A studio apartment (500 square-foot) should cost between $1500 and $2000 per month.
Aside from the cost of month-to-month rent, apartments in NYC may ask for the first month and last month's rent upon signing a lease. Sometimes, there may even be a Broker's Fee charge for the unit, so be sure that you have saved enough money before making the move. 
Aside from the cost of rent, utilities in the city (electricity, Wi-Fi) can be a big expense if you are not careful with your use of A/C in the summer months. Typically utilities in the city can cost you between $40-100 per month (per person). 
Other aspects that impact the cost of living in the city are transportation and groceries. Transportation can be affordable if you rely on cycling or the subway ($2.75 a ride). Otherwise, walking is a great way to save money. 
There are many options for buying groceries throughout the city. There are stores like Whole Foods and Trader Joes, as well as bodegas on virtually every corner. Because many in the city don't have a car, you may end up having to take frequent trips to the grocery store instead of doing one large shop. If you don't want to be lugging your groceries around the city, try a grocery delivery service like Amazon Fresh or Instacart.
Groceries in New York tend to be expensive, especially when compared to other parts of the country, but there are ways to save money on food. For instance, try to avoid convenience stores as these stores tend to mark up the prices higher than a supermarket. Another tip is to eat most of your meals at home instead of eating out. 
Choosing Neighborhoods 
Though many assume that Manhattan is just full of high-rise buildings and office spaces, there are dozens of neighborhoods around the borough that offer varied styles of living and affordability. 
For those who want to live near a green space like Central Park, we recommend the Upper East Side or Upper West Side. Another great option is Inwood which is located at the very tip of Manhattan. These three neighborhoods are family oriented and have easy access to big parks and greenery and can offer a more relaxed quality of life.  
Otherwise, younger people who are seeking a more creative life may want to move to Chelsea, the East Village, or Chinatown. These areas boast a more vibrant and youthful energy. If you are interested in spending time in Brooklyn, these areas have easy access to the train lines that connect Manhattan to Williamsburg. If you live in Chinatown, you can even bike over the Brooklyn Bridge to get into Brooklyn. Some areas that you should check out once you cross the East River are Bushwick, Bed-Stuy and DUMBO. Brooklyn is a fun place for young people who are looking for good nightlife and shopping. 
Though Manhattan is a wonderful place to live, we've seen lots of Manhattanites fail to visit the rest of the city. There are tons of areas to explore within the city outside of Manhattan. Some of our favorite citywide gems are the Staten Island Ferry, the Bronx Botanical Garden, and the delectable Greek food in Astoria, Queens. We truly recommend exploring all five boroughs for a well-rounded NYC adventure.
Working in Manhattan 
Prior to the Coronavirus Pandemic, most New Yorkers would spend large swaths of their day commuting to and from work. Many of these office buildings were located around Midtown or Union Square. For those who had jobs in theatre (and in Broadway shows), many needed to commute to Times Square. 
Though many still do go to an office, plenty of New Yorkers have started a life of remote work, which means that the distance between their home and their job is no longer a hassle or concern. Nonetheless, there are many forms of transportation available to those who are still going into their offices every day. 
The public transportation options available range from the MTA (NYC Subway) to bike-share programs to scooters and so on. The Citibike program in NYC keeps getting expanded and is an affordable and eco-friendly option for commuting. Often, Citibike offers promotional programs to new members so be sure to look into those offers. Another great commuting option is Revel, which is a rental moto-scooter program in NYC that launched in 2018.
Schools in Manhattan K - College
Public Schools in Manhattan are some of the best in the city. We recently helped a family relocate to Manhattan for its renowned public schools, particularly those in District Two. While living within the district is usually a requirement, making their move was a smart choice for their children's education.
Typically, to send your child to one of these schools you have to live in a designated area that is assigned to that school. To find out if your home address qualifies you, check out the Department of Education Tool here. The neighborhoods with the most expensive real estate tend to be the areas with the best public schools. Be sure to do research on these schools to learn more about what programs & extracurriculars they offer! 
Aside from elementary schools, some of the best high schools in the city are located in Manhattan. These schools include Stuyvesant High School, Bard High School, Eleanor Roosevelt High School & HSMSE. Moreover, NYC is home to some of the best Universities in the world like Columbia University, Barnard College, New York University and the CUNY Public University system. Many long-term New Yorkers started their chapter in the city by attending one of these universities! 
Moving to Manhattan 
Moving to Manhattan is a dream come true for many young people around the globe. Life in New York City is frequently depicted as an energizing, fast-paced, and life-changing experience. And much of that is true. NYC is loud and intoxicating and can sometimes drive you crazy if you are not used to the chaos.
But there are many things you should anticipate before you make your move. For one, the comfort level of Manhattan living can be a step down from what you may be used to elsewhere. Most Manhattan apartments don't provide many of the same amenities that suburban living may offer. For one, you may not have an elevator in your apartment building, which can be an obstacle for those moving in and out of 5 story walk-ups. 
There are other aspects of Manhattan life that might take some getting used to like having to venture to laundromats to do laundry, as many units do not provide washers and dryers. Moreover, you may not have your own bathroom and have to share the space with several people, if you opt to live with roommates. Closets, too, can be hard to come by so be prepared to get creative with how you store your clothing. 
Moving to Manhattan can involve a lot of logistical planning, or can be entirely spontaneous (if that's how you like to operate). We recommend saving at least 4 times your anticipated rent costs before you arrive. If you need help looking for apartments check out Streeteasy (if you want to sign a lease) or Facebook groups like Gypsy Housing (if you are looking to sublet). If you are new to the city, it may not be a bad idea to sublet an apartment before you sign a lease. That way you can figure out which areas of the city you prefer, before making a long-term commitment. 
Ready to Move?
Moving to the Concrete Jungle is an incredible experience for those willing to take the plunge. If you are seriously planning a move to the city that never sleeps, reach out to our team of movers and request a free quote.