If you've ever walked across the West Side of Manhattan and looked over the water, you may have wondered what exists across the Hudson river. The view that meets your eye is that of the great state of New Jersey. To be more exact, the glass high-rise buildings that mirror the Manhattan skyline belong to Jersey City. 
New Yorkers may be surprised to learn that Jersey City is the second largest city in the state of New Jersey. With a population of around 265,000 packed in just 15 square miles, some may even refer to it as New York's 6th borough.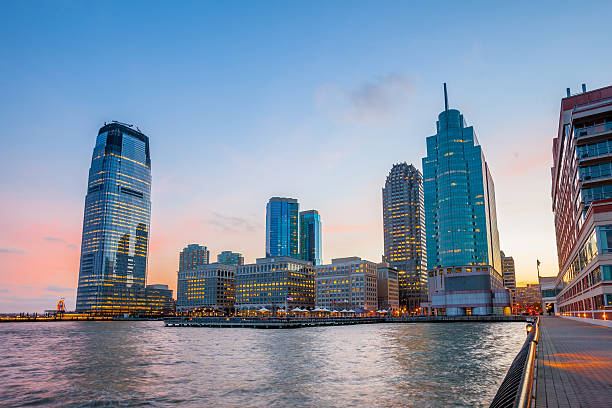 To help you navigate life across the Hudson River, Oz has compiled a thorough guide to living in Jersey City, 
Moving to Jersey City 
There are plenty of reasons why New Yorkers may consider the move to Jersey City. For one, Jersey City offers a good quality of life, home to both new development and quaint small town energy. Some parts of Jersey City even bear a strong resemblance to Brooklyn, with its tree lined streets, brownstones and cafes. 
Another reason why some Manhattanites may move to Jersey City, is to be closer to work. With easy access to the Financial District, Jersey City has even attracted many who work in finance and can commute to work in less time than those who live on the Upper East Side, for instance. 
Finally, some may be attracted to Jersey City because of the tax loophole. If you live in New Jersey you can actually save money on your annual taxes. Even if you work in New York City, you won't be subject to NYC taxes which can range from 2.9-3.9% of your annual income. Moreover, New Jersey federal taxes are also lower than New York State federal taxes, which can make life in Jersey City more affordable.  
Jersey City has been growing steadily in the past few decades. These days Jersey CIty is home to weekly farmer's markets, sophisticated Wine Bars, Breweries, boutique shopping, all at your doorstep. One of the most fun bars to visit is Barcade, which is both a gaming arcade and a bar.
A huge plus to life in Jersey City is that you don't have to sacrifice comfort, convenience or quality. Many of the amenities in Jersey City are comparable to those in NYC like the ability to walk to nearby grocery stores instead of having to drive. 
There are also several ethnic enclaves in Jersey City that have authentic restaurants and grocery stores. One place to visit for those who like Indian Food is Little India in Journal Square, which bears a resemblance to Jackson Heights in Queens. 
Costs of Living in Jersey City
Jersey City is generally cheaper than NYC. Not only is the tax rate lower, but the price comparisons show that Jersey City is cheaper in all aspects: rent, real estate, groceries, restaurant prices and utilities (though the internet may be slightly more expensive in Jersey City).
The average cost of rent in Jersey City for a 1 bedroom apartment is around $2500 a month, while the same sized apartment in Manhattan averages at around $3500 per month. However, there are various housing and affordability options in the area. 
The high-rise apartment buildings across the Jersey City waterfront offer plenty of amenities like man-made beaches, swimming pools, gyms and concierge service. With views that face Downtown Manhattan and Ellis Island.  These apartments or lofts can come furnished or unfurnished, which makes moving very simple. The median rent for these types of properties is $3000 per month, though prices may have dropped due to the coronavirus pandemic. 
Other parts of Jersey City are far more affordable. Greenville, the southernmost section of Jersey City, offers better prices than Downtown Jersey City. One popular residential area of Greenville is Country Village. Next to Greenville, you will find Bergen-Lafayette, can rent a Victorian style town home with a backyard and car garage. Some parts of Bergen-Lafayette like Liberty State Park give you a direct view of the Statue of Liberty. If you prefer to live in an apartment, the median rent for a 1-bedroom is around $1300 in this area. 
There are parts of Jersey City that are safer than others, so be sure to do research on public safety in your desired neighborhoods. 
Choosing Neighborhoods of Jersey City
Each neighborhood in Jersey City has a personality of its own. For those who prefer a modern, luxurious way of life may choose to live in these high-rise apartment buildings in the areas by the waterfront. If you enjoy that level of luxurious living, you may be interested in touring apartments in Journal Square, Exchange Place and Newport.
However, if you are someone who likes to be in an urban center, but still want an area with a small town, neighborly vibe you may be interested in checking out Downtown Jersey City. One of the cutest places to live in the Downtown area is Paulus Hook. In Paulus Hook you can have the best of both worlds. You can live in a quaint brownstone while also being around vibrant city life. Paulus Hook is definitely reminiscent of a neighborhood like Downtown Brooklyn, where there is both lots of buzz and lots of space to relax. 
In the historic sections of Downtown Jersey City, there are plenty of restaurants, cafes, bars and outdoor spaces to hang out. We recommend visiting Van Worst Park and Hamilton Park if you are looking to have a nice picnic or take your dog to the dog run. 
If you want to be further away from the downtown energy of the city, there are plenty of areas in Jersey City that are suitable for those who prefer classic suburban style living. These homes are located in The Heights, Bergen-Lafayette and Greenville. Many of the houses in these parts of the city are architectural marvels and beautiful to look at! Moreover, these neighborhoods offer more living space for young families who want some extra greenery around their property for their kids to run around!
Working in Jersey City
Though many in New Jersey own a car, there are plenty of ways to get around without one. The public transportation system in the area provides easy access to Exchange Place, which is where most financial institutions house their office buildings. But, if you work in NYC, Jersey City has great transportation links to the city. 
Commuters will be pleased to learn that the Public Transportation options in NJ are reliable, affordable and fast. The PATH train connects you from Jersey City to the World Trade Center, 14th street, West Village or Midtown. There are PATH stations in Newark, Grove Street and Exchange Place that will take you to Manhattan in no time. From Grove Street to Lower Manhattan is just 7 minutes.  
Moreover, there are plenty of ferry options like the New York Waterway and Liberty Landing Ferry. Additionally, you can take New Jersey Transit buses which run several times an hour, or the NJ Transit light rail which connects from Bayonne to Hoboken to Union City. 
Another great feature of life in Jersey City is the proximity to Newark Liberty International Airport. For those who travel a lot for work, being close to an airport is key!
Jersey City is also a very walkable city which can be nice for those who like to engage in outdoor exercise. There are plenty of running and biking paths along the waterfront. 
Schools in Jersey City K - College
Jersey City has plenty of well-regarded educational institutions that are a huge draw to families looking to move to the area. According to an article that appeared in the New York Times several years ago, the public school system in the city is expanding and improving as more families move to the area. 
One of the best public schools in New Jersey is located in Jersey City. The Dr. Ronald E. McNair Academic High School is ranked 3rd in the state. Another excellent public school is The Cornelia F. Bradford School.
Moreover, there are numerous charter schools and private schools that have produced good test scores and college readiness levels. Many of the private schools in Jersey City are parochial and require uniforms. 
For Higher Education, there are numerous public universities to choose from. For instance there is Jersey City University (a 4 year institution) and Hudson County Community College (a 2 year institution) that are both publicly funded and charge more affordable tuitions. 
Ready to Move?
Jersey City is a fast-growing and exciting place to live! Whether you are a single young person, or someone looking to raise a family, there are neighborhoods in Jersey City that can fit your needs and at a more affordable price point than you may find in downtown Manhattan. 
For those hoping to make the move, be sure to reach out to reputable New Jersey Movers and ask for a free quote. 
LIKE OUR FACEBOOK PAGE FOR MORE GREAT MOVING TIPS: